Hi guys!  
It's spring in Alaska, the trees have greened up, the swans are migrating north, the ruffed grouse are drumming, and sometimes you can barely hear yourself over the frogs doing their thing.  
After a long winter working in the garage, I am so ready to do a big spring clean up of our workspace, and get organzied for the summer.  Today I thought I'd share with you some projects that could transform the storage and functionality of your garage.
Easiest Garage Storage Shelves
http://www.ana-white.com/2016/01/free_plans/easy-and-fast-diy-garage-or…
Designed by Ana White 
First things first, build some storage for all those boxes and totes.  If you have stud walls that you can tie into in your garage, this is the simplest and easiest way to build garage shelving.  We loved this shelving so much have since built it three times!
Fold-Out Pegboard Tool Storage Wall Shelf with Bins
https://www.ryobitools.com/nation/projects/6462
Designed by Rouge Engineer shared on RyobiNation
Not only does this garage wall storage shelving system triple - yes TRIPLE - your pegboard storage, but it keeps all of your storage accessible and within easy reach.  I love hanging tools since tools to keep them off the workbench, but accessible and easy to find.  
The bins under the tool stoarge area are life savers for smaller tools and fasteners.  
Easy Potting Bench with Hook Slats
https://www.ryobitools.com/nation/projects/4031
Designed by Ana White shared on RyobiNation
I made this potting bench at Ryobi a couple of years back, and since there was just no way I could pack it in a suitcase back to Alaska, have been wanting to make it again for my own use.  I loveed how simple this project was to construct, all with simple joinery.  Use cedar if using outdoors.
Spary Paint Wall Organizer Shelf
https://www.ryobitools.com/nation/projects/6484
Designed by My Altered State shared on RyobiNation
Paint is all about making something pretty, so why not make it pretty on display?  I love Pauline's spray paint organizer for keeping your favorite colors close at hand, and keeping you inspired while you work.
Narrow Garage Tools and Paint Storage Shelving
http://www.thecreativityexchange.com/2014/01/diy-garage-pegboard-storag…
Designed by The Creativity Exchange
I love narrow depth shelving because stuff can't get lost in the back, and everything is easy to reach.  The Creativity Exchange's narrow garage storage wall stores so many supplies and tools, all while keeping things neat and organized.  Lots to be inspired from here!
Mobile Workstation with Tool Storage
https://www.ryobitools.com/nation/projects/5894
Designed by Shanty2Chic shared on RyobiNation
My friends Ashley and Whitney from Shanty2Chic and designed and built this mobile workstation for the furniture maker with limited space.  I love all the dedicated tool storage and simple design!  You gotta have clamps handy!
Roll-Away Cart Workstation with Tablesaw and Mitersaw Built in
https://www.ryobitools.com/nation/projects/5902
Designed by Ana White shared on RyobiNation
This was one of my favorite projects I did in 2015!  Cutting is such a big part of building - not only does it take time, but precision is essential for your project to turn out right.  When I was tasked to do a "cutting edge" workstation, I designed this workbench around the saws.  But there's ample storage in the carts, and we even embedded a Kreg Jig into the top of a workbench (and other bench tools can fit in the slot).  If you have the space in your garage, this roll-away workstation has it all, and tucks away neatly.
And don't forget, this month's RyobiNation challenge is Garage Takeover!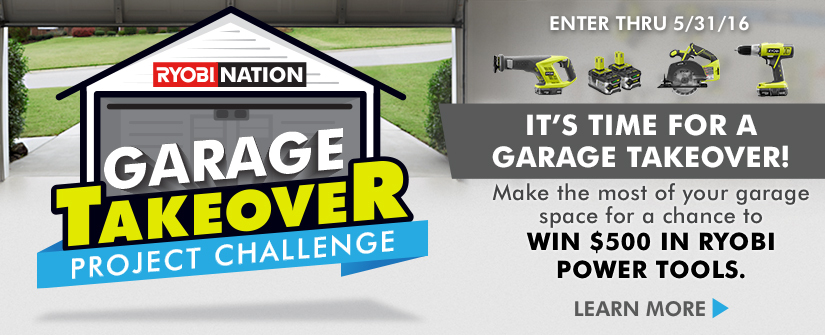 So that means you could win $500 in tools for your garage if you build and share a project for the garage this month!  Get all the details on how to enter (it's easy) here.
Have a great day!
XO 
Ana