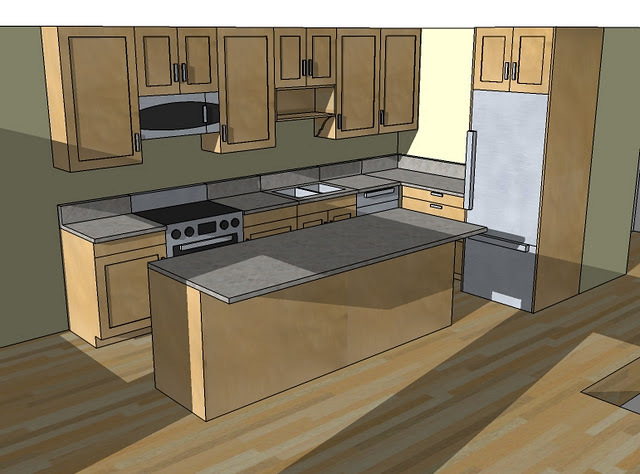 Mom, we love you, but not this much.
There are trusses delivered and sitting up at the Momplex right now.  And nobody wants to see that roof go up more than me, but with temperatures in the heat of the day rising to "extreme cold" with a feels like temperature of -26 degrees below zero, even if we did love our Mom's enough to work regardless of the weather, our tools don't love Mom that much.  At these temperatures, air compressors act funny, nailers don't nail, drill batteries get ruined, and boom trucks don't start.  
I want to send out my appreciation to everyone who has supported us and encouraged us with the Momplex.  We are dedicated to pushing through and working on the Momplex, roof or no roof, as temperatures improve, because you believe in us.  We are merely days away from having a roof and heat inside!  I promise you, if not for your comments and your encouragement, we'd be waiting for spring.  Thank you, you are the best.
Bad weather isn't always a bad thing.  It gives us a chance to take a break and focus on planning.  And we all know good planning makes for less mistakes, better budgets and time savings for when the weather does improve.  And yes, despite that we live in the Interior Alaska, weather does improve to workable temperatures even in the coldest months.  It's just a waiting game, but when it's our turn to work, we will be ready!
Thank you everyone for your comments on the
Momplex kitchen.
 We have read every comment, and have learned so much from you.  Because we are not building for ourselves, this is so much more difficult than simply saying "I like that one."  No, we are building for our Moms, and their answer is "What does everyone else like?"
It seems everyone likes either the Big L Kitchen (tradditional L shape) or the Little L Kitchen (straight kitchen).  I want to give you a few more details before we take it to a vote.
The Momplex units are small - it's less for Mom to heat and clean.  But the space is more than ample for the needs.  Many of you asked for dimensions, so here they are.  
The four basic requirements to work around in a kitchen are the sink, range, dishwasher and fridge.  I just drew these up to match appliances I found on MyLowes
Living 100 miles from Lowe's, the MyLowe's tools is saving me time and no longer shall I take special trips along icy roads just to measure a fridge or figure out how tall a dishwasher is.  I like for the Momplex the bottom mount freezer style refrigerators because they tend to be smaller (Mom doesn't need a huge fridge and smaller fridges save both space and energy costs) and more accessible.
Knowing all appliance sizes, we need at a minimum 9'6" of wall space for the kitchen. We can grow as much as 4 feet if we need to before the dining nook just gets to small.
Here I've added just two more 2 foot wide cabinets and the wall cabinets.  Are you as surprised as I was to see just how much space we have in the Momplex?
Option 1: Little L
So here is little L, the first option.  Features a very large island that could either be fixed with appliances (bar sink?) or a floating island.  I love this kitchen because all of the countertops are very accessible and will be easy to clean and reach.  We could to open shelving on the wall cabinets too.  Are you sold?  Is this the one?
Option #2: Big L
I thought I was, and then I drew this kitchen.  This is so hard!!!  We can do a variety of cabinet options in the corner - I just drew the most simple style.  Here we gain the counterspace in the corner and beside the fridge, but our island get's downsized ... but it's still a good six feet long (which is still huge!).  Bonus: because the island is smaller, the stair landing is not directly behind the island, meaning we cold add stools, without concern for someone backing their stool up and falling down the stairs.
How to Vote
There's just no way that I can decide what kitchen style would work better.  So I'm asking you to vote, and the kitchen layout with the most votes is the one we will build. We may change the cabinets and appliance positions, the island style, but the actual layout (and the lighting diagram to compliment) will be determined by you.
To vote, click on the Kitchen Layout that you prefer below.  It will take you to our Facebook Page.  Then simply click the Like button. 
No pressure :)  none at all!
Whew, I'm glad I don't have to make THAT decision!
Thank YOU!!!!