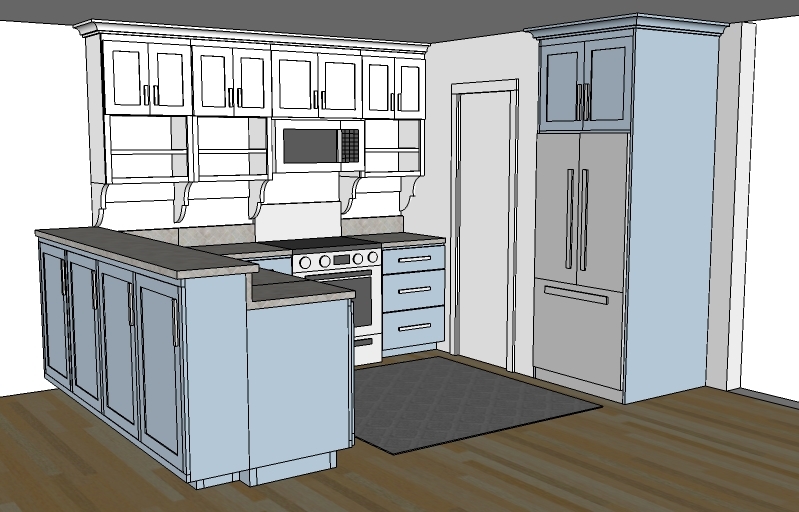 Thank you for your comments and advice, real ideas that have helped shape the form of our first Momplex kitchen layout.
Step 1 Diagram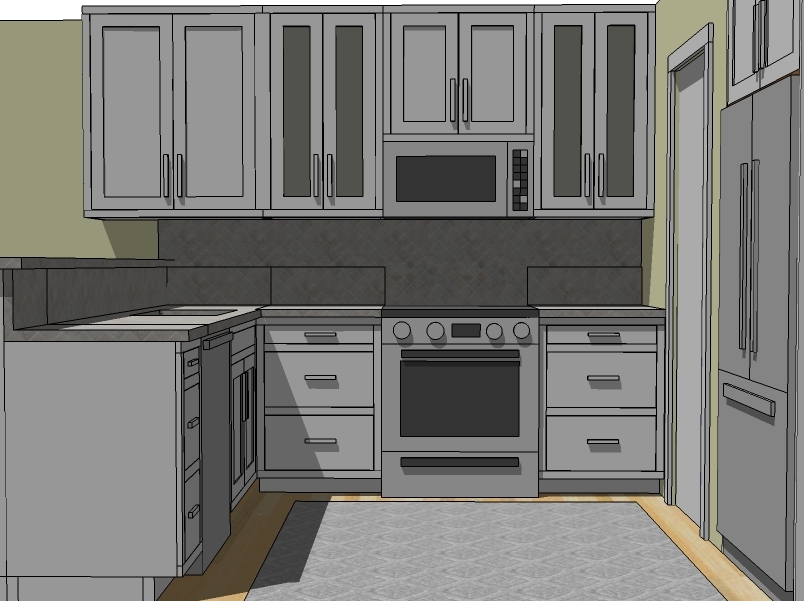 Step 1
With your help, I know we've got the best kitchen possible given the constraints of the tiny space. There's a few things I'd like to see change, but kitchen layouts are like crossword puzzles. If you change one thing, you have to change everything! Compromise is the key.
I'd love to see the sink not so close to the corner, but swapping with the dishwasher would be a traffic accident following every meal with the drawers being blocked off by the open dishwasher. And there just is no space to extend the cabinets any further out to add a cabinet between the sink and corner. Unless we scrap the pull out trash bin cabinet on the end ... 
 
And goodness knows, bless whoever invented it, the microhood is one of the most ingenious inventions ever, but let's just face it, practicality isn't always pretty. A great idea isn't always a gorgeous idea.
I've researched every thing from range/over/microwave drawer combos to trying to talk Mom into a countertop microwave ... but there really is no better space saving solution than the microhood.  It's there to stay.
And Mom had some requests too. 
She wanted open shelving for dishes and spices within easy reach, but not on the counterop, or too high ...
 And then a few little decorative details and some pretty paint
Step 2 Diagram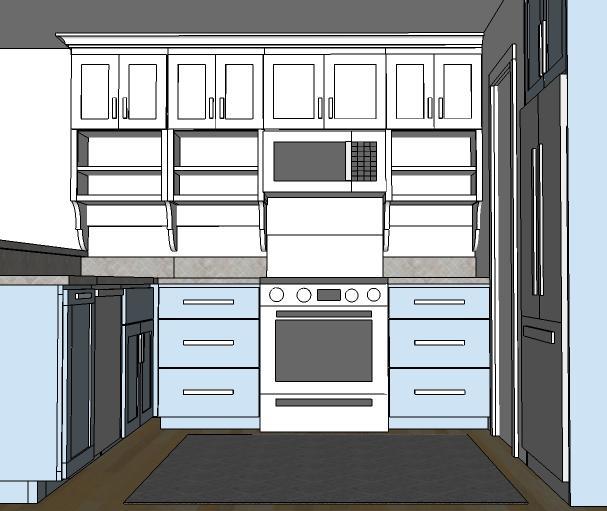 Step 2 Instructions
Good thing just about anything is possible with DIY!
We don't have to compromise on the pretty details. Cause we are DIYing this baby, and that means there's no $200 surcharge for open cabinets being finished out inside out, no you-have-to-buy-the-door-even-if-you-don't-want-it policy, and certainly no custom order charge. Or a 10% price increase for custom glazed finishes and a six to eight week wait.
It's all elbow grease and extra heart.
Armed with your smarts, Mom's requests, and a satisfied with the layout, it's time to take a rough sketch and turn it into final drawings.
Step 3 Diagram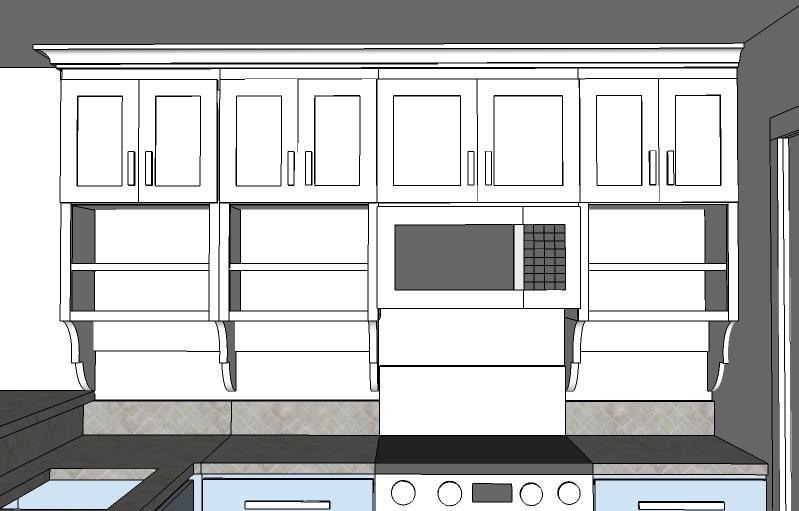 Step 3 Instructions
For the upper wall cabinets, I am excited to build not just a basic, builder grade cabinet for Mom. She's getting something pretty and unique, functional and special.
Step 4 Diagram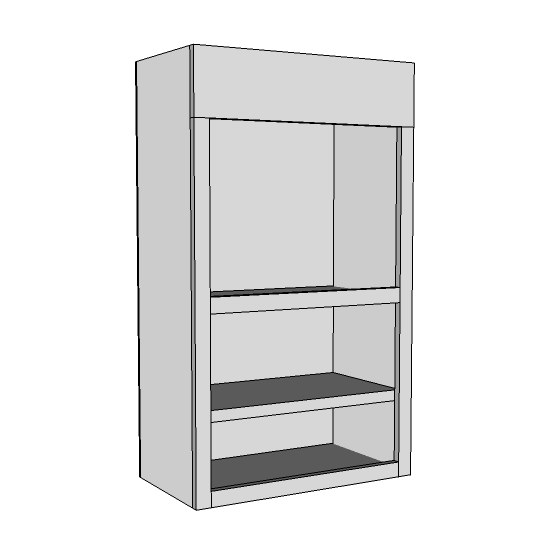 Step 4 Instructions
Even though these cabinets are anything but fancy. They are just a box - three the same -
Step 5 Diagram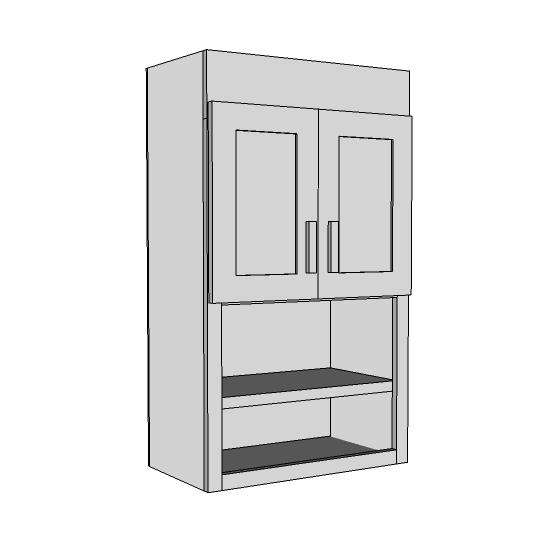 Step 6 Diagram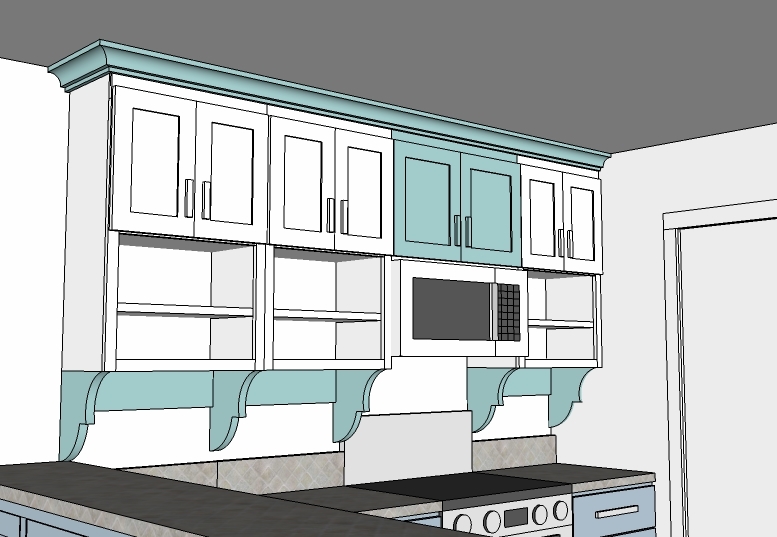 Step 6 Instructions
And crown moulding and some shelf brackets below.
Above the microwave we'll throw in another box with some doors. The top cabinets are going to be very easy to make.
Step 7 Diagram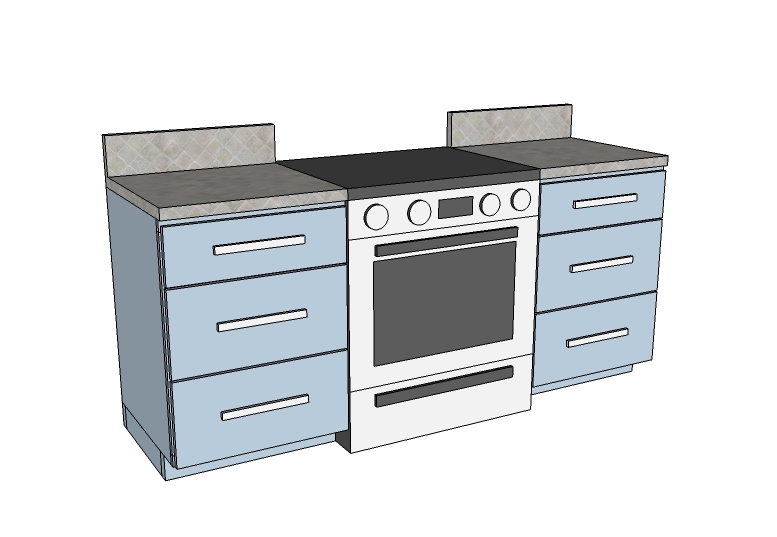 Step 7 Instructions
The base cabinets flanking the range are exactly the same.
Step 8 Diagram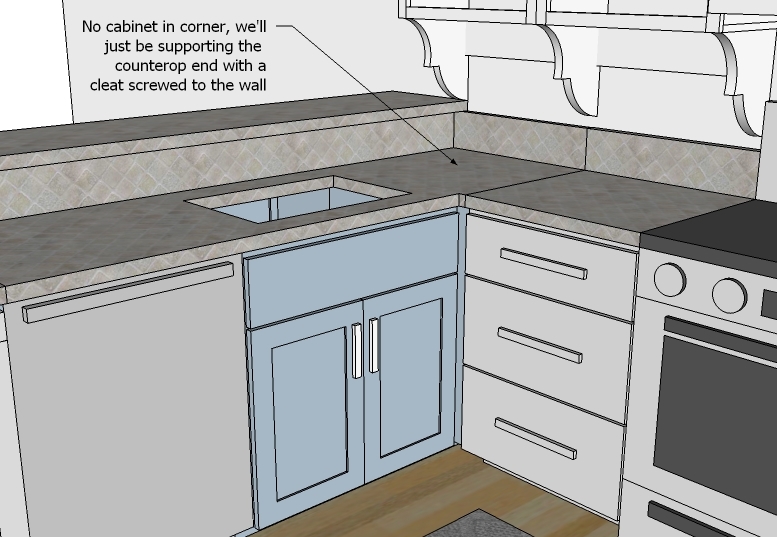 Step 8 Instructions
The Ram had a brilliant idea here. Why make a corner cabinet? Why not just add a cleat to the wall to support the countertop? There's a few details to work out, but skipping out on building a cabinet that you can't see from any side just makes sense.
The sink base will be a standard 36" base. It will be the first plan I post, only held up today by some missing hinges and doors.
Step 9 Diagram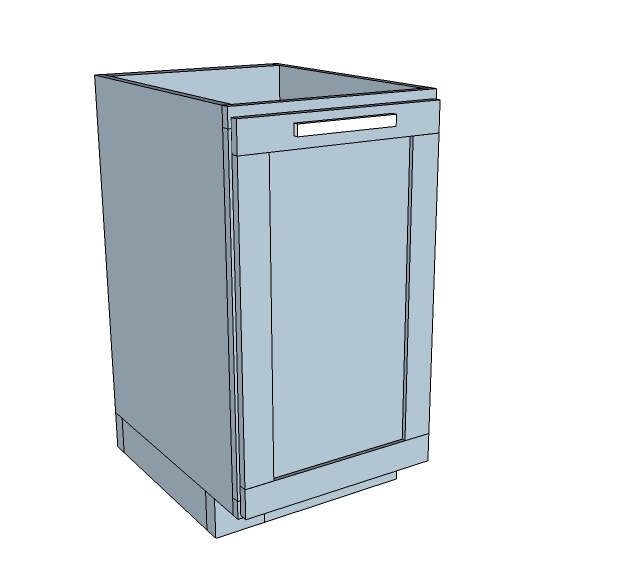 Step 9 Instructions
On the end is a pullout trash bin, designed to fit a standard trash can. It also serves as an end panel for the dishwasher.
Step 10 Diagram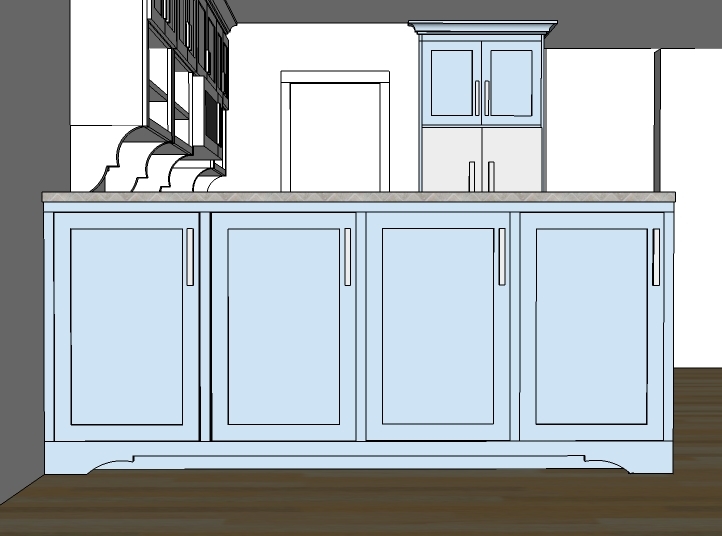 Step 10 Instructions
And what do you think of our built in buffet for the dining area? We'll add a pretty footer to make it look like furniture rather than a big bookshelf turned on its side, with four doors added to it :)
Step 11 Diagram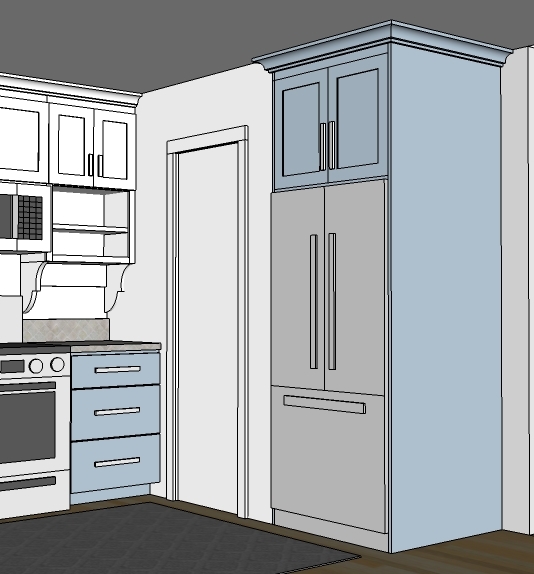 Step 11
You've seen this already, just added a little crown.
We also love the bicolor. Could make the tiny space open up and look more interesting and unique, like someone hand made it for their Mom! We aren't committed to a specific color, but I tend to love gray blues, sage greens and soft yellows paired with antique whites.
We better make a decisions fast, because ...
Step 12 Diagram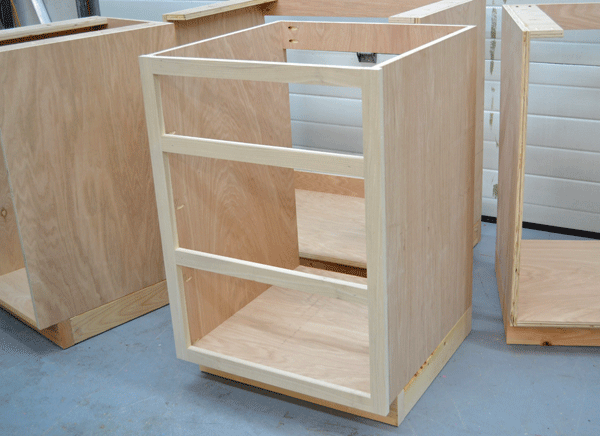 Step 12
Paint is not that far off!!!
Thank you for being patient and waiting on these kitchen cabinet plans. I know some of you have been waiting on me for quite some time, and I thank you for believing in me. We are very very happy with how easy these cabinets are to make and can't wait to share plans. Just a few boards short from finishing up the sink base and posting! Can't wait!