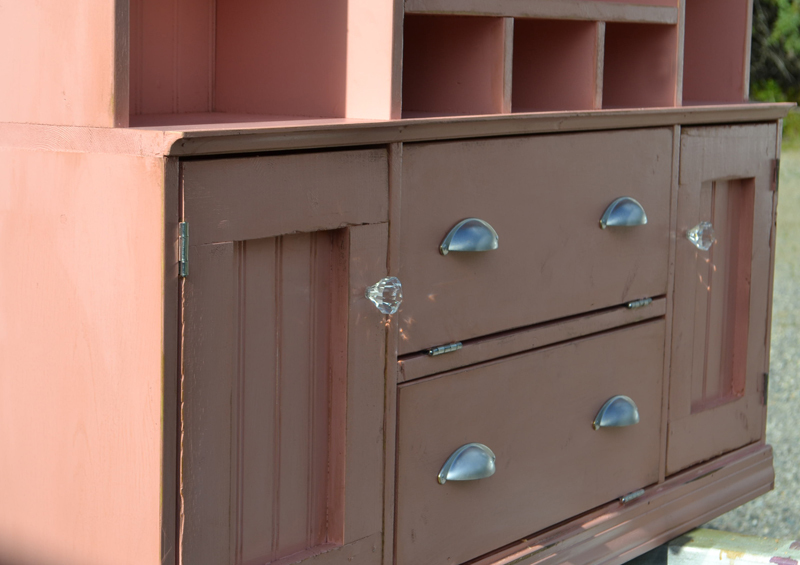 Step 1
Prepare the Project
This finish can be applied to any furniture project, but the surface must be properly prepared to accept paint. For unfinished wood, fill any holes as desired with Minwax Stainable Wood Filler and let dry.
NOTE: I often choose to leave discreetly placed pocket holes unfilled, especially if there are any possibilities of needing to disassemble/reassemble the project later on.
Sand smooth with medium grit sandpaper. Apply a second coat of wood filler if necessary to ensure any undesirable imperfections are filled.
Once wood filler is complete dry, sand the entire project with medium grit sandpaper. Remove any sanding dust with a soft bristled brush or vacuum with a soft bristled brush tip. Then wipe project down with damp rag and allow project to dry.
If you are not using paint with primer, apply a coat of primer to the project.
TIP: I highly recommend using paint with primer because primer is normally white, and the white will show when distressing. Sometimes a white undercoat is desirable as well.
Step 2 Instructions
Paint the Project
You'll want just the right shade of pink for this project. Too light and the project will look chalky and too pastel. Too dark, and the project will become too bold. I chose a pink with coral undertones, in a slightly muted shade. Mix your paint thoroughly.
It is very important to chose a paint that contains a top coat. For this project, I chose a semi-gloss paint. If you do not use a paint with top coat, you will need to apply a top coat following painting.
Resist the urge to paint the outsides first. Instead, paint from the inside, most difficult to reach spot first, and work your way outward. This will minimize paint on your clothing. Paint in the direction of the wood grain.
Work your way outward, painting the outsides last.
And now for the most difficult part … letting the paint dry. Allow the paint to dry fully, as directed on the can. If you begin to distress too soon, you will lose control of how much paint your remove when distressing.
If you used a paint without top coat – Flat, Eggshell, or Satin – I highly recommend applying a quick top coat to seal your paint. My favorite is Minwax Water Based Polycrylic This will protect your painted areas from receiving stain, allowing the stain to only penetrate in the distressed areas.
Step 3 Instructions
Distressing
When the project is fully dry, sand edges with 120 grit sandpaper, in direction of wood grain. Sand just enough to reveal edges.
How much and where you distress your project is a personal preference.
I like to focus on areas that would naturally wear – outside corners, around handles, and the top.
TIP: For an overly distressed finish, consider distressing the project with objects like a hammer or chisel.
After you finish distressing, you will need to clean your project.
Brush or vacuum off any sanding residue, followed by wiping down the project with a damp cloth.
Step 4 Instructions
Darkening Distressed Areas
There is not enough contrast between the light pink and the raw wood for the distressing to even show up. For the vintage pink distressed finish, I highly recommend Minwax Early American Wood Finish. It is just the right warm tone to complement the pink!
Before using Minwax Early American Wood Finish., stir up the stain, and stir contents throughout use.
Because the painted areas are sealed, only the distressed areas will accept stain. Apply Minwax Early American Wood Finish to distressed areas liberally. Allow the stain to soak in for 5 to 15 minutes, depending on temperature and humidity. Do not allow the excess stain to dry on the project, wipe it off quickly, within 5-15 minutes.
You can also apply the Minwax Early American Wood Finish to the entire project – it will soak into knots and imperfections in the wood, but DO NOT allow excess stain to dry on the project. The key is to test test test!
After about 5-15 minutes, depending on temperature and humidity, begin wiping off the stain in the direction of the wood grain. Work stain into areas that appear lighter.
If the stain appears too light, you can add a second coat of Minwax Early American Wood Finish after about 4 to 6 hours to darken up the distressed areas. Do not sand between coats of stain.
Until you get it just right!
Step 5 Instructions
Top Coat
When you are happy with the project, it's time to seal it all in!!!
I used my most favorite top coat ever – Minwax Water Based Polycrylic in the spray can. Having a spray can enables me to reach tight spots and work quickly. Apply in light, even coats, sanding between coats with 220 grit fine sandpaper.
Done deal!