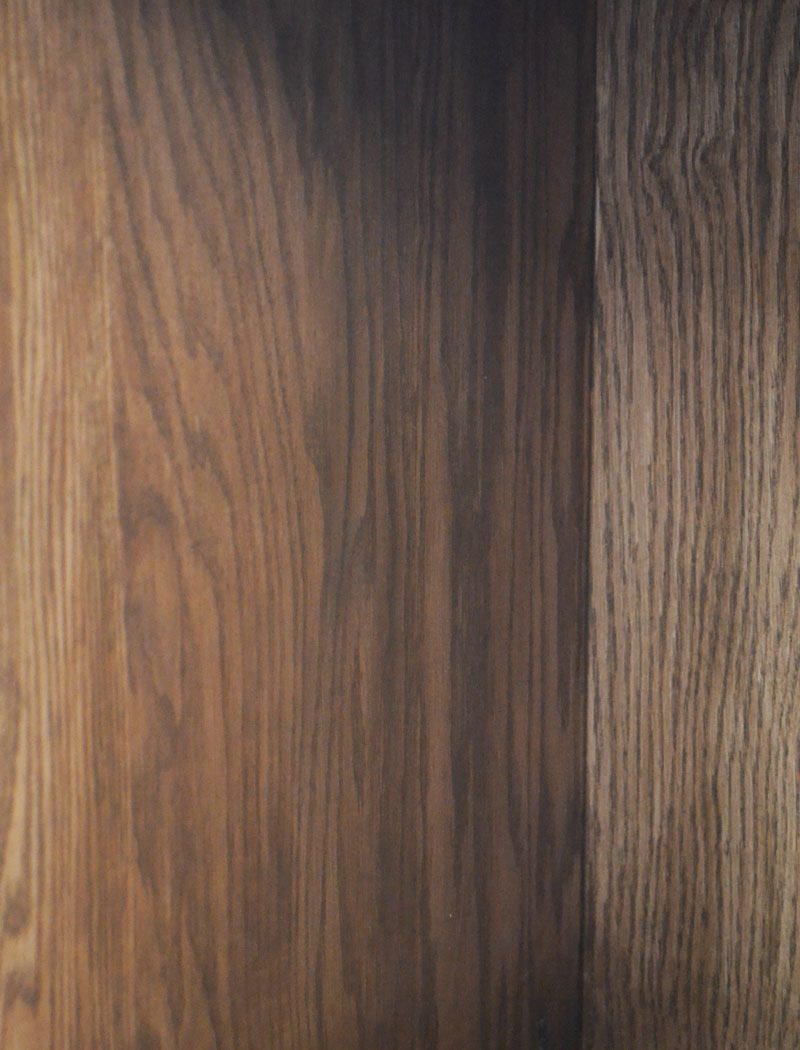 Shopping List
We are working indoors now, so I choose Minwax Water Based Wood Stain in American Walnut and Minwax Water Based Polycrylic in the quart can. Because we are working with water based, only a synthetic brush is required and I can clean up with soap and water. You'll also need 220 grit fine sandpaper, and staining rags. Gloves are recommended.
Hardwood Plywood in Oak (I used PureBond)
Minwax Water Based Wood Stain (I used American Walnut - can be mixed in many different shades and colors)
Fine sandpaper or sanding block
Synthetic Water Based Brush
Minwax Water Based Polycrylic
Step 1
Prepare - Project Preparation
Stir the water based stain before you begin and throughout your project to ensure color uniformity.  If you are using more than one can, mix the cans together to ensure uniformity between cans.
Water based stain is much thicker than oil based in consistency.  Stir until the color is uniform throughout.
The first thing I did was test a small amount of stain on a scrap piece of plywood. This is always recommended, because while the stain is consistent, your wood may vary even within the same species.  So take a quick second to make sure you love the stain on a scrap piece of wood.
Loved it!
On your project, sand the wood with fine sandpaper.  Most hardwood plywood is sanded already, so no need to bring out the power sander in many cases.  You'll want to sand any joints as well.
You must get rid of all sanding residue before applying stain.  I use a brush to remove the bulk of it, then wipe the project down with a damp rag to make sure all sanding residue is removed.
Step 2 Instructions
Make Pretty - Stain Application
We'll only need one brush for both the stain and top coat.  I'm using a 2" Minwax Synthetic brush, designed for quart cans.  Because everything is water based, we can just clean the brush with soap and water.
When you start staining, start in the inside, hardest to reach place first and work your way outward.  That way you won't be getting stain on your shirt sleeves as you reach into tight places.
Remember that you will need to wipe excess stain off within 3 minutes, so work in sections, or have someone work with you wiping off stain after you apply it.  Apply the stain liberally, brushing in the direction of the wood grain.
After three minutes, wipe excess stain off.  Do not allow excess stain to dry on the project.
As you wipe stain off, work stain into lighter areas to blend in for a consistent color.
The color can be deepened by applying an additional coat Minwax Water Based Wood Stain 2 hours after the first coat.    Brush on as you did the first coat.  No need to sand between coats of stain.
And wipe off excess stain within 3 minutes of application.
I really love how Minwax Water Based Wood Stain in American Walnut brought out the grain of this hardwood oak plywood!  Beautiful and so easy!
Step 3 Instructions
Protect - Top Coat Application
Now it's time to let the stain dry completely.  After a minimum of 3 hours, depending on the temperature, I applied Minwax Polycrylic.  I used the same brush, just washed it with soap and water.  To apply the Minwax Polycrylic:
1.    Wait 24 hours for Minwax Water Based Stain to fully dry.
2.    Stir Minwax Polycrylic before and through use, do not shake the can.  The finish will appear milky in the can, but it will dry clear.  
3. Brush Minwax Polycrylic on in the direction of the wood grain with a synthetic brush, in a very light coat.  Avoid overbrushing.
4.    Allow first coat to dry for at least 2 hours.  Then sand lightly with very fine 220 grit sandpaper, sanding in direction of wood grain, and remove all dust.  Do not use steel wool.
5.    Apply a second light coat.  Allow to dry and sand again as you did the first coat.  A third coat is recommended.
6.    After the final coat, allow three house before light handling and 24 hours before normal use.
Enjoy your finish!  Thank you Minwax for bringing us another staining tutorial!