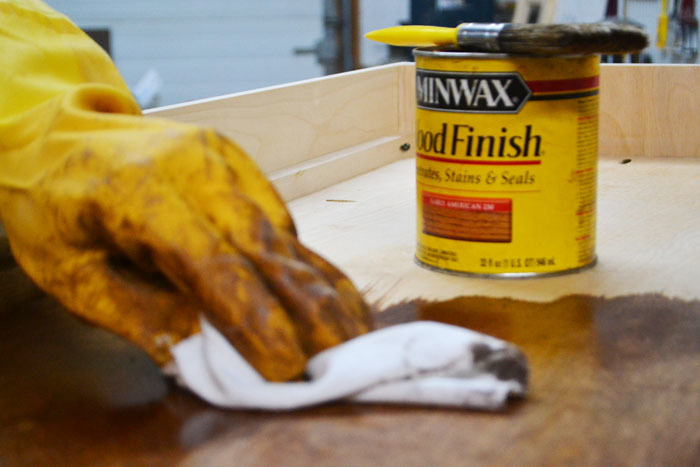 Additional Photos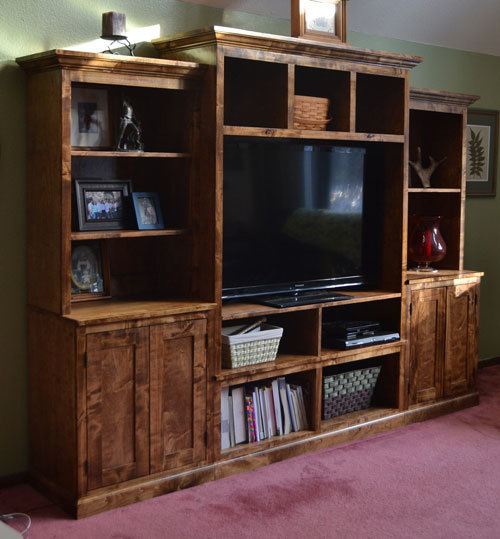 Shopping List
Minwax Oil Based Pre-Stain Wood Conditioner 
Minwax Wood Finish in Early American
Minwax Fast Drying Polyurethane
Minwax Wood Putty in Matching Stain Color
Medium and Fine and Super Fine Grit Sandpapers
Gloves and Staining Rags
Step 1
Project Preparation
For this project, we used PureBond Birch Plywood and Alaska Birch face frames.  To get a consistent stain when working with plywood and hardwood, use the same species wood.  Note that for this project, we did not fill any holes prior to staining.  Instead, color matched wood putty will be applied after finishing.
Sand the project well, working in direction of wood grain.  Use medium grit sandpaper.
Then sand with fine sandpaper.  I love fine grit sanding blocks (but then again, isn't that obvious?)
Brush the project to remove any sanding residue.  A vacuum with a soft bristled brush works well too.
I also recommend a quick wipe down with a damp cloth to remove any stubborn sanding residue.  
Time to stain!
Step 2 Instructions
Stain Application
It's a good idea to use Minwax Pre-Stain Wood Conditioner with your projects because it prepares wood for staining and prevents blotchiness.  Apply Minwax Pre-Stain Wood Conditioner directly to project with a natural bristled brush or clean cloth.  Allow the Pre-Stain to penetrate for 5-15 minutes, and then remove excess with a clean, dry cloth.  
Within 2 hours of Minwax Pre-Stain Application, apply the Minwax Wood Finish Stain.  For this project, the color used is Early American.  
Stir the Minwax Wood Finish thoroughly before and occasionally during use.  It's a good idea to test stain on a scrap piece or hidden area of the project just to make sure the color is as desired on your wood.  Apply stain in direction of wood grain with a natural bristled brush or clean cloth.  Allow stain to penetrate for 5-15 minutes to achieve desired color.  The longer the stain is allowed to penetrate, the richer and darker the color will be.
Remove Minwax Wood Finish that has not penetrated the wood with a clean cloth, wiping in the direction of wood grain.  Blend light and dark areas to create a uniform color.  It is important to not allow stain that has not penetrated to dry on the wood surface.
For a deeper color, additional coats can be added after 4-6 hours.  Do not sand between stain coats.
Once you are satisfied with the stain color, it's time to apply a clear finish.  After a minimum of 8 hours dry time (this can vary depending on your climate and temperatures), a clear finish is recommended to seal and protect your project. The clear finish will also bring out the color in your project.
Step 3 Instructions
Top Coat
One of my favorites is Minwax Fast Drying Polyurethane.  
Stir Minwax Fast Drying Polyurethane before and during use to prevent settling on bottom of can.  Don't shake the can.
Apply a thin coat of Minwax Fast Drying Polyrethane using a natural bristled brush.  Allow to dry for 4-6 hours.  Lightly sand entire surface with super fine sandpaper to ensure and even finish and proper adhesion.  Remove sanding dust.
Apply a second and third coat as desired.  Before use, allow the final coat to dry for a full 24 hours.
And remember those little nail holes I told you not to fill quite yet?  Minwax makes color matched wood putty that you can fill nail holes or cover other minor imperfections in stained and finished projects!  Take a second to fill any imperfections with Minwax Wood Putty in coordinating stain color.  Remember to keep the tub around for touch ups later on.
Ready to use!