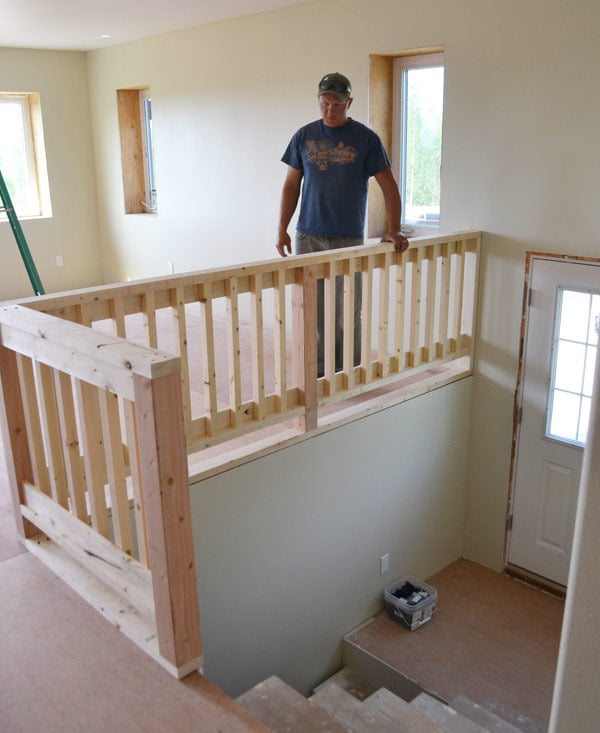 Our decking project is still on hold ... and it's still a weather thingy. But its not rain this time. It's just too dang hot to be working in the direct sun on a deck!
So we took shelter inside the super inslulated Momplex, where the basement keeps everything nice and cool, and started on our first interior woodworking project!
While we totally agree with you that the very first room we'll be tackling is a bathroom (thank goodness the Momplex is about a mile from our home so not having a bathroom hasn't been a huge issue so far), we get a ton of visitors, from newborn babies to busy toddlers to great-grandmas (and not to mention yours truly who's balance is starting to get a little wobbly these days due to a new carpenter on the way), so there was one thing we wanted to take care of inside the Momplex first and foremost.
Step 1 Diagram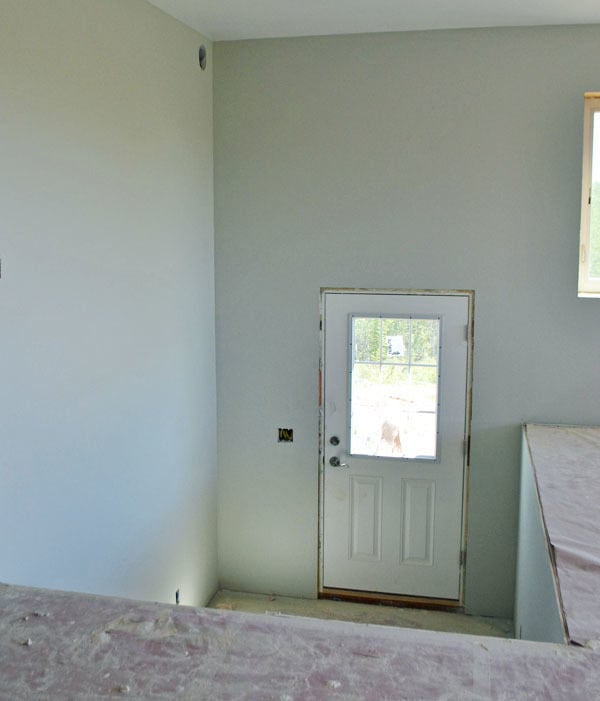 Step 1
A stair handrail.
The stair handrail isn't just a safety thing either. We will need to put the stair handrail in before we can lay flooring down upstairs in the Momplex.
Step 2 Diagram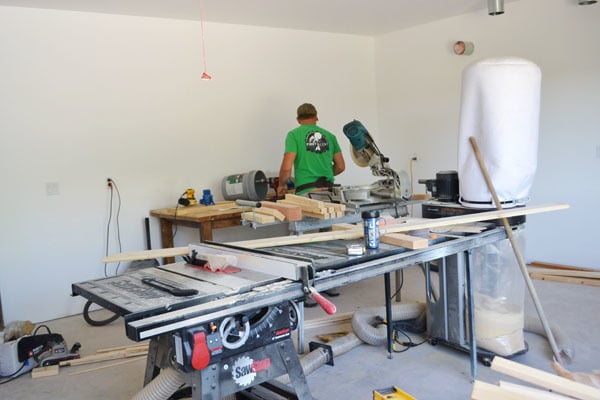 Step 2 Instructions
So the Ram moved into Sewing Mom's garage.
We decided to build the handrail in the garage first, and then move it into place as a completed project.
Let's do this!
Step 3 Diagram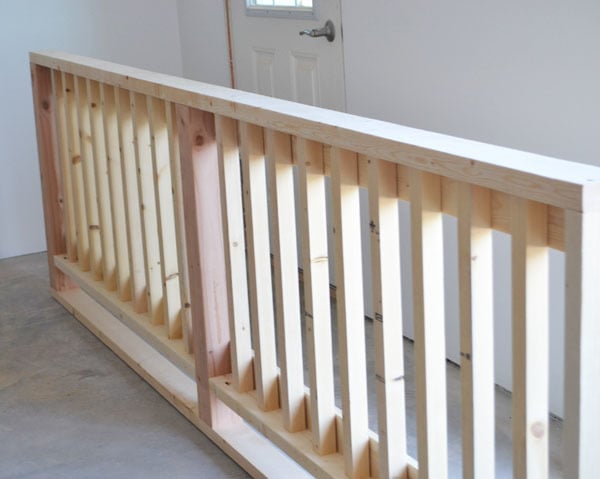 Step 3 Instructions
We are all fans of simplicty, so I designed a handrail out of 2x boards (yes, 2x4s and 2x2s with 4x4 posts) that we will paint white later on. This is what a finished section looks like.
We've still got another section to add to this section of the handrail to get the L-shape needed to fully enclose the stair opening.
Step 4 Diagram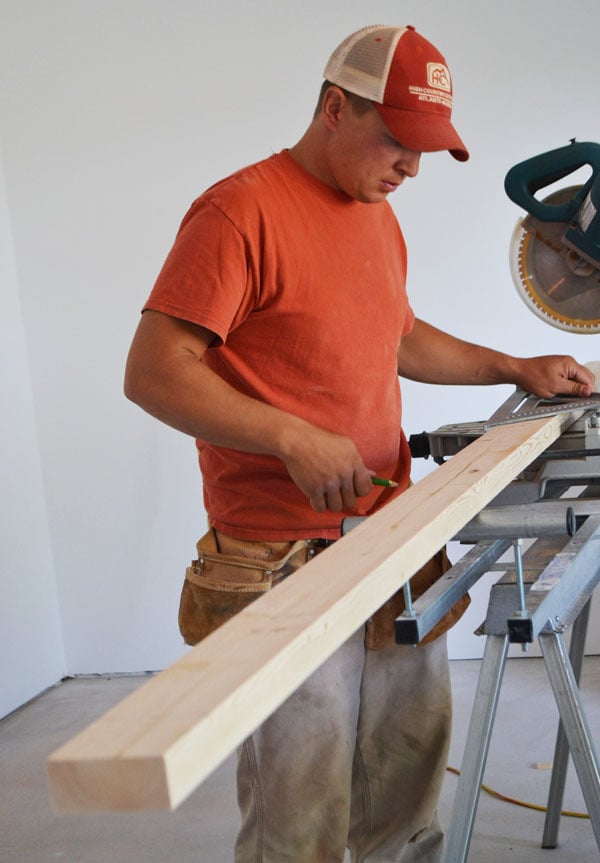 Step 4 Instructions
Like the finished section, we start building the handrail by cutting our boards (need a handrail too? I'll be posting these plans this week!)
Step 5 Diagram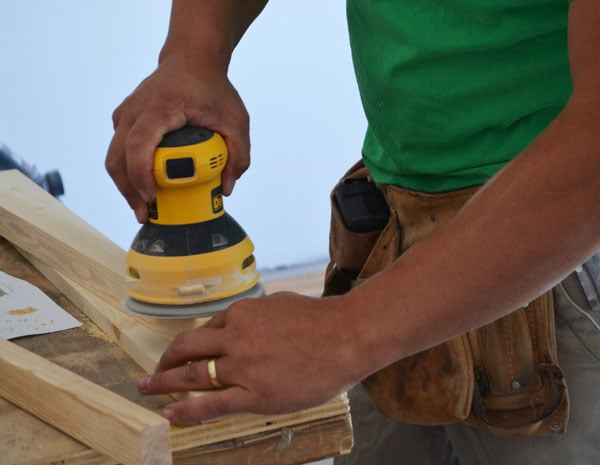 Step 5 Instructions
And then sanding all the boards first. It's much easier to sand a board on a tabletop, than trying to sand a completed handrail.
Step 6 Diagram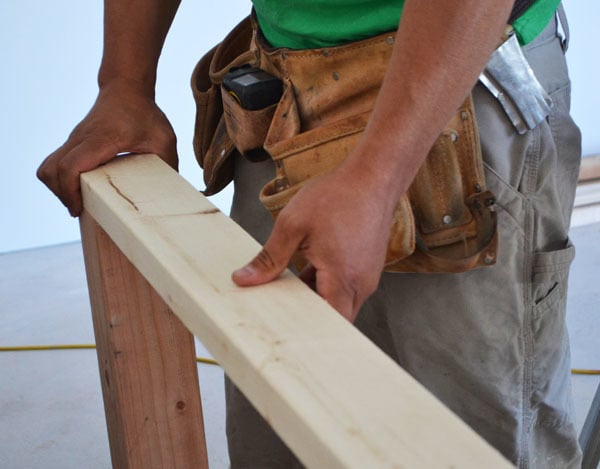 Step 6 Instructions
Then we start building the basic frame for the handrail, consisting of the 4x4 posts and the top.
Step 7 Diagram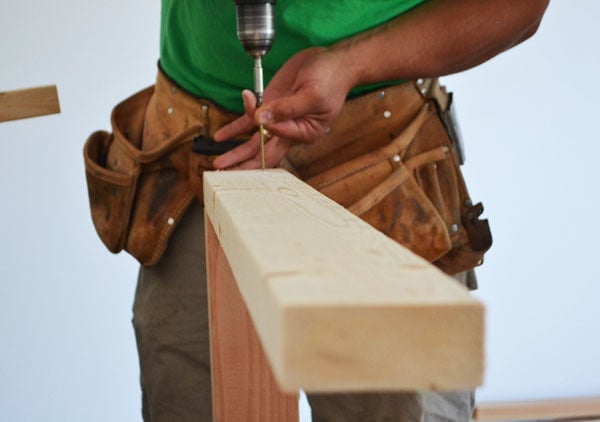 Step 7 Instructions
The top is screwed to the post. For a painted handrail, we'll just go back and fill the holes with wood filler and finish. For a stained handrail, a top 1x board can be added with finish nails to hide all screw holes.
Step 8 Diagram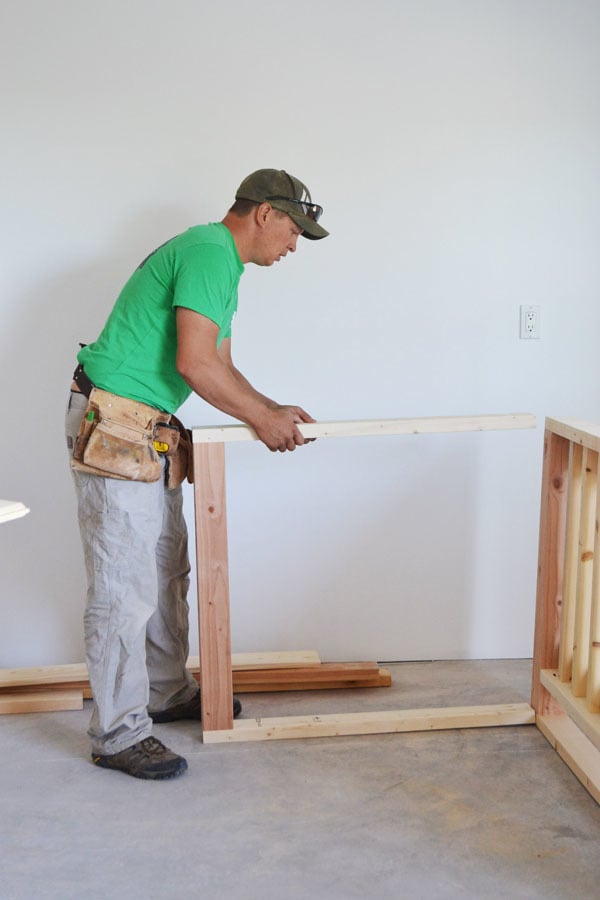 Step 8 Instructions
With the 4x4 attached to the top and bottom 2x4s, we fit it to the existing section.
For a single straight handrail section, we would have added a 4x4 post on the open end too.
Step 9 Diagram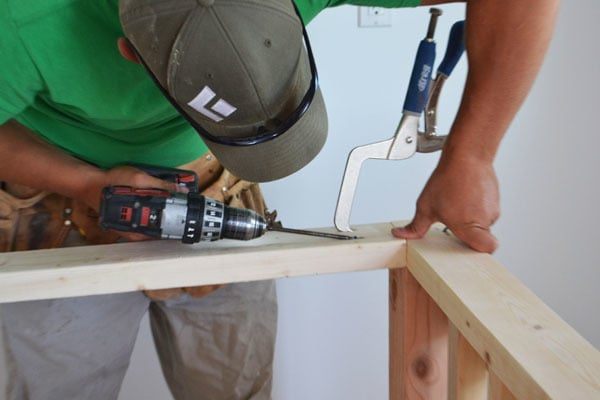 Step 9 Instructions
But with the L-shaped handrail, we instead use the 4x4 post on the existing section, attaching with 1 1/2" pocket holes and 2 1/2" pocket hole screws.
Step 10 Diagram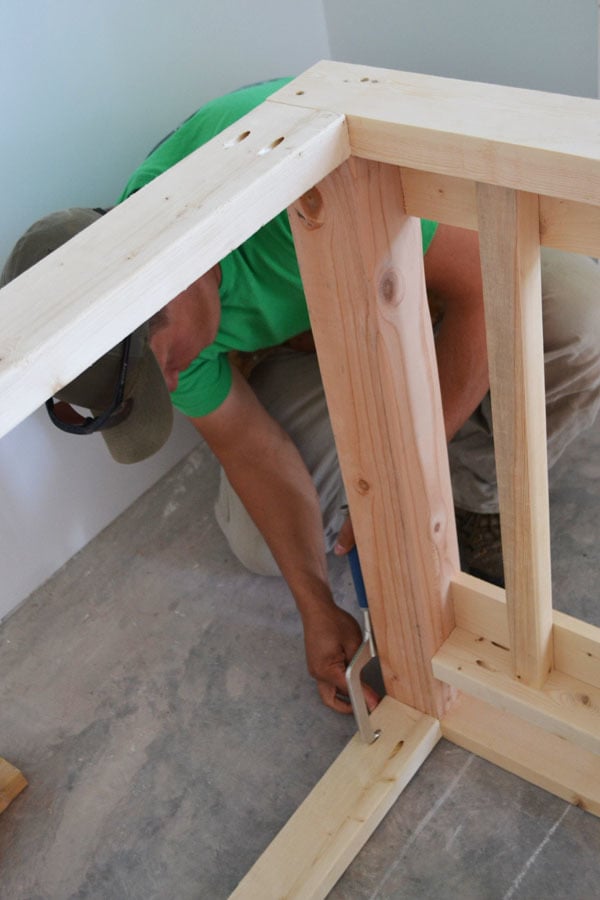 Step 10 Instructions
The same is done at the bottom. We used a Kreg Jig to create the pocket holes.
Step 11 Diagram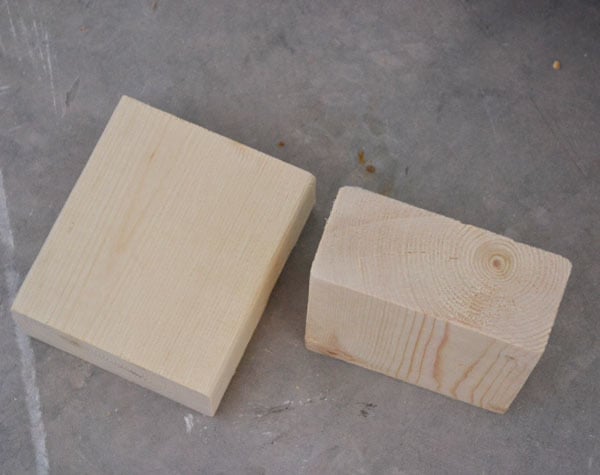 Step 11
Stair railing must meet certain codes for spacing requirements. For us, it's no more than a 4" gap in the handrail. So we cut blocks 4" long to use as guides throughout the building process.
TIP: We actually cut the blocks shy of 4" just to be extra safe that we are meeting code requirements.
Step 12 Diagram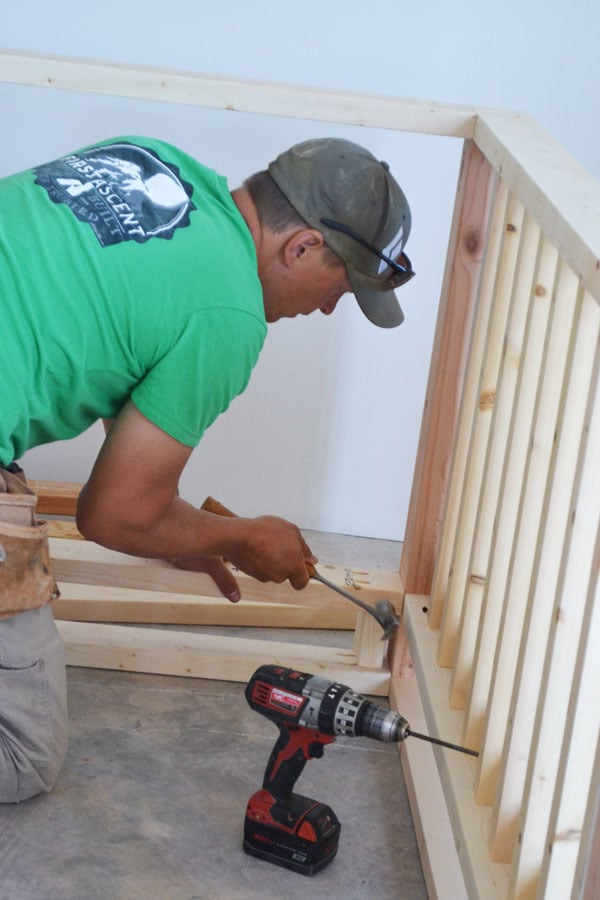 Step 12
The 4" blocks are placed on the bottom 2x4 board
Step 13 Diagram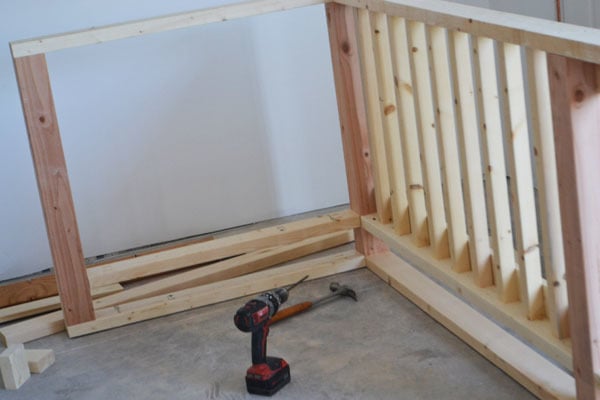 Step 13
And we attach the another 2x4 board to the 4x4 posts, again with pocket holes.
Step 14 Diagram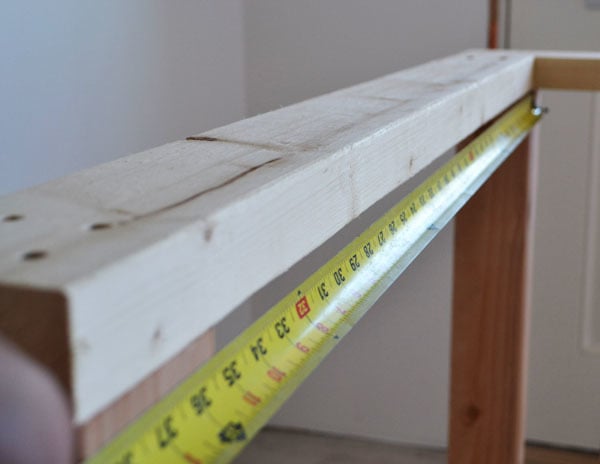 Step 14
Next, we measure the opening and determine how many stair balusters we'll need.
Step 15 Diagram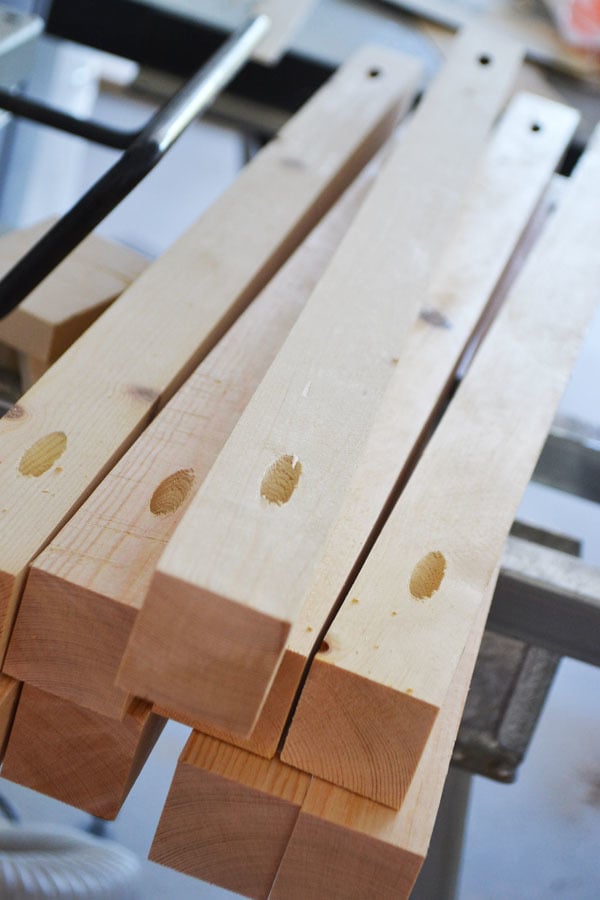 Step 15
The stair balusters are cut from 2x2s and pocket holes are drilled on each end.
Since we have an even number of stair balusters, we position an opening in the center, with the first balusters attached offset 2" off the center.
We use 2 1/2" pocket hole screws and glue through the predrilled pocket holes to attach.  
Then we add the other center baluster to the railing,
Using the spacing blocks to make sure we are the right distance appart.
And we just keep adding the balusters using the spacing blocks as guides.  
Last one!
By starting in the middle and working outward, we end up with even spacings on the end.
From the inside (stair side) the railing is finished with no visible pocket holes.
But on the outside (living room side), each baluster has a pocket hole showing.  We could fill these pocket holes with plugs or wood filler, but here's an even easier solution - 
We cut 1x4 boards to fit
And attached with finish nails over the balusters.  This also gives the outside (living room side) of the handrail a more finished look.
Time to see if she fits!
Perfect!
Once both of us are happy with the handrails position,
We use 4 1/2" long screws to attach the handrail to the floor.  
We attach from both the inside and outside,
And also attach the handrail to the wall.
Man, this is one sturdy handrail!!!
For less than $100 in lumber and screws, we built a sturdy, solid wood handrail! I'll share detailed plans just in case you need a handrail for your home later this week as well.
We'll also be adding a matching wood baby gate and stair railing later on to make sure the Momplex is very grandkid friendly.
Now who's the lucky lady who get's to paint it?