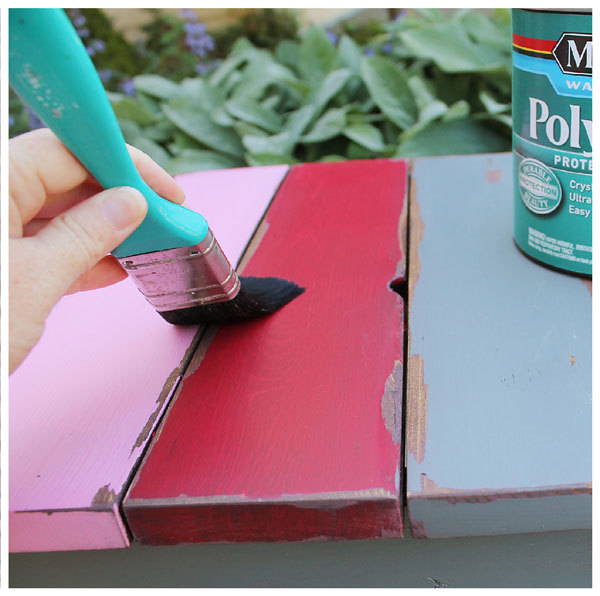 Additional Photos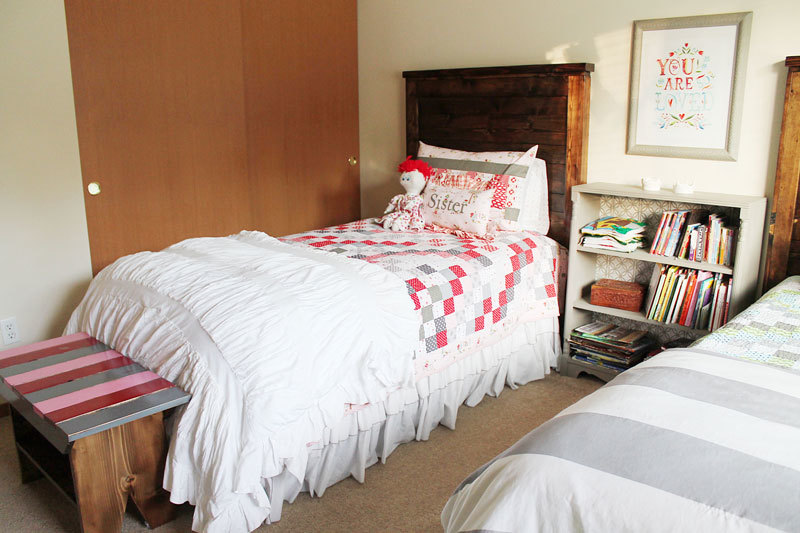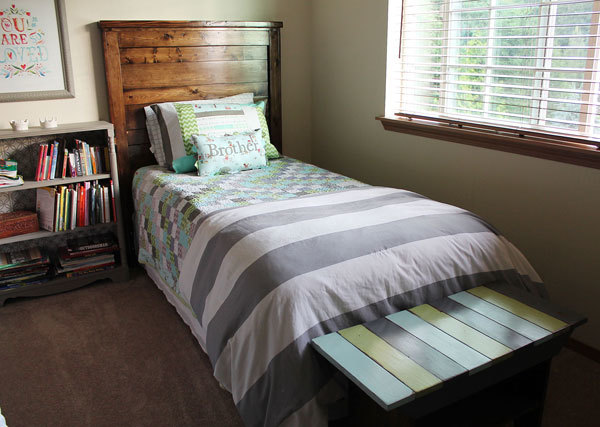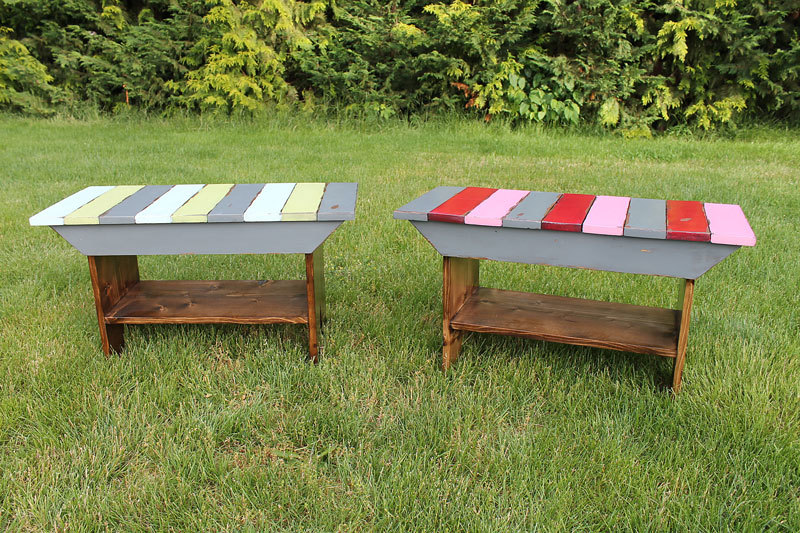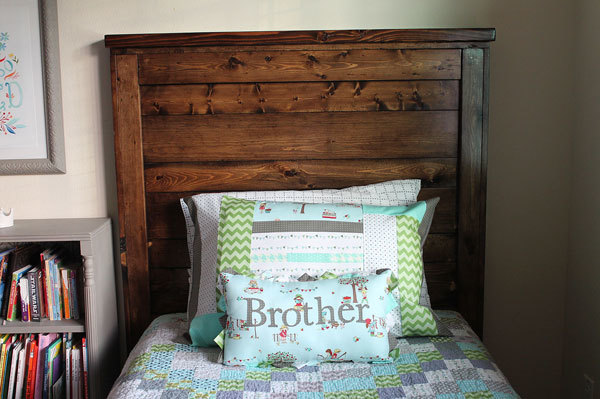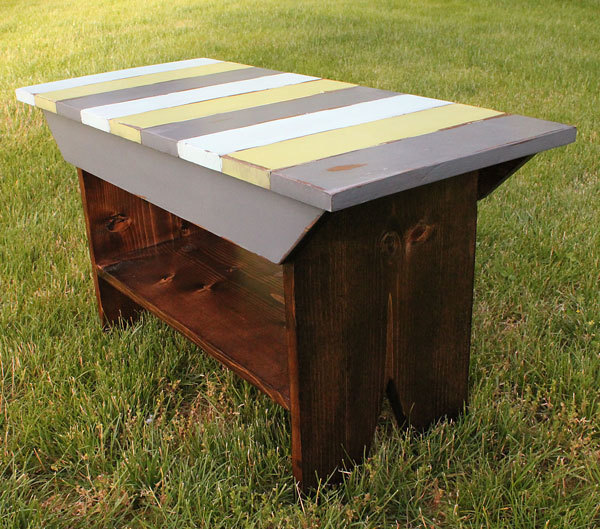 Shopping List
Sand Paper in varying grits
220 Grit Sanding Block
Rags
Gloves
Vaseline
Stainable wood filler
Pre-Stain Wood Conditioner (if recommended with stain)
Oil Based Stain in Walnut
Polycrylic in clear satin
Water Clean up Brush
Paint
Step 1 Diagram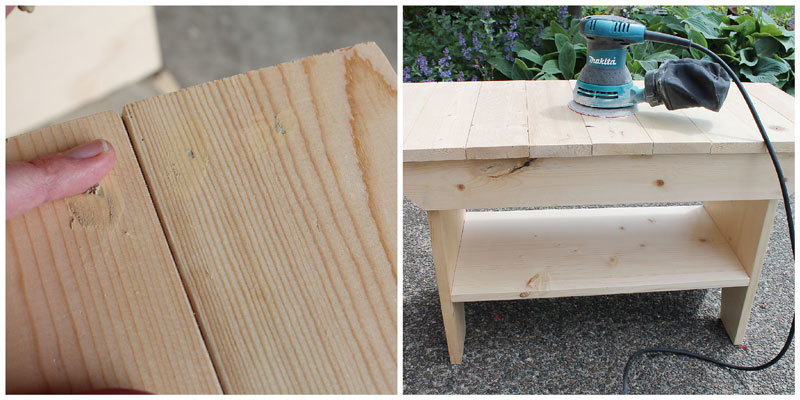 Step 1
Sanding the Project
Once you finish building your project use a stainable wood filler to fill any screw, nail or pocket holes. Let wood fill dry completely and apply a second time if needed, sometimes wood fill shrinks a little once it dries.
Sand your project well. I started out with a circular sander and sanded the bench with 120 grit paper and then sanded again with 220 grit sandpaper then used sanding block of 220 grit sandpaper to get into the hard to reach spots.
Step 2 Diagram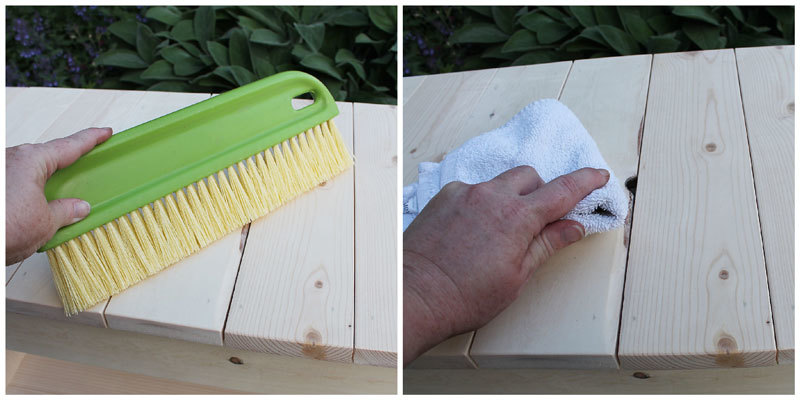 Step 2 Instructions
Preparing for Finish
Brush off all sanding residue. Use a damp rag to get any remaining residue.
Step 3 Diagram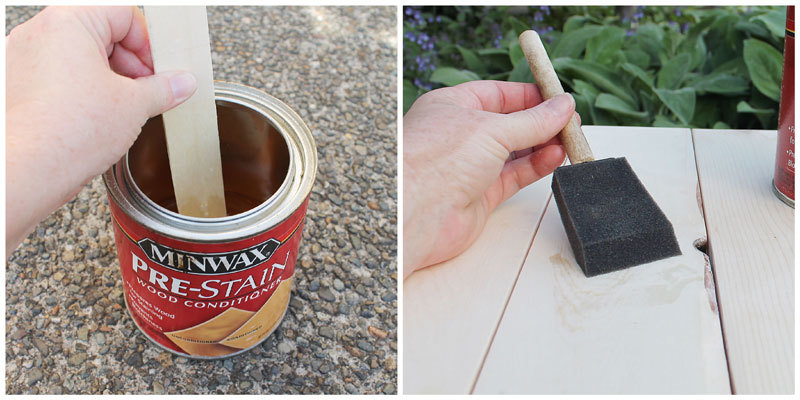 Step 3 Instructions
Pre-Stain Application
Pre-stain Wood Conditioner is used to help stain penetrate wood evenly and reduce the effect of wood grain raising.
Gently stir the Pre-Stain Wood Conditioner.
Apply Pre-Stain Wood Conditioner to your project with a foam brush allowing it to penetrate for about 5 to 15 minutes. Wipe off any excess wood conditioner with a cloth and apply stain within 2 hours.
NOTE: Always read instructions on can as different products might have different recommendations.
Step 4 Diagram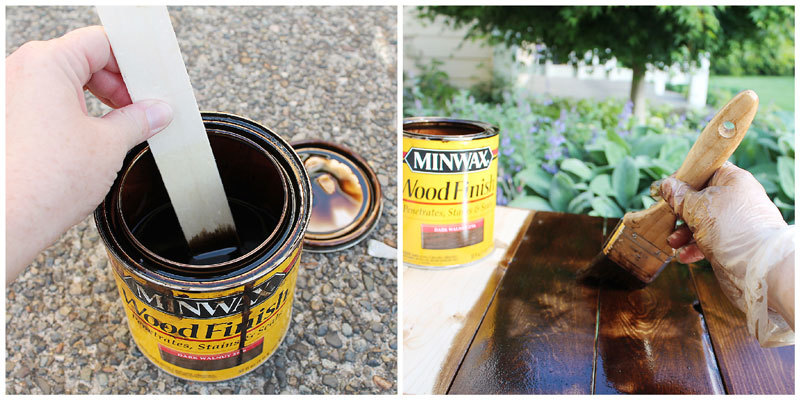 Step 4 Instructions
Staining the Project with Oil-Based Stain
Carefully stir the stain. Use a scrap piece of wood or inconspicuous area to test your stain and verify that it's the color you want.
Apply stain with a natural bristle brush or foam brush in the direction of wood grain.
Let stain penetrate wood for 5-15 minutes and wipe excess stain off with a rag. The longer the stain penetrates the wood the darker it will be. Just don't let the excess stain dry on the wood!
Again - always consult manufacturer instructions for best results.
If you want a deeper color of stain you can apply a second coat of stain 4-6 hours after the first coat. No need to sand between coats of stain. I applied one coat of Walnut stain to achieve this color (see below).
TIP: You can also use a water based stain, just also use a water based pre-stain and follow instructions on can.
Step 5 Diagram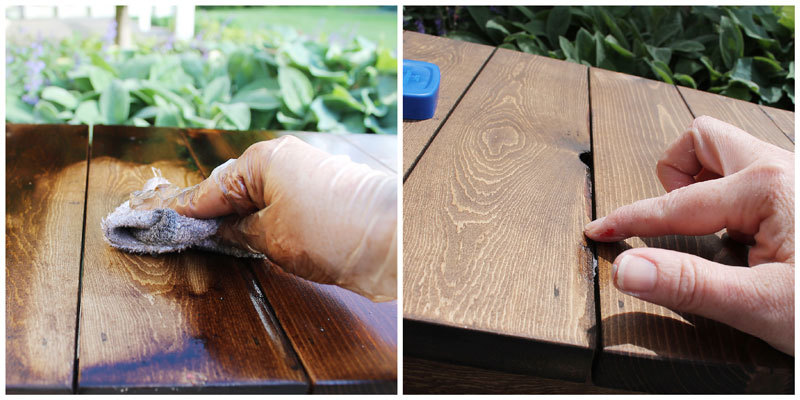 Step 5 Instructions
Protecting Stain from Paint Adhering with Vaseline
After letting the walnut stain dry for 24 hours I was ready to apply my vaseline. I carefully rubbed the vaseline between the slats and any other parts that I wanted distressed.
The paint will not stick to the vaseline so make sure you only put the vaseline where you don't want paint!
Step 6 Diagram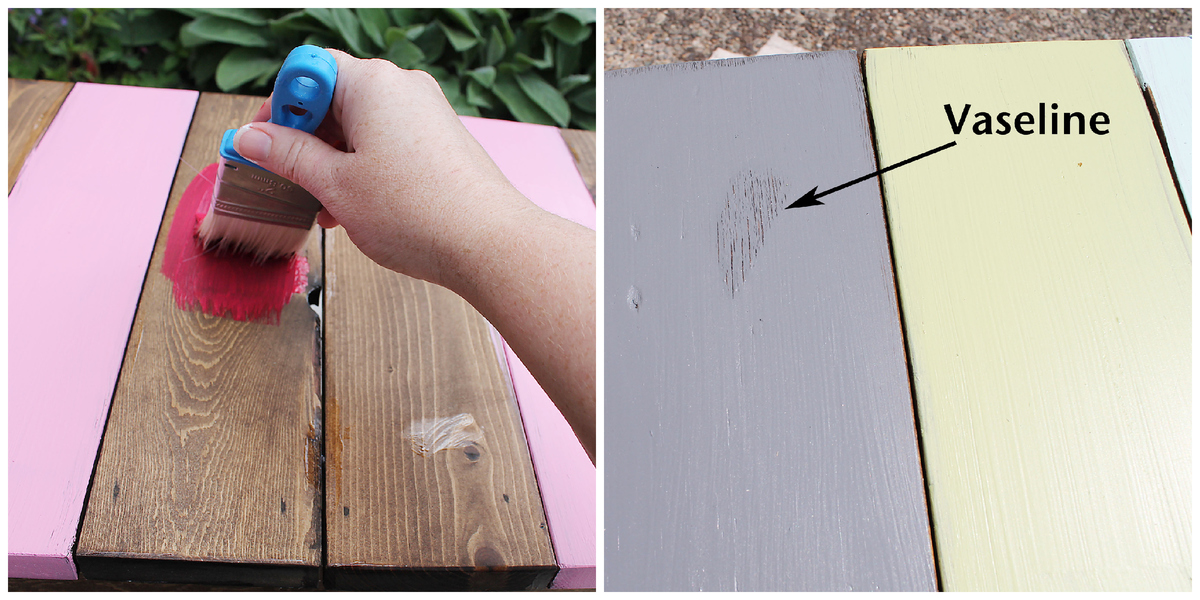 Step 6 Instructions
Painting over Stain and Vaseline
I used three different colors on each of my benches and just carefully painted the slats. You can paint right over where you put the vaseline. When the paint is dry you can see some of the parts where the vaseline is that the paint is already cracked a little and didn't adhere well.
Step 7 Diagram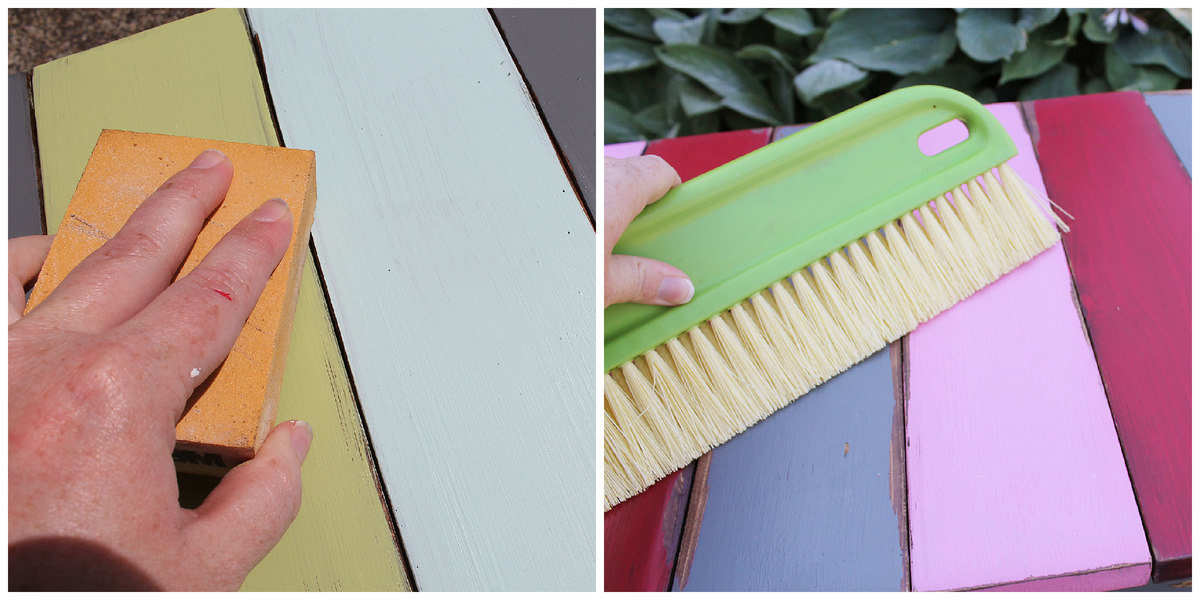 Step 7 Instructions
Distressing and Removing Paint from Vaseline Protected Areas
I let the paint dry overnight and then distressed the bench by sanding it with a sanding block. The paint will come off easily by sanding in the areas that you applied vaseline. Once the bench is distressed how you want, remove all the sanding dust to prepare your bench for polycrylic.
Now you are ready to protect your bench!
Step 8 Diagram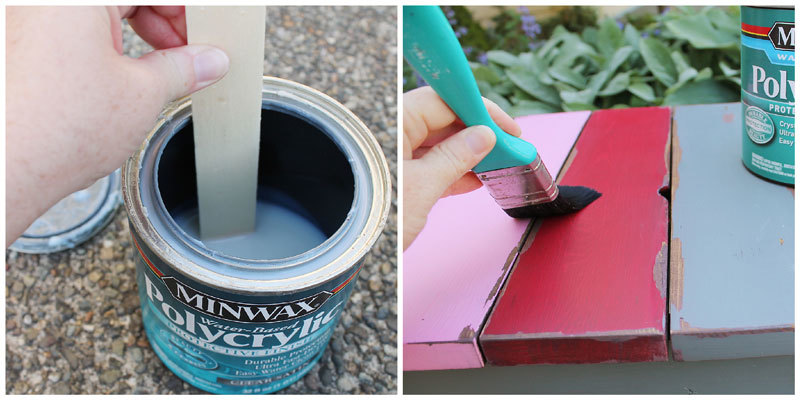 Step 8 Instructions
Protecting with Topcoat
Carefully mix polycrylic, don't shake! It will look milky in the can but will dry clear.
Use the Water Clean-up brush to apply a thin coat of polycrylic. Brush in one direction following the wood grain. Be careful not to overbrush.
Let Polycrylic dry at least 2 hours and then lightly sand with 220 grit sandpaper to help second coat of polycrylic adhere and ensure a nice even finish. Remove all sanding dust.
Apply second coat and if desired third coat of polycrylic in the same way you did the first, sanding lightly between coats. After your project dries for 24 hours it's ready to use! I applied three coats of polycrylic to my benches.