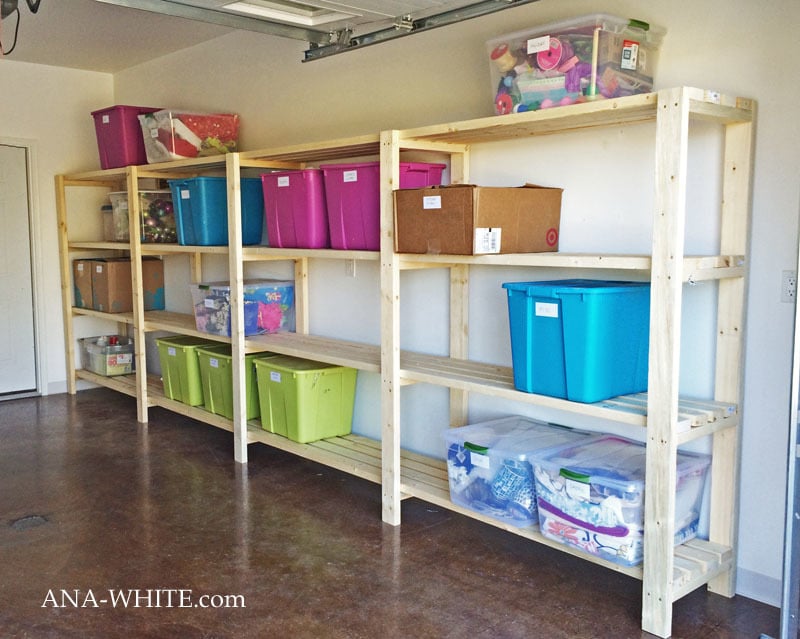 So happy that spring is just around the corner!  I'm anxious to do a little spring cleaning already! 
Having adequete storage is essential to keeping a home tidy and organized.  If you decorate for the Holidays, have any hobbies, or rotate items for seasons, you'll need somewhere to store off-season and not in use things.  
Garage storage is a popular option for storage shelving.  Since it's in the garage, it doesn't have to be neat and tidy (although my OCD has me straightening up my shelves) all the time, and you can leave the shelves open for easy access.  Garages also tend to have open space reserved for parking a car, leaving the shelving easily accessible when the car is not in the garage.  No crawling under stairs or down into a crawl space with a huge tote.
I especially love garage shelving built perfectly sized for totes.  Totes are an inexpenisve way to fill up shelves in a somewhat organized way.  Just slap a label on the tote, fill the tote up, and put it on the storage shelf. 
I built garage storage shelves last fall, and it was the best investment of my time ever. It cleaned up my whole house.  We storage hockey gear, baby strollers, baby clothes that Hayes has outgrown, baby clothes that people have given us that is too big for Hayes, sports equipment, Holiday decorations, craft supplies, coolers, camping gear, suitcases, and lots of random things that I don't quite know where to put but can't quite yet give up on - someday, we'll do the whole P90X thing .... right?  You can check out my garage storage shelving unit at the end of this post, but first, I want to show you some more garage storage shelving ideas with tutorials - 
Overhead storage is perfect for a small garage where floor space is tight. The white paint gives this one a finished look. Check out this overhead garage storage tutorial by Artsybuildinglady here.
By Chris Allen
This is another option for upper shelving!  There's so much storage with the double shelves! And by utilizing the studs in the garage walls, you conserve lumber, reducing the cost of the build.  
These are heavy duty plywood shelves!  I love this freestanding version.  The nice deep shelves on Honeybarlane's storage shelves are just plywood cut in half lengthwise.  You can get the full tutorial for these garage shelves here.
This is very handy garage storage plans and looks awesome too!  These shelves are clever in how the shelf supports for the upper most shelf become storage areas too.  This is the perfect "sportsmans" storage solution!  Check out the tutorial over at The Family Handyman.  Bonus - lots more tutorials for garage shelving from the Family Handyman here.
These sturdy shelves are perfect fot plastic totes! I love how the shelving heights were designed specifically for totes.  Check out the full tutorial here.
I love these shelves made by my friend Beckie from Infarrantly Creative.  She made here shelves 8 feet by 8 feet - which means guess what? Hardly no cutting of course!  If you look close, you can see how Beckie designed the middle part of the shelving so the small totes slide out like drawers.  Love it!  Check out the full tutorial for these garage shelves here.
by Bower Power
My friend Katie from Bower Power teamed up with her husband to build these beautiful storage towers.  These are sturdy, but pretty enough to go in an entryway too!  You can check out the full tutorial for these garage storage towers here.
By Ana White
And finally, these are the ones I made.  These shelves are actually 19 feet long!  I just made six of the leg supports, and threaded 19 foot long 2x4s through the legs and screwed down.  Seriously - took me about 2 hours to make these shelves. You can check my full tutorial for these extra long easy to build garage shelves here.
So which ones are you going to build?  When you do, please brag or tag #anawhite so we can see your projects too!  
XO Ana + Family