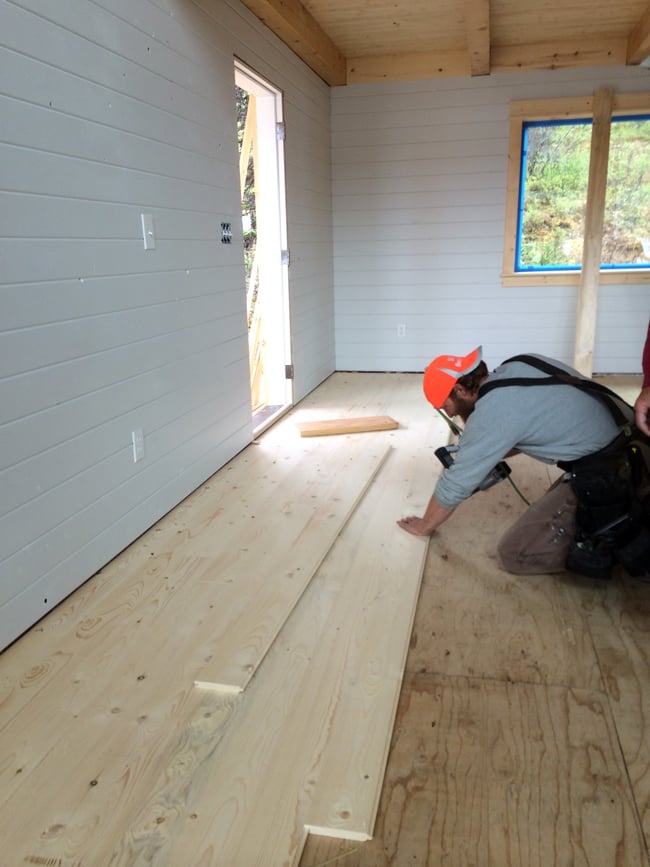 There's only one surface left in our cabin that we haven't installed the finished material on yet!
The downstairs floors.
I've had my heart set on hickory flooring, either laminate or hardwood depending on budget, from the beginning.  Have you not seen Melissa from The Inspired Room's floors?
Wouldn't this mix of wood tones be the perfect flooring for our Alaska lake cabin?  I showed our crew Melissa's floors, and they even loved it and were excited about seeing hickory hardwood floors go into the cabin.  
So dumb old me drove four hours to Fairbanks to purchase the flooring, and what do you know?  No one - not one store - carried hickory hardwood flooring in stock.  And not only that, but all of the flooring I looked at just didn't seem to work with our cabin.  With this cabin, I wanted to use local materials that suggest the cabin might have been built by and old timer during the gold rush decades ago.  That the cabin might not be brand new, and might have always been there.
I then asked myself, if I were building this cabin a hundred years ago, what would I have used for flooring?
The answer was right in front of us.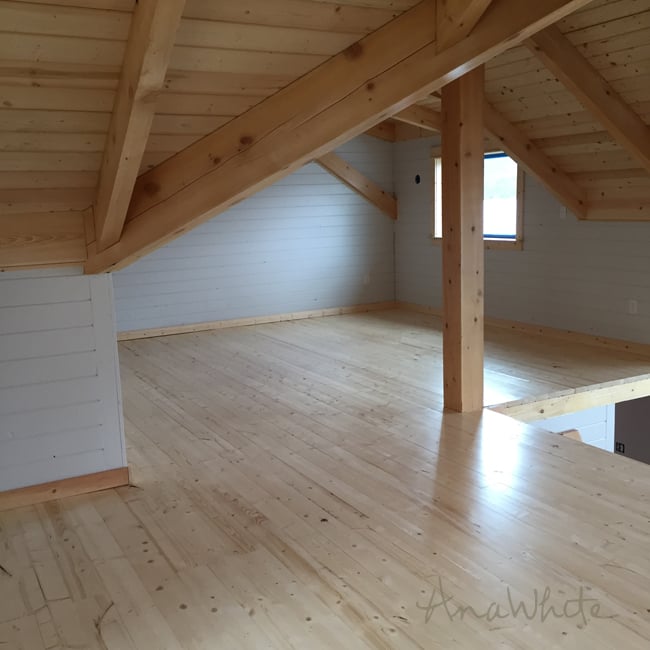 Or more specifically, right upstairs.  The right material to use is locally grown and milled Alaska spruce.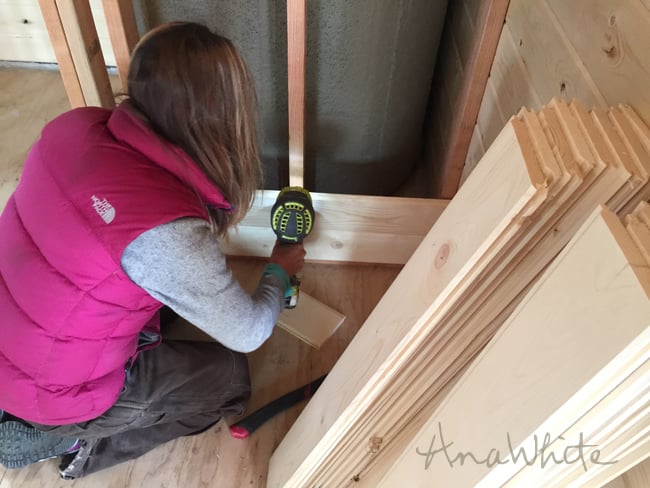 The same exact stuff we used to plank the walls.  1x6 tongue and groove boards.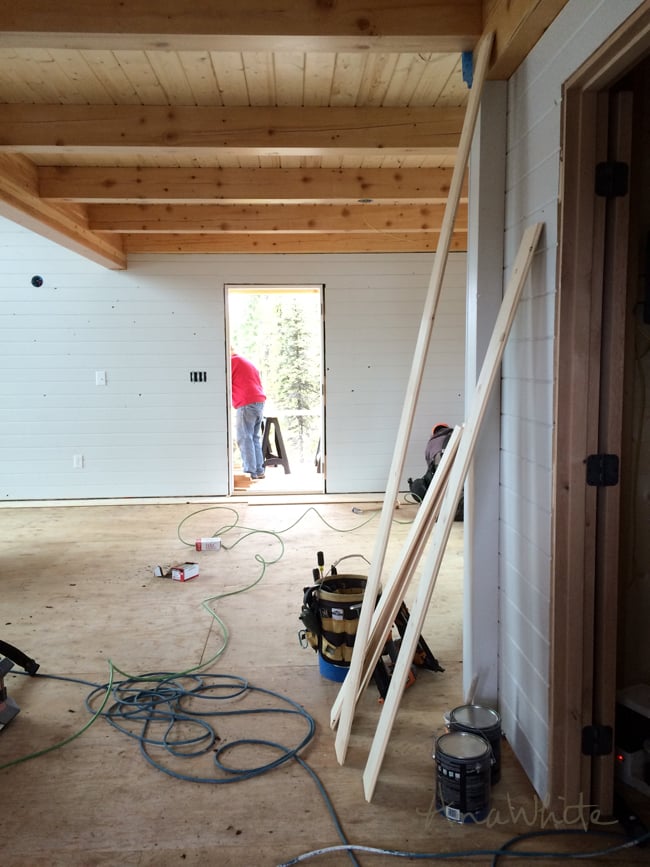 I had my doubts about using spruce because it is a soft wood, and will dent and scratch easier than a hardwood.  But perfect is not the goal for this cabin - rustic, natural and organic is.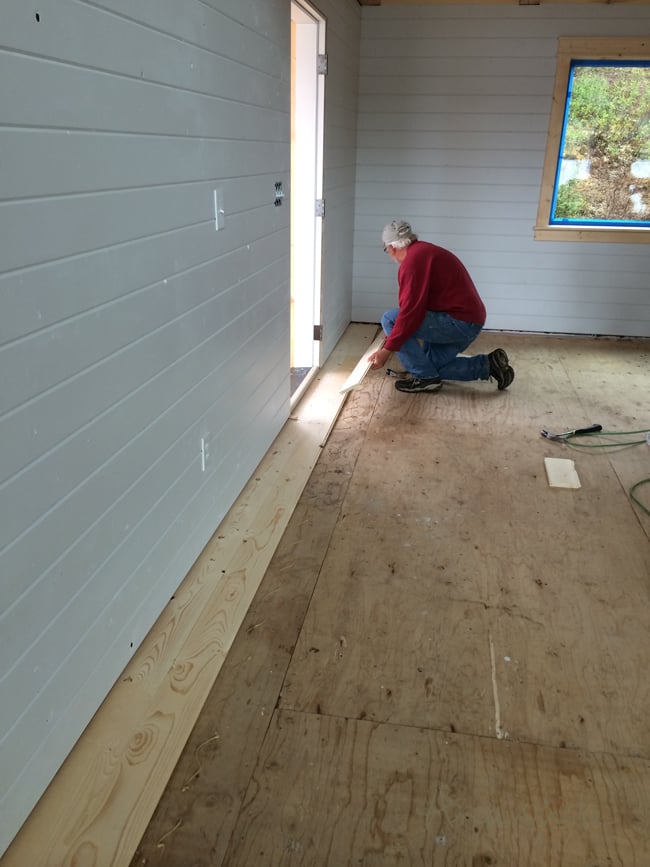 Installing 1x6 tongue and groove flooring is pretty simple and similar to installing most wood or laminates.  You do a bunch of figuring to make sure it will work out, then you snap lines and start square, and start laying flooring.  This is not a floating floor, so the first row is nailed down, near the edge that will be covered by baseboard later on.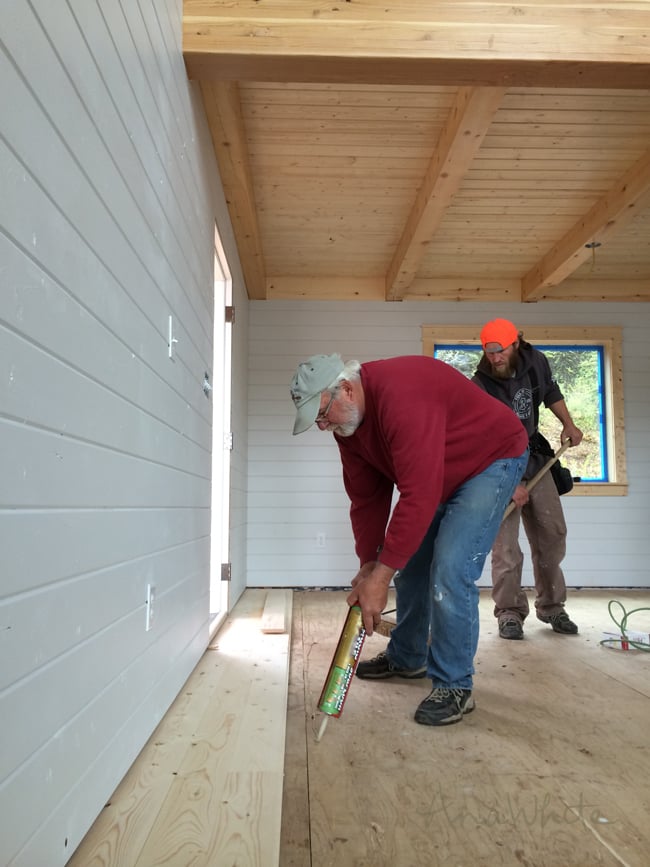 We glued the flooring down because we are nailing it, and the glue will prevent the boards from squeaking later on.  Plus, this is a permanent wood floor - if it gets scratched or stained, we won't be pulling it - we will simply be refinishing it.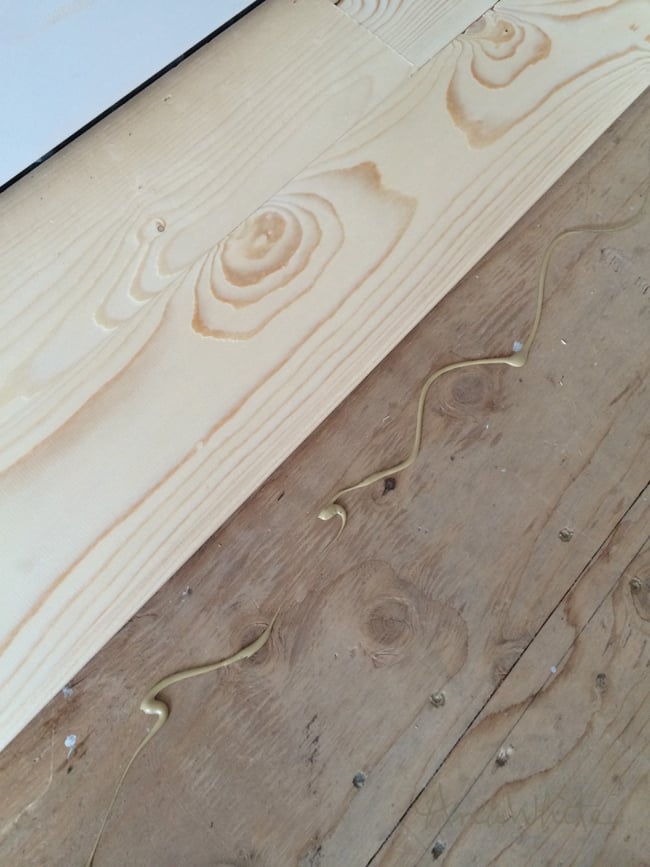 That's what cheap insurance looks like.
After the first row, all of the 1x6 tongue and grove boards are nailed on the tongue side at a 45 degree angle -
This way there are no nail holes to finish later on.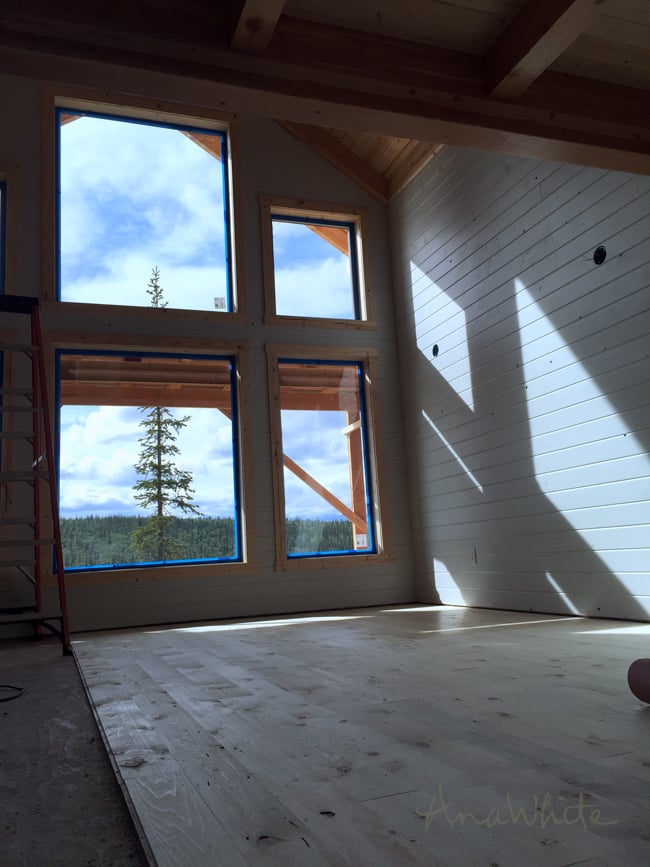 Putting the flooring down was quick.  Cleaning the room out and kicking everyone out so we could put flooring down was the hard part.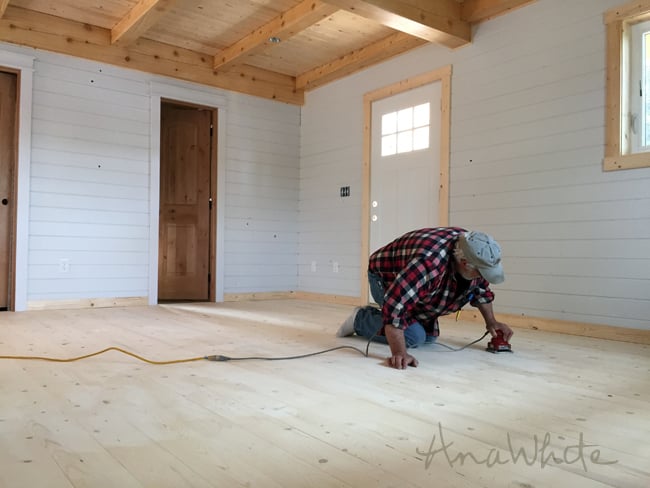 After the flooring was installed, ideally, you'd rent a floor sander and sand the entire floor.  Out here in remote Alaska, this is what your flooring sander looks like.  
We are very pleased with Varathane Crystal Clear Polyurethane, so decided to use it again on the floors.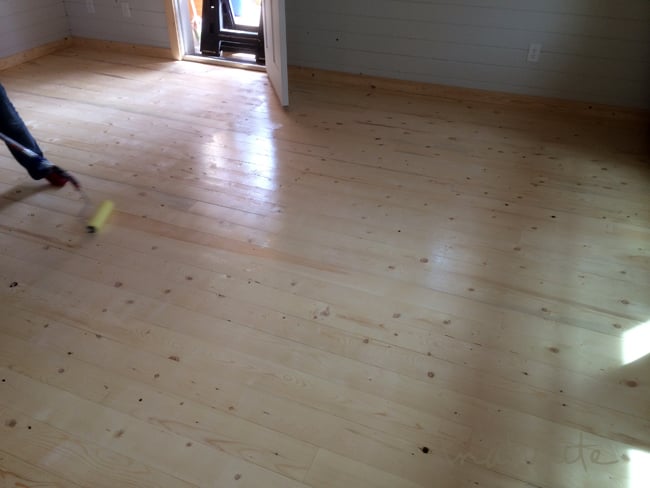 We rolled it on with a foam brush, letting it fully dry between coats.  This was a difficult step because to do this, all work had to be haulted inside the cabin.
I know this wasn't the first choice for the flooring in the cabin.  And I certainly had my doubts about light wood flooring - it's not on trend right now, especially new wood with no distressing or aging (which will come naturally over time) -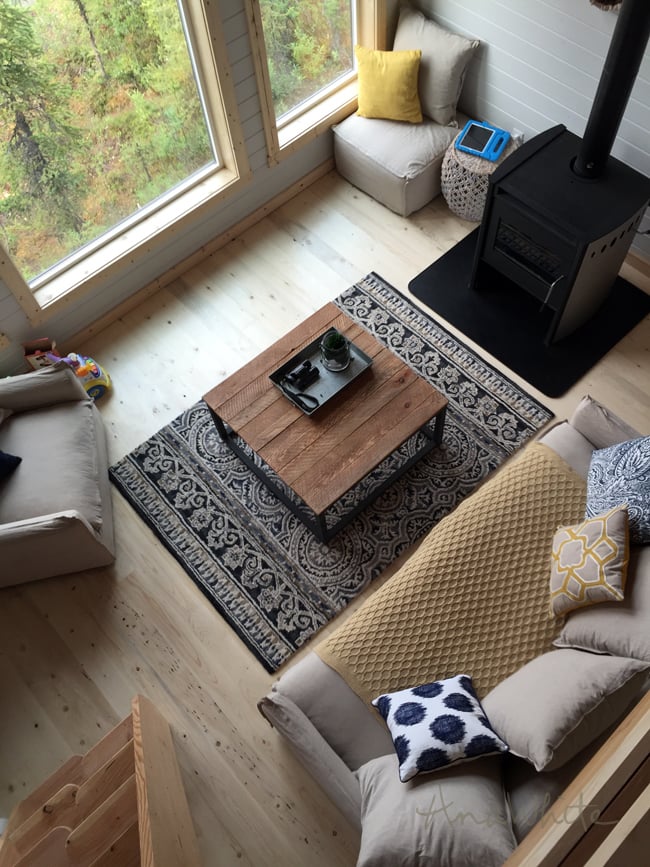 But I couldn't be happier with the flooring.  It is one of my favorite parts of the cabin.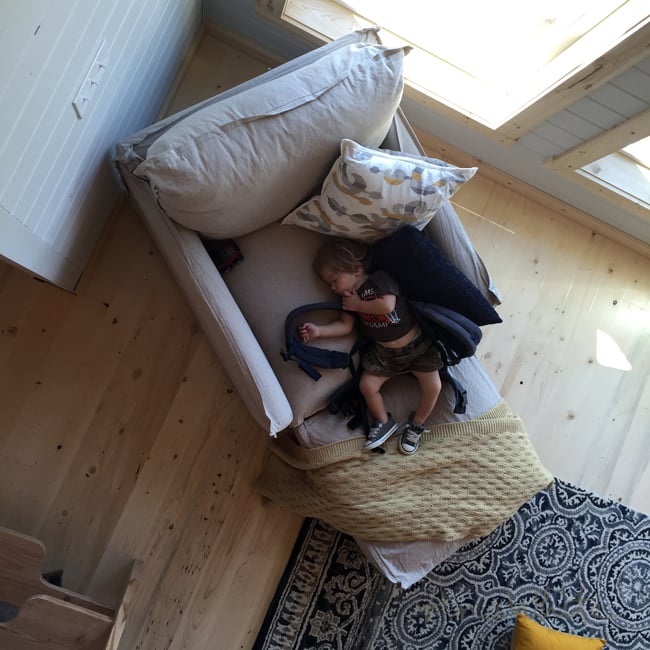 Isn't it beautiful?  I hope you love it too!
If you'd like to do a similar flooring, check out these posts and articles -
Detailed guide for installing pine tonge and groove flooring from The Family Handyman
Dark Walnut Stain on Pine floors from Grand Design Co - are you dying over those DIY bunk beds too???
Exposed screw holes and dark stain by Shabby Creek Cottage
Hmmm ... now I want to sand all the floors down, distress the heck out of them, stain them dark, add some screws ...
Have a great day!
XO Ana + Crew
Love these DIY wood floors?  Pin now, build later!