DISCLOSURE: Thank you to Rustoleum for providing product and working with me on this post.  All opinions expressed are my own.
Hi everyone!  Thanks so much for your patience with me the last couple of weeks.  I've been spending some family time, and it's taken me a few days to get back into the groove of blogging.  We of course are pushing through still on the house, as the leaves are already starting to change up here in Alaska, and we have to have a roof on the new house before snow falls.  
There's a few projects I've been wanting to tackle, but in our always so busy schedule, I've been putting them off.  The building is quick and fun, but finishing the projects can take quite a bit of time.  So I've been looking into simpler finishes that are quicker and easier to apply, but are just as beautiful.
Danish Oil is an oil and varnish blend, that enhances the grain of the wood, can add color, and protects the wood from moisture.  It is a single step application, either with a staining cloth, applicator or brush, penetrating deep into the wood, without need for a top coat or concren for brush marks in the stain.  It is an alternative to staining projects, then applying a protective top coat, but does not provide a thick, solid coating to protect wood from scratches.  
Here's how Danish Oil compares to Wood Stain with Polyurethane top coat

I have a shelving project (plans very soon!) that I just built, and since it's not a heavy use piece (and I'm always looking for ways to save time and money), thought I'd give Danish Oil a try.Depending on the Danish Oil/Polys, you may be able to add poly over Danish Oil to protect part of the project - for example, finish the entire table in Danish Oil, and then add a few coats of poly over the tabletop for added protection.
Project Prepping
First I prepped my project for finishing.
Using a random orbital sander, I sanded the project with 100 grit sandpaper in the direction of the wood grain.  The lower your sandpaper grit, the coarser your sandpaper, the more stain your wood will soak up.  The higher your sandpaper grit, the finer your sandpaper, the less stain your project will soak up, but the wood will be much smoother and feel more finished.  Generally, a medium grit is recommended, followed by fine for the super smooth finish.
Stain Application
Since Danish Oil is oil based, it cannot be cleaned up with soap and water.  The same is true of most wood stains.  So I tend to use something disposable for application.  I save old t-shirts and cut them up for staining rags, and sometimes use shop towels, just make sure whatever you are using is lint free.
I used a sponge applicator this time, flooding the wood with the oil, and allowing it to penetrate for about 15 minutes.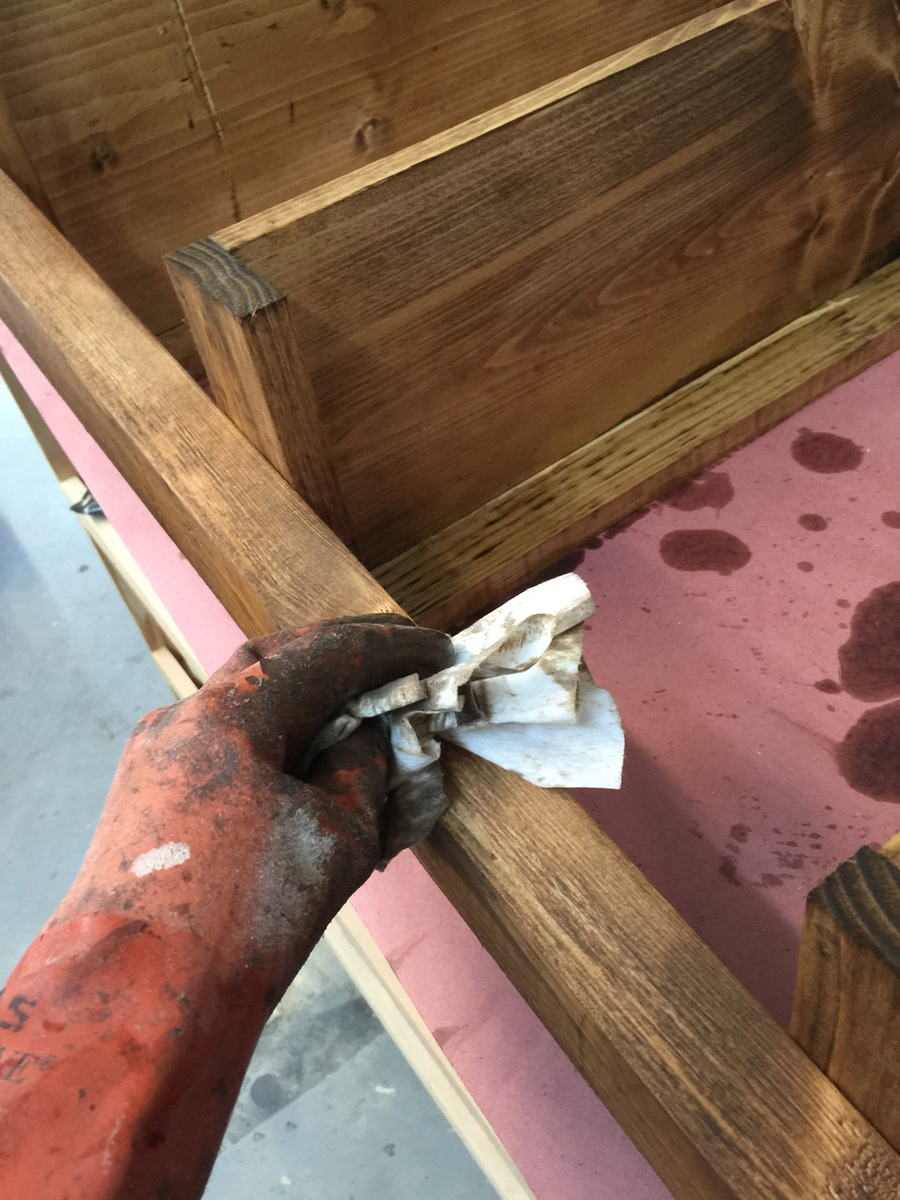 Then wipe off excess with a cloth or towels.  Additional coats can be added to deepen the color.
Available Colors
For this project, I fell in love with dark walnut.  It is a medium brown toned hue.
But there are many other colors to choose from -
Natural, Golden Oak and Fruitwood
Cherry, Red Mahogany, and Light Walnut
Medium Walnut, Dark Walnut and Black Walnut.
I can't wait to try out some more of these colors, and am excited about a staining option that is faster, easier and cheaper for light use projects.  Let me know how Danish Oil works out for you too.
XO Ana
PS - You can learn more about Danish Oil here.