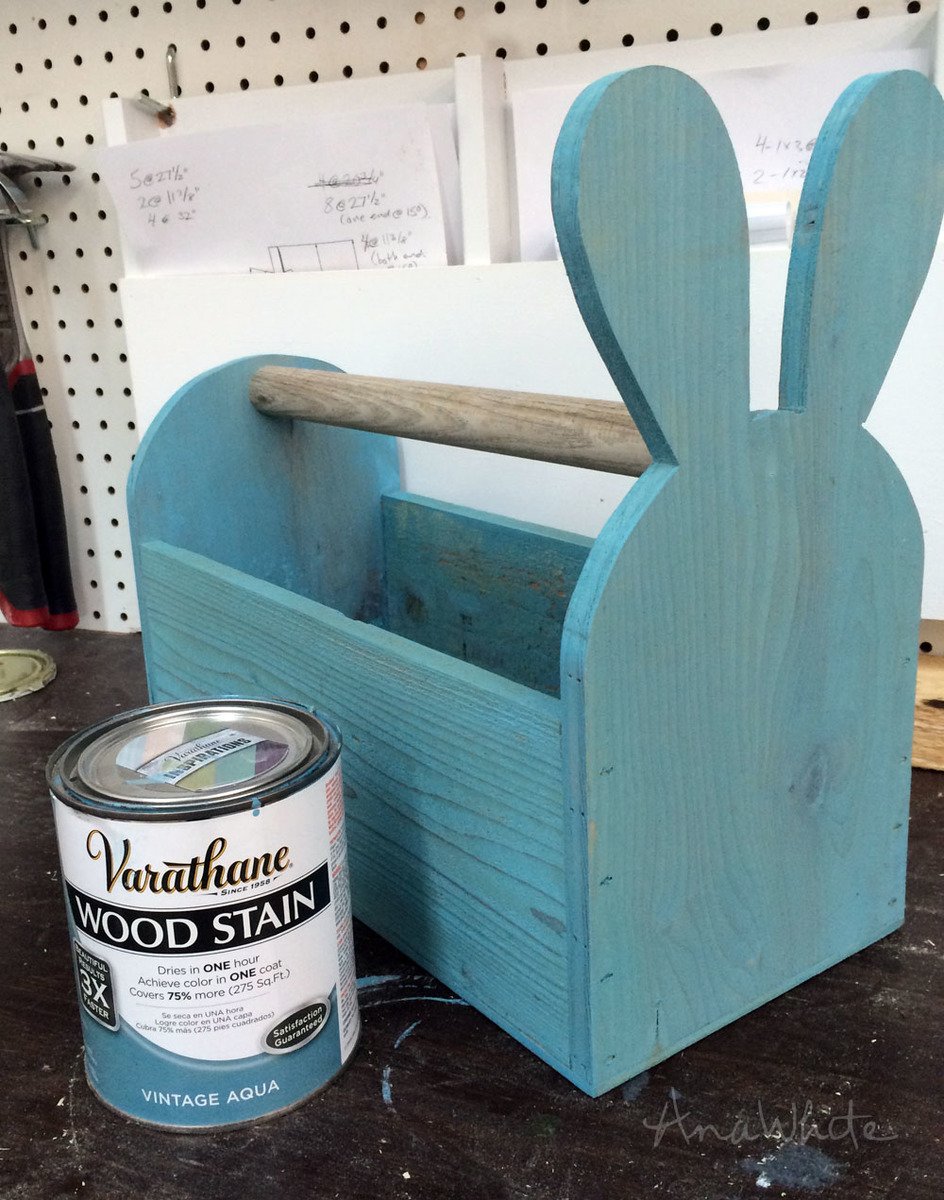 DISCLOSURE: I have worked with Rustoleum for many years and love their products.  This post is part of my relationship with Rustoleum, but all opinions and explanation marks are my own.
 
It's time to start thinking about making those wooden Easter baskets!  
The wood bunny trug has been a huge hit (plans here), I've made many over the years!
A few of you have been asking for more details on the finish, so I thought I'd take a second to share some more details -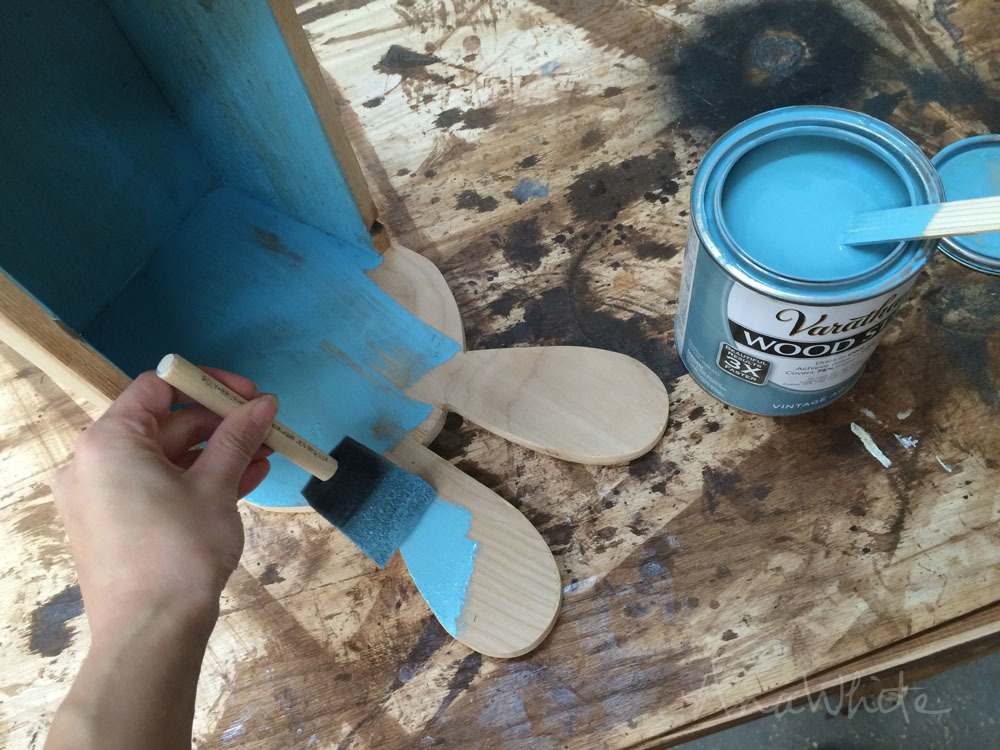 I use Varathane Wood Stain in a colored stain.  
Applying Wood Stain
1. Simply brush the stain on evenly.  I like to use a disposable applicator because the stain is NOT soap and water clean up - paper towels, old t-shirt rags, or foam applicators are all great.   Then wipe off any excess after about 5-15 minutes, this will depend on how the wood is soaking up the stain.  Just don't let any stain dry on top of the wood, you want the stain to be soaked into the wood.  This is not rocket science.  If you wipe the stain off too early and the stain is too light, you can always add another coat.
2. Protect with Polyurethane.  After the stain is completely dry, a top coat of polyurethane is recommended.  The poly protects your project and makes it wipe-cleanable (is that even a word?).  I like to use a water based poly if I am brushing it on because it is soap and water clean up and tends to be easier to apply than oil based and is usually clearer (non-yellowing).  But to apply a water based poly over oil based, the oil based must be fully dried.  If unsure, you can always use an oil based poly (try the spray one ones for easy of application or the wipe on ones with a disposable cloth or foam applicator).
If you want more direction on prepping wood, and more specifics on staining, check out my Ultimate Wood Staining Guide.  The colored stains are the same formula that I use in the guide, just in fun colors.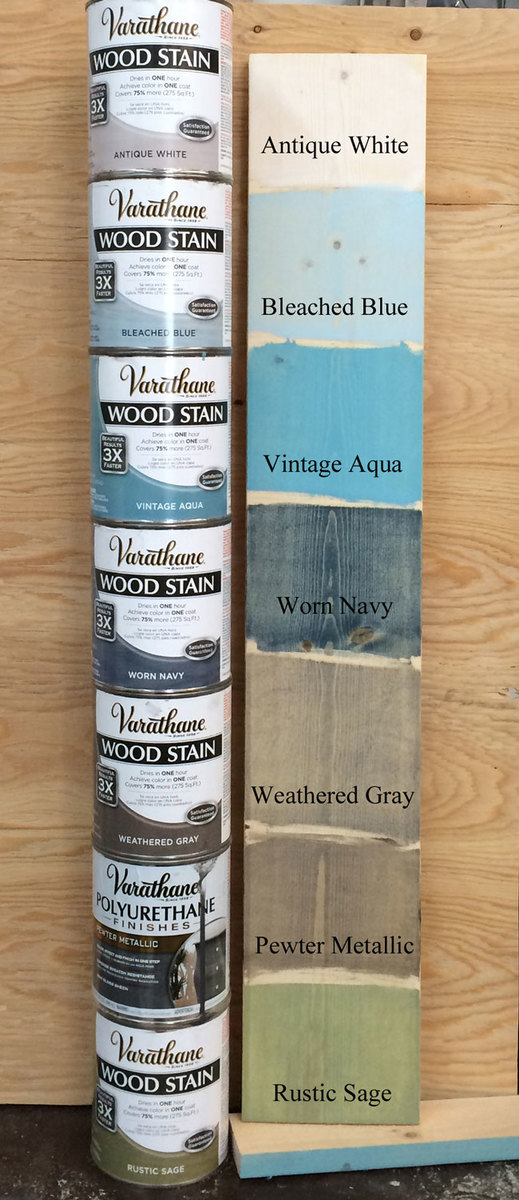 With all my favorite stain, I create "stain boards" so I can easily reference what each color looks like on different wood species.  Here's all the fun colors from Varthane.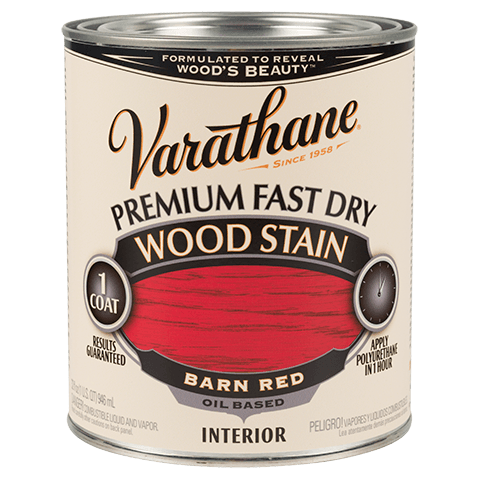 They've added some new colors too.  I'm dying to try this barn red.  A bottle of this red would be the most perfect Valentine's Day gift.
What is your favorite?  If you build and stain, do share, I'm eager to see how your projects come out too.
XO Ana
PS - If you really want to nerd out on staining wood, check out my Ultimate Wood Staining Guide here.