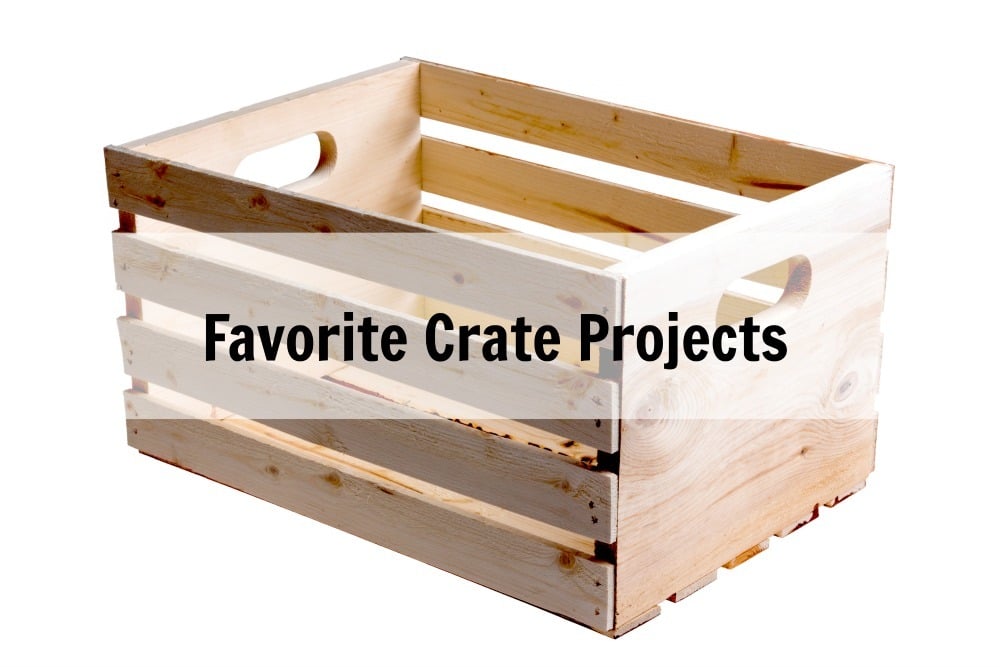 Have you had a chance to check out my Ultimate Wood Crate Building Guide?
Building crates is easy, fun, and maybe even free if you have scrap wood lying around your shop.  
But what to do with all these wood crates you can now make?  Crate furniture is all the rage right now, and you might just be suprised at what you could make by stacking up wood crates.
A Few of My Favorite Wood Crate Furniture Ideas
1. Toybox on Wheels
I made these carts for my daughter years ago and have loved them.  So versatile and beautiful!
Tutorial: Vintage Crate Carts on Wheels by Ana White
2. Simple Colorful Bookshelf
I love this colorful stacked bookshelf!  Size your crates to fit your books for the perfect fit.  Don't forget to secure the top crate to a stud in the wall to prevent forward tipping.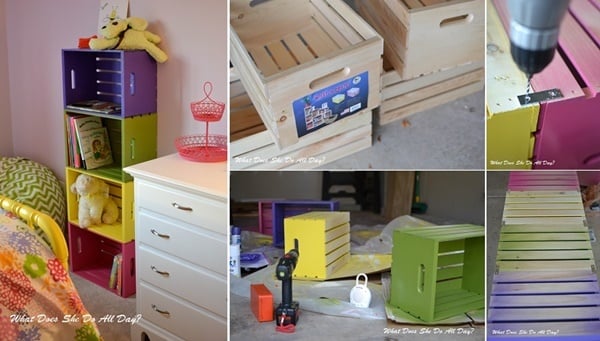 Tutorial: Big Girls Bookcase by What Does She Do All Day
3. Bathroom Shelving Wall Crate Storage
I made these little crates to store bathroom supplies on the wall.  They added a beachy coastal feel to my bathroom and helped me store lots of toiletries, candles and more!  The crate ends are 1x4s.
Tutorial: Little Crates Bathroom Shelves by Ana White
4. Shoe Storage Bench from Single Crate
This cute little shoe bench could roll into a closet, and roll out for comfortably lacing sneakers or zipping boots up.  Overall width should be less than 36" and the top should be 3/4" plywood or a 1x12 to span this distance.
Tutorial: Fruit Crate Shoe Bench by Handimania 
5. DIY Crate Furniture Side Table or Nighstand with Hairpin Legs
You can make a simple side table or nightstand with storebought hairpin legs and a crate.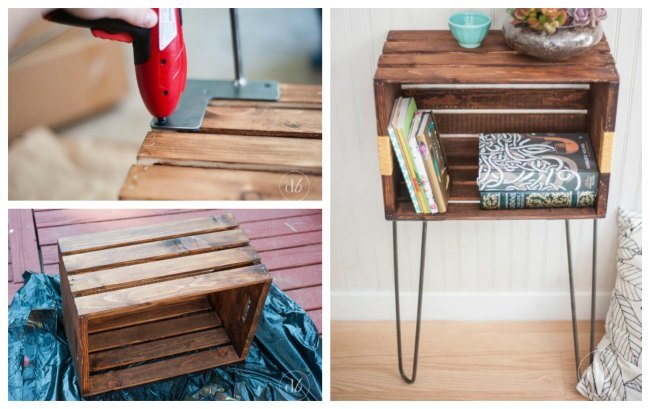 Tutorial: The Great Crate Challenge by Dwell Beautiful
6. Hinge Top Crate Furniture Coffee Table Chest
It's easy to make a coffee table out of crates that stores!  I love how simple this project is, all you'll need is two crates, plywood for the top and bottom, and some hardware.
Tutorial: DIY Storage Ottoman Made from Wooden Crates by Home Depot Blog
7. Shelf Style Upholstered Top Coffee Table
Four wood crates on their sides, topped with plywood covered in foam and fabric makes a lovely ottoman with lots of storage! 
Tutorial: Storage Ottoman DIY by Mon Makes Things
8. DIY Wood Crate Furniture Bookcase 
We've all seen crates creatively stacked to create fun bookshelves, but this one has to be the most fun of all!  I love the bright colored interiors of these crates!
Tutorial: Diy Wood Crate Bookcase by The Pleated Poppy
9. Floating Pull-Out Crates
My friend Brad from Fix This Build That created a ton of storage with his floating crates on drawer slides.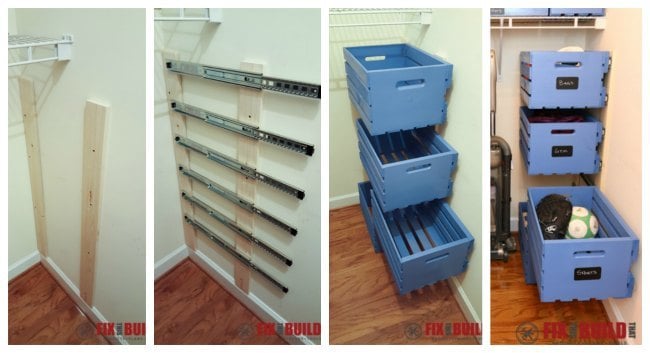 Tutorial: Floating Pull-Out Crates by Fix This Build That
10. Stacked Crate Mudroom
This lovely mudroom is just stacked crates!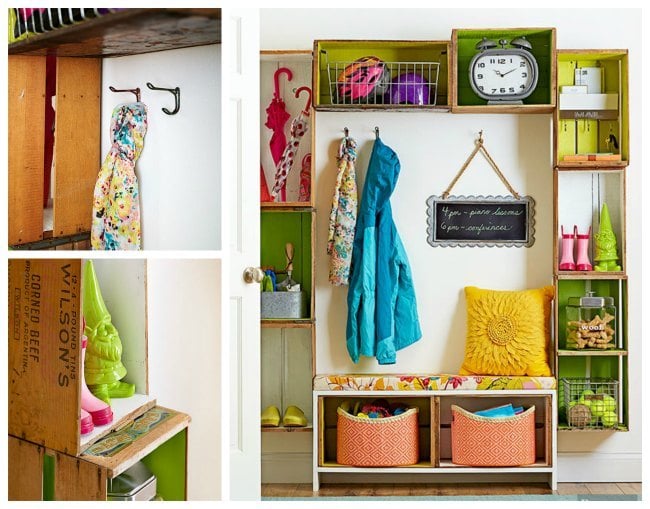 Tutorial: Wood Crates by BHG
11. Crate Desk
If you need a simple desk, just stack crates up to about 30" in height, and add a piece of plywood or tabletop to create a beautiful and functional desk.
Source: Holly Bruce at Desire to Inspire
12. Crate Furniture Pet Bed
Build your crate sized perfectly for a pet bed and leave a slat or two off the front to create a beautiful pet bed!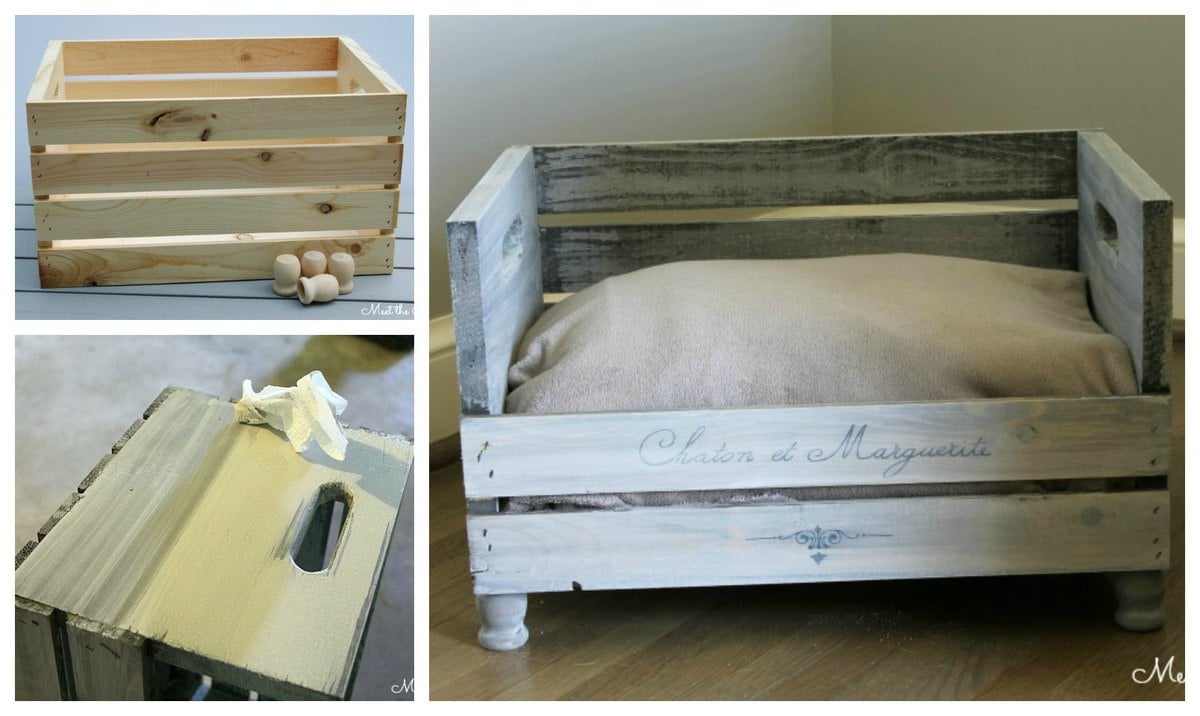 Tutorial: DIY Crate Pet Bed by The Inspired Hive
13. Diy Crate Furniture Nightstand with Drawers
This beautiful nightstand is simply two crates built into a frame with wood slides.
Tutorial: DIY Drawer Nightstand by Home Depot
14. DIY Crate Furniture Play Table
A fun and simple play table can be made wtih a larger crate on end and plywood tabletop.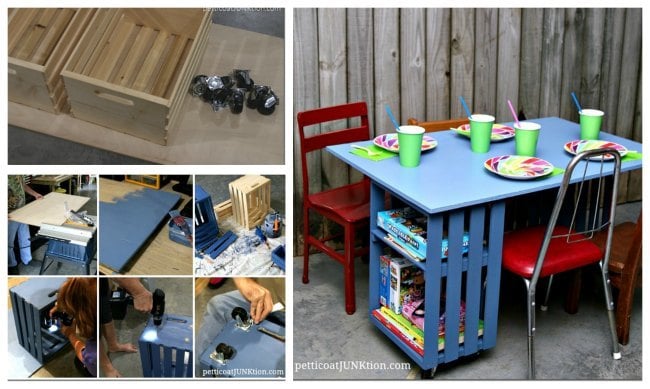 Tutorial: How to Make a Kids Crate Table Workstation by Petticoat Junktion
Ready to make some crate furniture?  You can either buy crates, or grab my Ultimate Guide to Building Crates here.
Do share if you build, can't wait to see how your projects turn out!
XO Ana
Collage images by Fab Art DIY