Even a small laundry room can be a dream laundry room.
My husband and I just finished up our laundry room project, and we couldn't be happier.  Gone are the piles of laundry on the floor, laundry baskets stacked in the bedroom, or even smaller sins - like everything, including whites, being thrown into the same wash.  We've planned, built, and implemented a "laundry machine" that has taken a family's dirtiest task and made it a thing of beauty.
A few weeks back, we started by building custom cabinetry along the main 8 foot wall (plans here).
And then this last week, we finished all the smaller projects -
For those of you who don't do video, we thought we'd share a photo tour as well.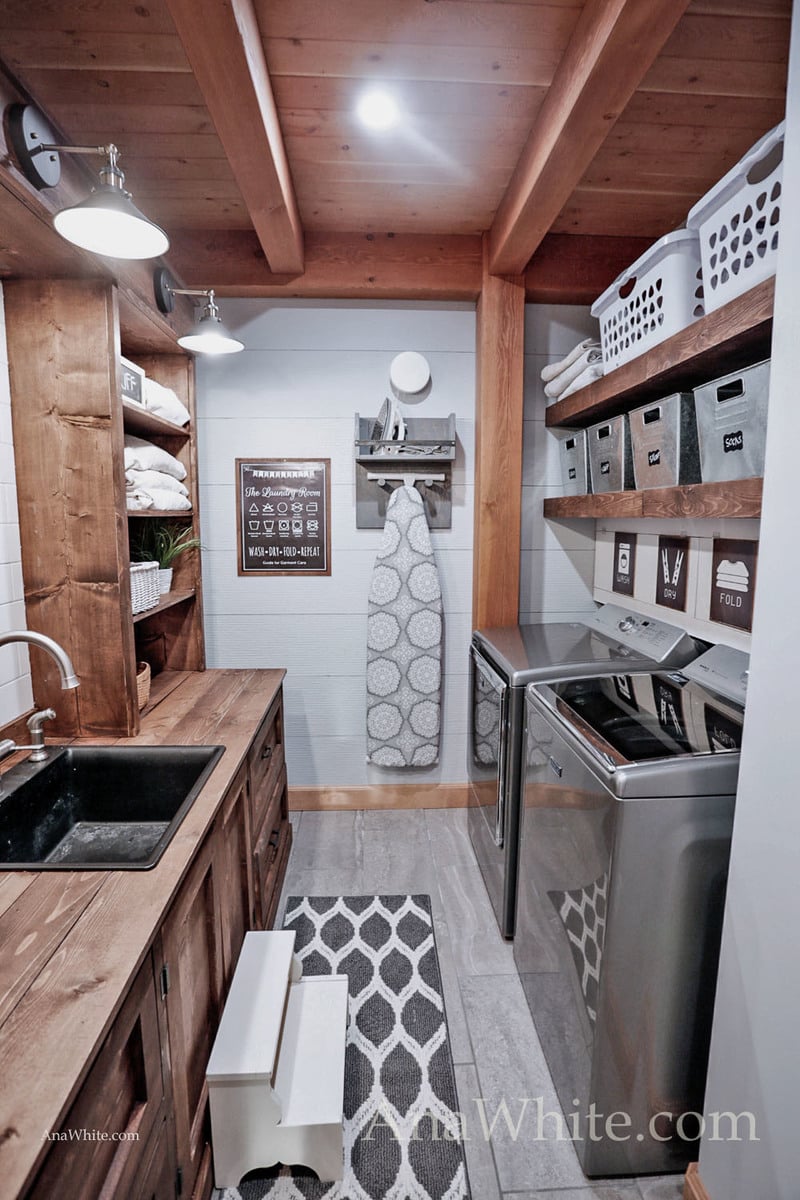 The laundry room is 10 feet deep x 5 feet wide, with a bump out for a top load washer and dryer.  We robbed some space from the neighboring master bath for the bump out.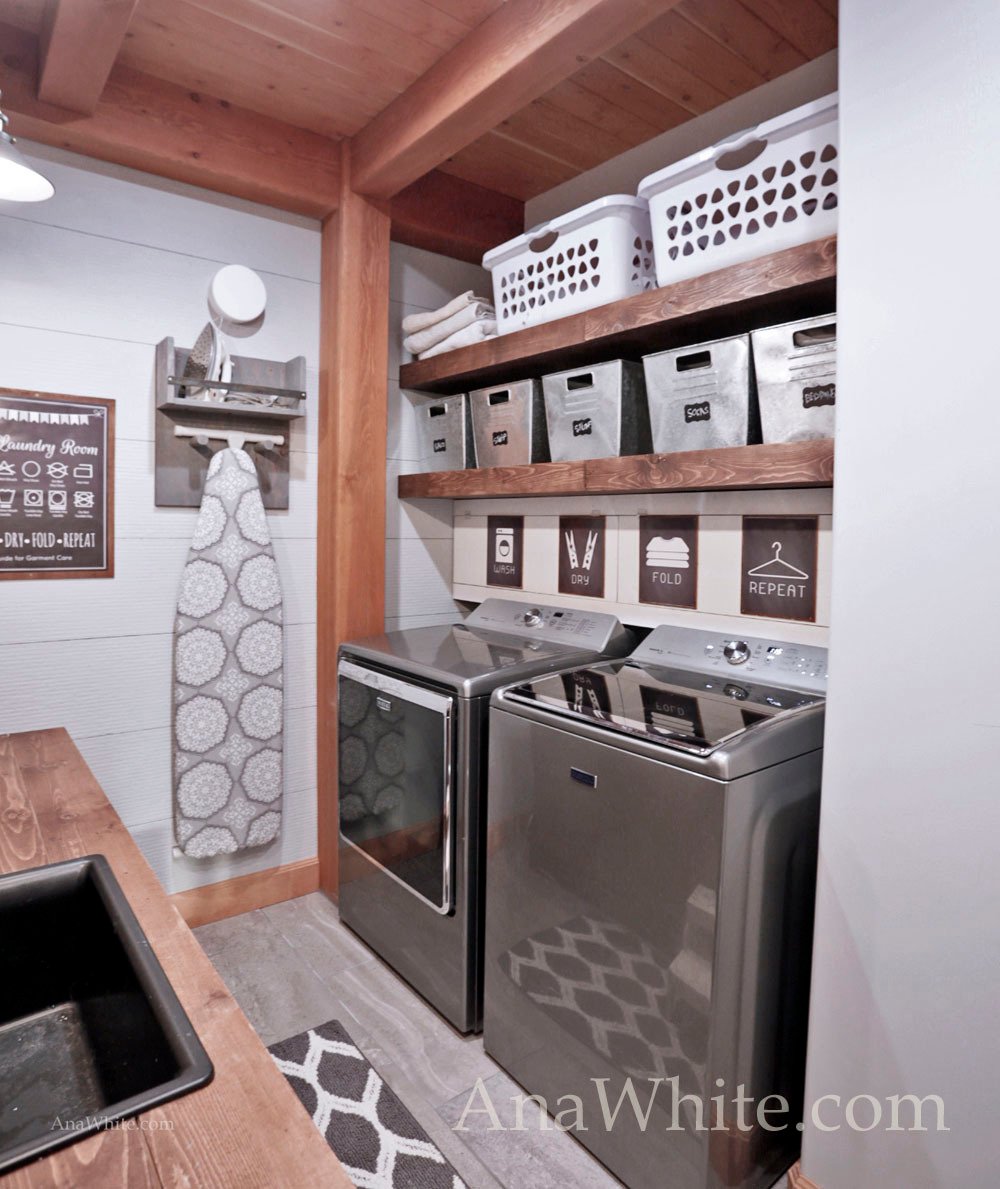 So here's the process.  Everything but towels, bedding, extra heavy textures/fabrics, delicates and whites is thrown into the top load washer.  We dress pretty simply, so there's not a ton of "specials" and I will either do the load on the spot (bedding) or accumulate in one of the drawers until there's enough for a full load.  I know there's better ways to sort, but this is do-able for our family, and sometimes you have to comprimise a little to get things done.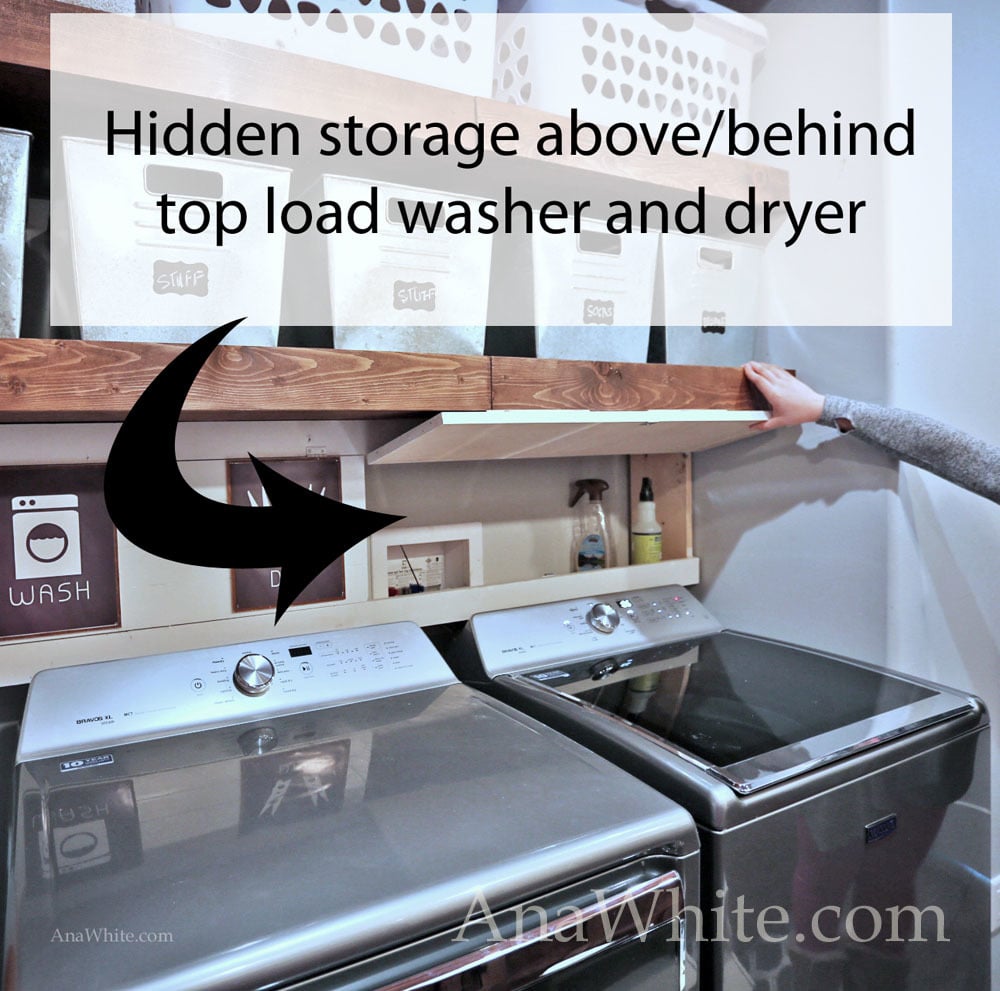 Above the washer and dryer is a hidden cabinet that holds stain treatments, dryer sheets, detergents, etc - all within easy reach but hidden away.  The hidden cabinet also helps prevent things from falling behind the washer and dryer.
We pretreat stains as the clothes go into the washer as needed.
After the clothes are washed, they either go in the dryer ... OR ....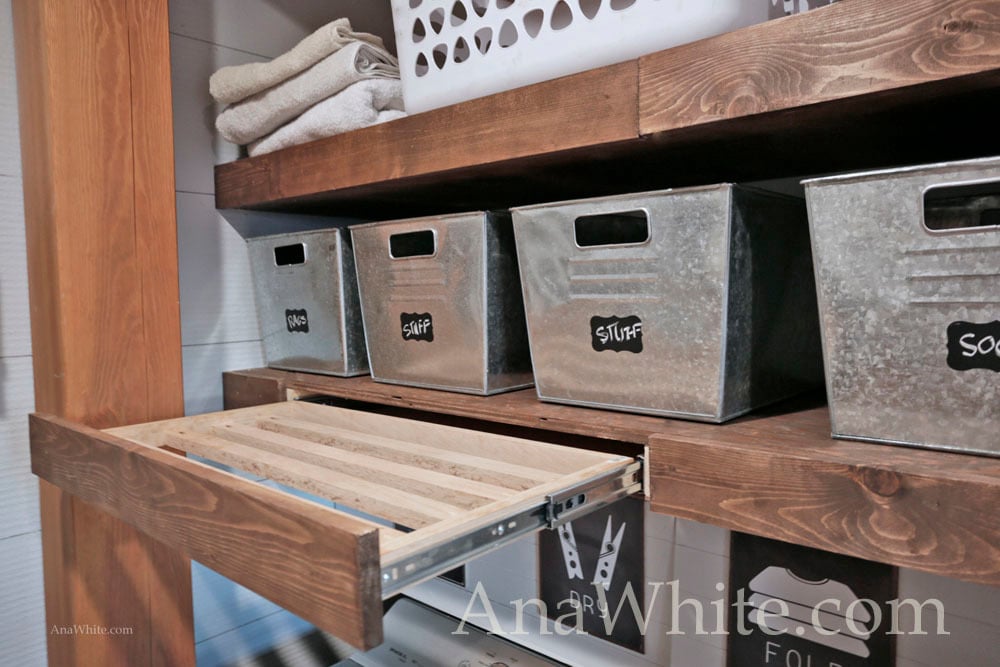 The lower floating shelves pull out and become drying racks.  I've suprised myself at how much we are using these guys, and they were a pretty simple build!  Plans available here.
Once the clothing is dry,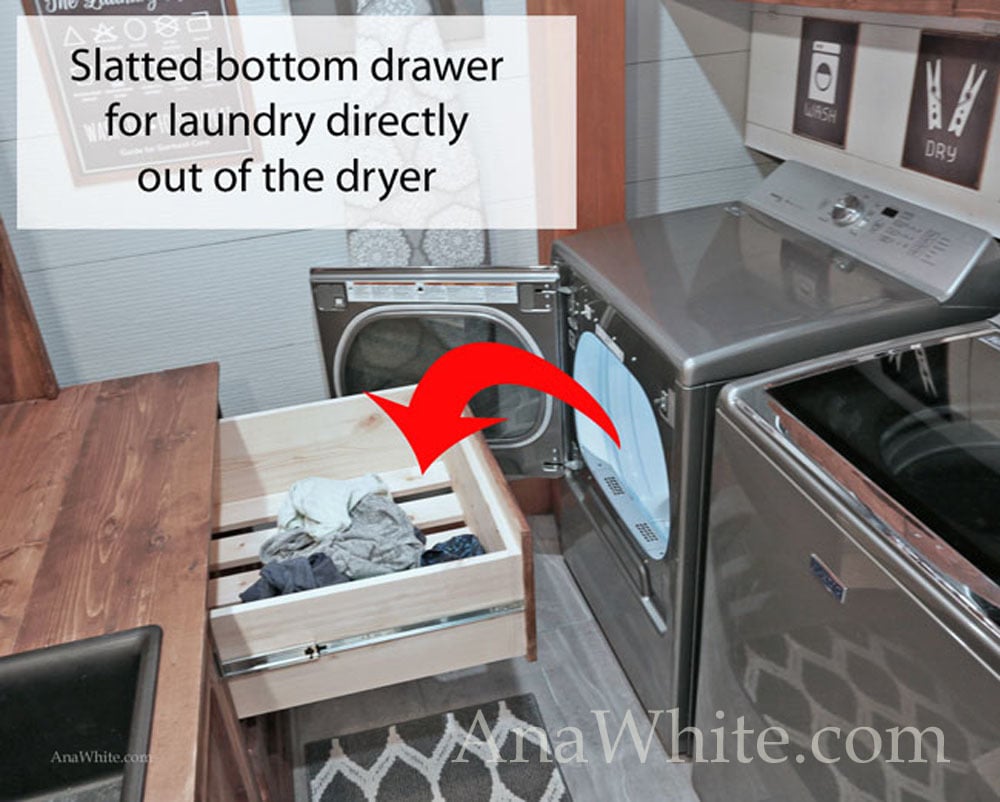 It goes directly into a drawer with a slatted bottom for folding (or folding when I get to it).
The drawer below is just as big, and can hold even more clean clothes, but I use it as a "hand-me-down drawer" for clothes that my kids have outgrown.  That way I'm only passing along freshly washed clothes, and not putting away clothes my kids can no longer fit into.
Time to fold!  I keep the custom laundry cabinet tops clean and open, so folding is always easy and available to me. 
The countertop height is 32" - perfect for folding.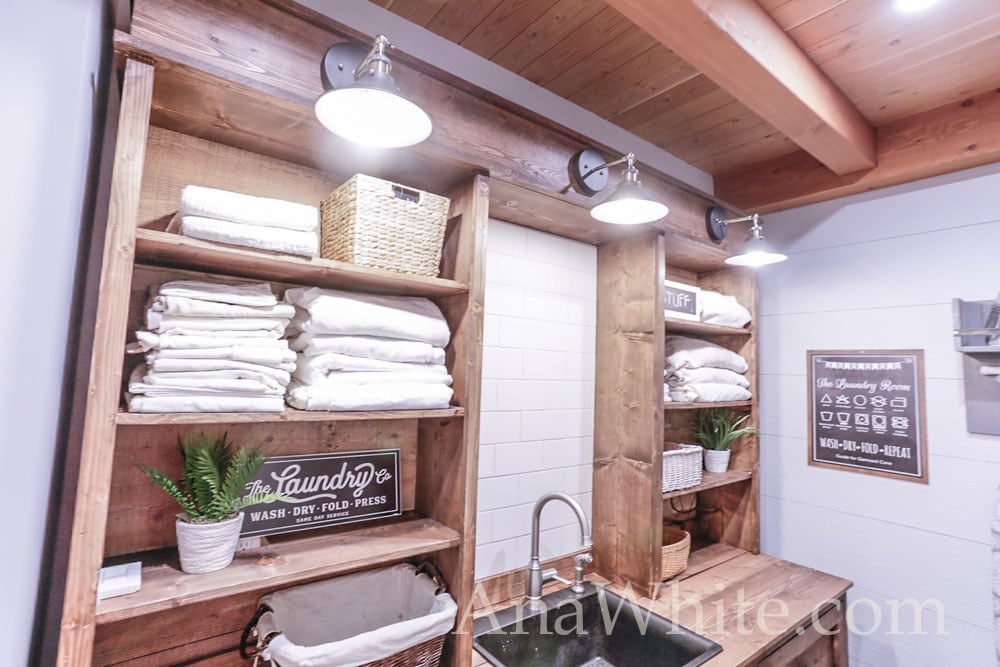 If I've got an especially large load, I can stack folded laundry on the lower shelves for added space.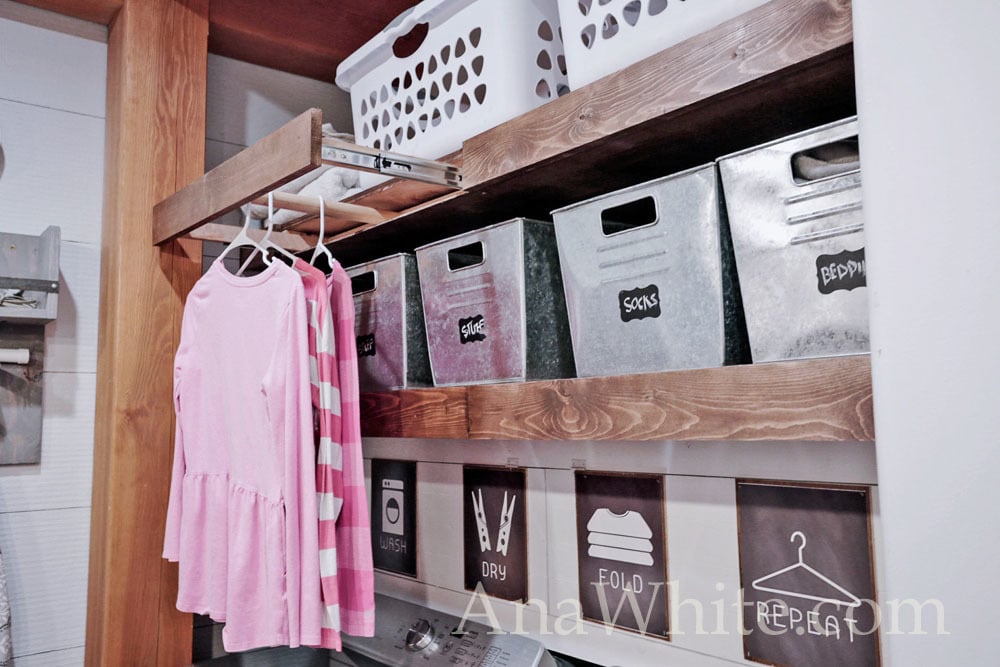 For hanging clothes, the upper floating shelves above the washer/dryer pull out and have dowels, so I can hang each family member's clothing up on their own dowel.  This makes putting laundry away so easy.  Each person just grabs their row of hangers and hangs it up.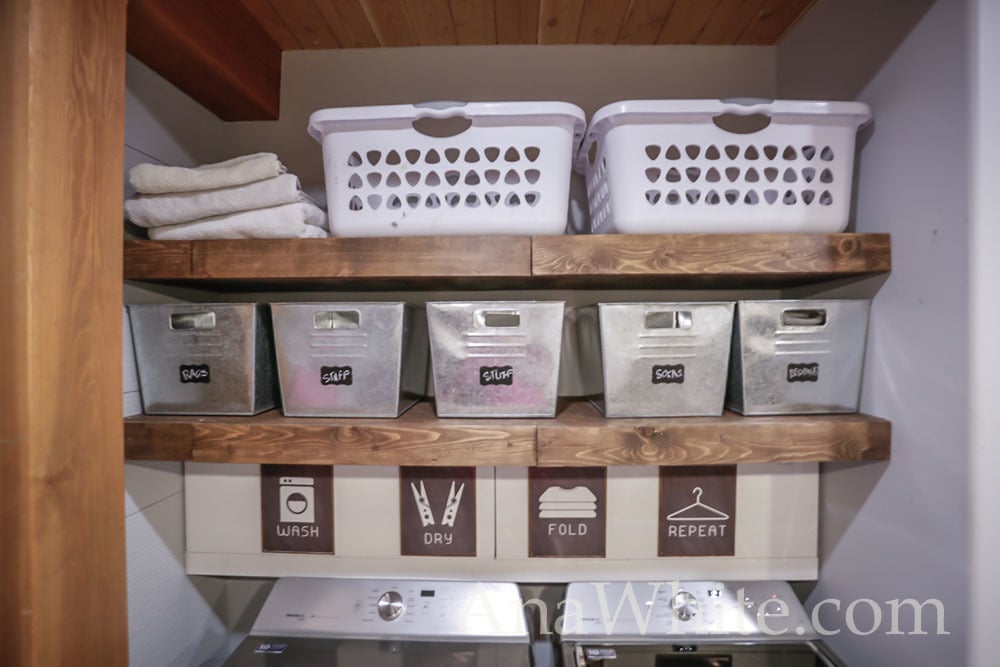 On the very top floating shelf, I keep empty laundry baskets that I can fill for kids to transport their clothing to their bedroom closets and put away as well.  
Another note - as clothing is put away, on the return "empty" trip, I gather empty hangers from closets to use for the next round of laundry.  Never waste a trip leg - always have your hands full there AND back!
On the wall between the washer and cabinetry, we found a spot for the iron and ironing board.
Since this is the main view of the laundry room as you walk by (and it is directly off the great room), any old cheapo iron board hanger wouldn't do.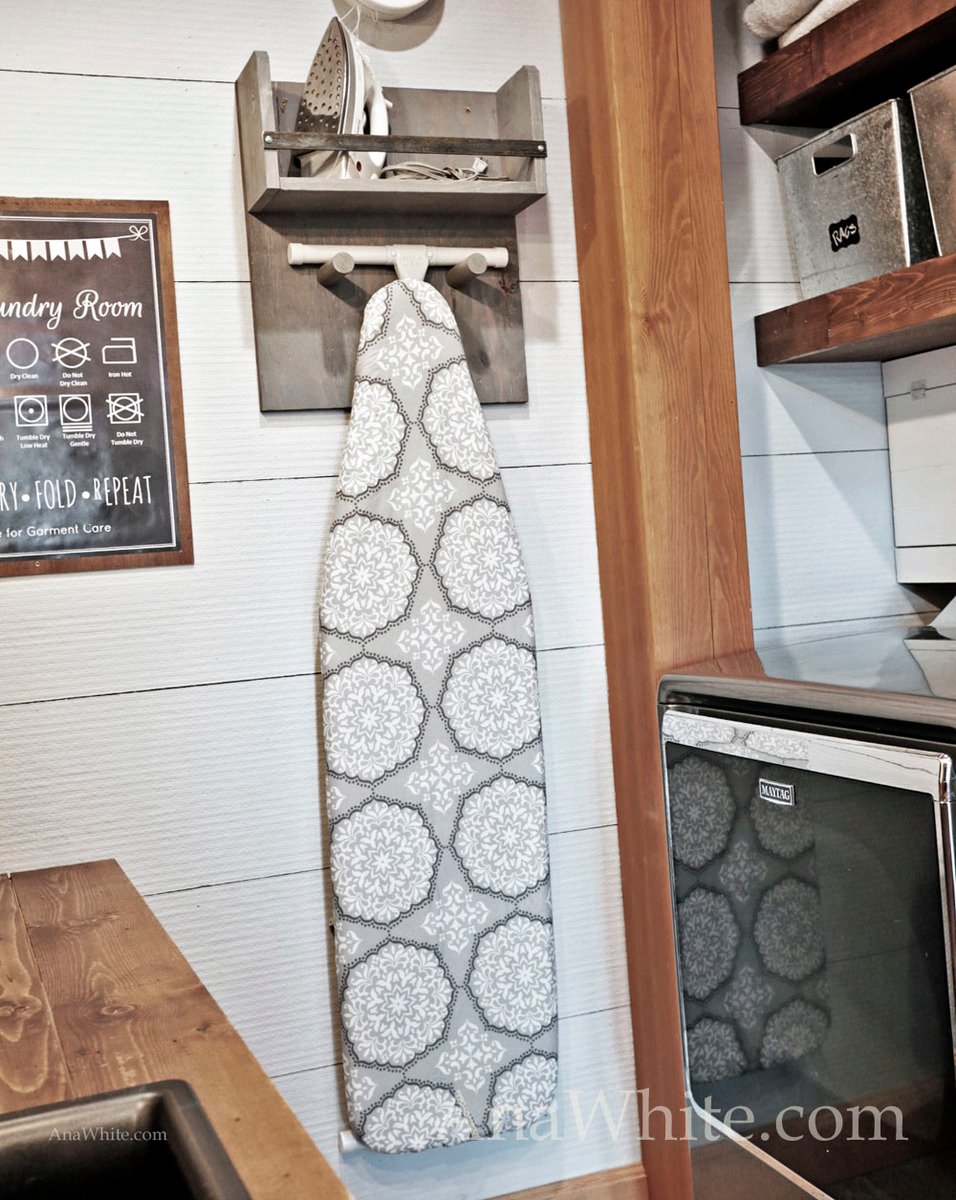 We DIYed this little iron board/iron holder shelf (plans here), and it's so much prettier than those store bought ones.  And let's just be honest here, in my household, the primary job for the iron board is to add decor to the laundry room - I run from clothing that needs ironing.  But every once in a while, I need it, and it's easily accessible.  
Of course, like most everyone else, our laundry room "machine" has to do alot more than just laundry.  We use it also as our main cleaning closet.
Behind the door, we built an organizer for our central vac hoses and attachments.  I'm not a huge fan of the central vac hose system, but the automatic dustpans are about my favorite thing ever, so central vac was totally worth it.  And it's alot easier to use the central vac hoses now that we have a permanent home for it, and it's easy to take out and put away.
Hidden behind the door, the central vac organizer is out of sight/out of mind. 
Speaking of out of sight, out of mind, there's a mop bucket, another vacuum and a broom in this laundry room, and it's not inside a cabinet.  Have you guessed where?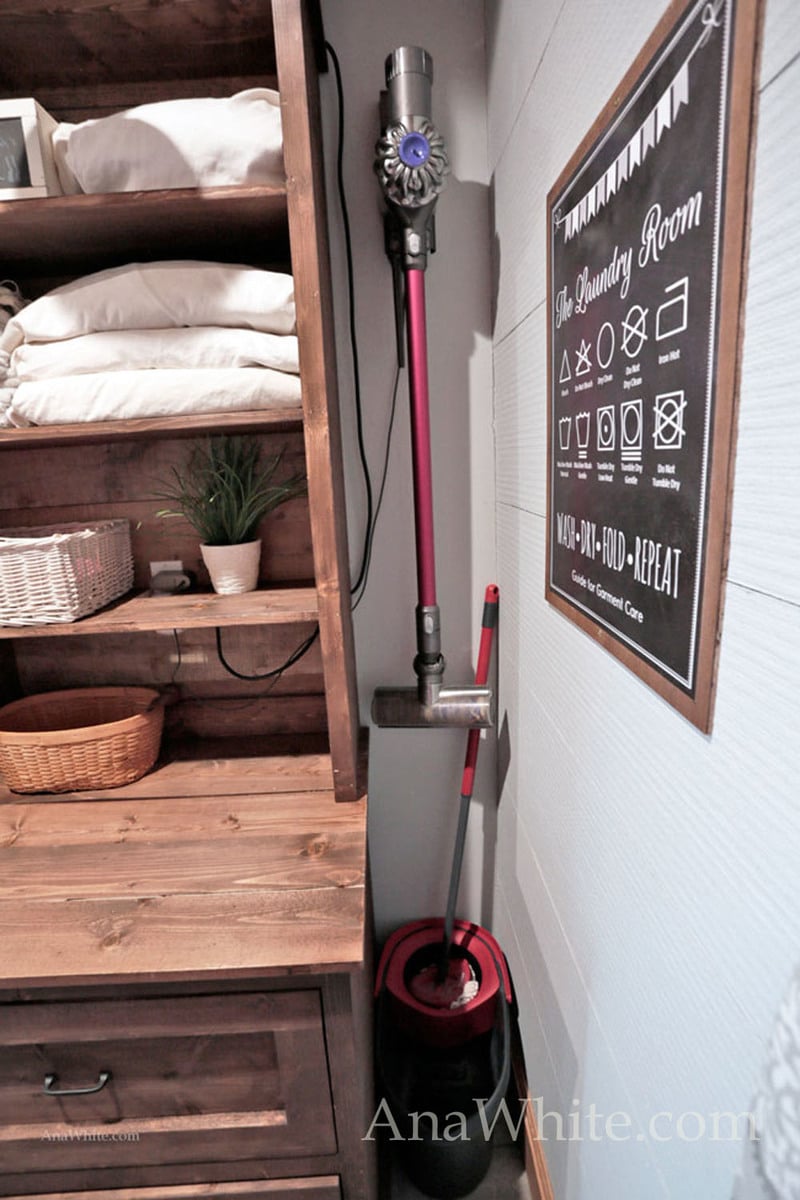 We purposely held the main cabinet back from the far wall the width of our mop bucket and cordless vacuum.  Now it's easy to use the mop, and even easier to put it away.  I always say create systems in your home that are easier to do than not, and your home will clean itself.  If it's easier to put the mop bucket away than leave it in the middle of the laundry room, you'll do it.  And a whole bunch of "you'll do its" add up to a tidy, easy to use house.
We've been using the laundry room for about a week now, and this is how it looks right now.  Amazing.  The only thing out of place is the pile of hangers in the sink - I need to add a bar somewhere to put those away.  Good systems are essential in homes!
We hope you've gathered an idea or two for creating your own laundry system with this post.  To help you out with that, here's the source list -
Cabinet wood stain color is Dark Walnut by Varathane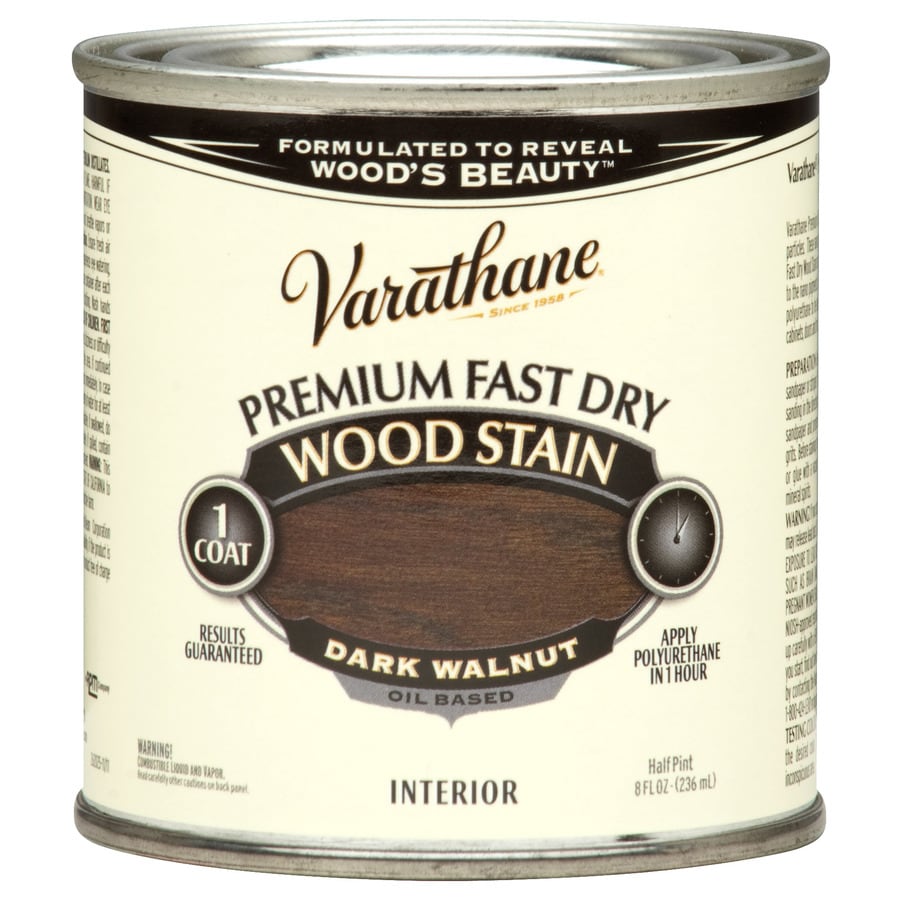 Please do share if you incorporate any of these ideas into your own laundry room - we do love seeing your brags and social posts!  
XO Ana