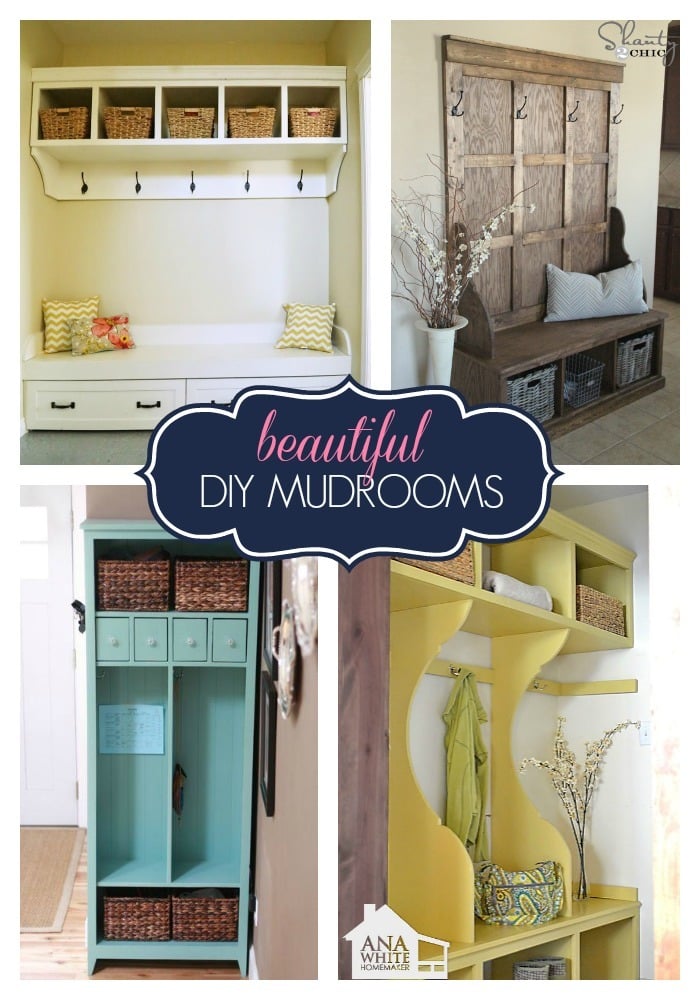 Having a well organized mudroom or entryway or dropzone - whatever you want to call it! - is essential to having a clean uncluttered home.  Living in Alaska, where we have twice the gear and the gear is twice the size (it's true, everything is twice as big in Alaska LOL), here's a few tips -
Goal number one - nothing is stored on the floor
Have more storage than you need.  Open shelves are opportunities for things to be set somewhere other than the floor.
Opt for hooks over hangers, and lots of them.
A bench is essential - for putting on boots or (dare I say it) piling on coats.  It's better than the floor.
Any storage below the knees is hard to reach, so opt for shallow shelving for shoes, baskets or drawers, or try a flip back bench or trundle.  
High storage is good for out of season gear
Baskets and bins are your friends
Color coding for kids really works
I like entryway systems that are easy to sweep or vacuum around - in other words, built ins or benches with closed bottoms.  There's always alot of dirt in my entryway.  
With this in mind, you really want to customize to fit your family and your climate.  Here are some of my favorite entryway plans.
PLANS: Closet Mudroom Bench with Flip Up Boot Storage
This project is EASY - just built two 1x12 benches and then add a hinge on the back for hidden boot storage!  
PLANS: Cubby Wall Shelf, Shoe Bench, and Hidden Boot Storage Customization
Here's another flip up boot bench.  This one we paired with a cubby wall organizer.
Here's one of my first mudrooms, all bright and yellow and happy!!!  It's actually a pretty simple build - those scalloped dividers make it look fancy.  You can check out how I made this mudroom and the plans here.
My building bestie Jaime from That's My Letter built this amazing huge DIY locker and bench unit system that is freestanding!  Perfect for a family of five!  You can check out Jaime's tutorial here.
For smaller spaces, I love this freestanding locker cabinet built by my friend Hillary at The Friendly Home.  Bonus - charging bins!!!  You can get the full plans here.
Pull out bench, check.  
Lockers with doors, check.  Cubby bridge, check. Hook storage, check.  Fully customizeable too.  This locker system is made up of compontents that you can mix and match to get your perfect mudroom.   I linked to all the plans so you can check them out too.
I teamed up with the Shanty Sisters to get you plans for this beautiful entryway hall tree.  It could work in a mudroom too!  Check out the free plans here.
If you just need some wall hooks and a little storage in a tight space, I love this little wall coat rack/organizer I made!  It's beautiful and easy to make.  BONUS - I also made one like it 8 feet long!
How about a cute little flip top shoe bench under it?  The simple entryway organizer plans are here.
And this one is probably my most favorite mudroom I've made!  The bench is just 2x4s framed into the walls and then covered in nicer painted white boards and plywood.  The drawers are actually trundles so no dealing with drawer slides there.  And the upper shelf wall organizer was built in the garage and then just hung in place (its huge!).  I liked up all the tutorials if you want to check them out.
Of course, there's lots more entryway tutorials that you can find here.  Here's to you finding that perfect mudroom solution for your family and space!
Have a great one!
XO Ana