Building your own outdoor furniture is an inexpensive and eco-friendly way to get the backyard of your dreams.  
But before you head to the hardware store, read these quick tips to help you build better outdoor furniture.
TIP #1 -  Start with a Good Plan
We are blessed with hundreds if not thousands of outdoor furniture plans available online, many for free.  So how to pick the perfect plan? 
My advice is to look for furniture that is built like a deck - with a sturdy frame, usually 2x or 4x4s, topped with non-structural decking that can be cedar or 1x material.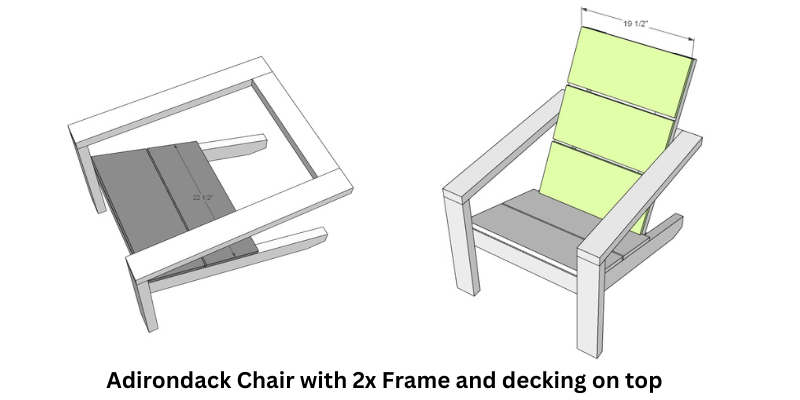 Photo credit: Ana White Essential Adirondack Chair Plans
The most iconic outdoor furniture build, the classic picnic table - has stood up to the test of time with this type of construction.  
Look for simplified pieces with less joints and minimal moving parts.  Angles in a piece will also help with longevity, as angles cross brace a project, further securing joints.
TIP #2 - Choose the Right Wood
Ideally, we'd all be using teak or another exotic rainforest hardwood - but these woods are expensive because they are slow to renew and exotic - you have to pay for the wood to be shipped around the world.  And just how eco-friendly is that?  Why not choose a more local option that renews faster?
Over the two decades I've been building furniture, here's what I found holds up that is inexpensive, regionally grown, and fast renewing:
For the frame, choose douglas fir or hem fir (red toned 2x boards) or treated wood, avoid soft woods like pine (yellow toned 2x boards) or cedar.
Why not cedar for frames?  Cedar is a softwood, and can swell with moisture, which may cause joint issues over time.  Douglas fir or hem fir boards are much cheaper, have almost the same durability, and is a dense wood that in my experience holds up much better structurally.
For the decking, douglas fir or hem fir 2x boards are great choices, but will make your project heavy.  Other options are cedar, or anything you may use on a deck top.  You can use pine or whitewood boards, but do make sure the boards are properly sealed and annually maintained, and they may need replacement after 5-10 years.
TIP #3 -  Stick with the Drill
So you've picked a plan and are ready to build, but what method to build with?  
For the frame, use bolts, pocket hole screws (that are placed so they cannot collect water), or self tapping screws, screwed in at different angles.
Avoid using nails or staples, as when wood expands and contracts with moisture, it can push the nail or staple out.
A good exterior glue is also recommended.
TIP # 4 - Finish it Like a Deck
Choosing a finish for outdoor furniture is simple: Ask your paint counter for finishes suitable for a deck or fence.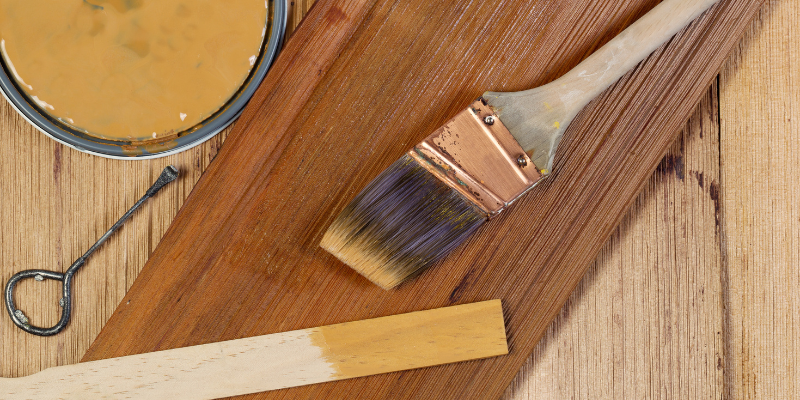 If the finish will hold up on a deck or fence, it will hold up on furniture.
What I use - penetrating stain, semi transparent if I want a wood look, and opaque if I want a paint like finish.  Penetrating stains can be reapplied with little to no preparation, so maintenance is quick and easy.
Do not use a film forming sealer like polyurethane, as when wood expands and contracts, it can crack the film layer, and you'll loose protection of your wood and get a cracked looking finish.
TIP #5 -  Take Care of Your Outdoor Furniture
How to keep your furniture looking beautiful for years to come?
First, order covers for your furniture.  Covers are inexpensive and available in endless sizes and can keep cushions and pillows covered and dry as well.  
For $25 a cover, my outdoor furniture, cushions and pillows are kept dry and protected when not in use.
Next, every spring, inspect your furniture and tighten any screws.  Add additional screws if necessary.  Clean with a vacuum with a soft bristled brush.  Touch up stain as needed - if you used a penetrating stain, you can stain right over without having to remove the existing finish.
With these simple steps, you can take inexpensive, regionally grown, fast renewing wood species, and turn it into beautiful, comfortable furniture for your outdoor space.