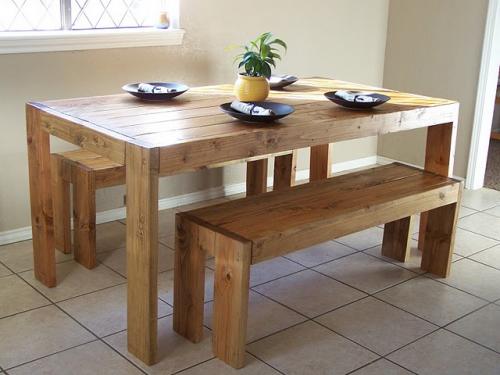 30" High x 66" long x 32" wide (approximate)
Preparation
Shopping List
6 - 2x6 boards (make sure these boards are VERY straight) (about $2.50 each)
5 - 2x2 board (under tabletop supports) (about $1 each)
2 - 2x4 boards (about $1 each)
2 1/2" wood self tapping screws
Sandpaper, ranging from coarse to fine
Wood Filler
Stain or Paint of choice
Common Materials
120 grit sandpaper
primer
wood conditioner
paint
paint brush
Cut List
A) 4 - 2x6 cut at 30" (Legs)
B) 2 - 2x2 cut at 33" (Inside End Supports)
C) 2 - 2x4 @ 63" (Side Apron)
D) 2 - 2x4 @ 25" (End Apron)
E) 7 - 2x2 cut at 33" (Under tabletop supports)
F) 6 - 2x6 cut at 63" (Tabletop pieces)
Cutting Instructions
It is very important that you measure the width of your boards and make sure they are 5 1/2" wide (tabletop boards) otherwise, your aprons could be short or long. See the Square Modern Farm Table Plans for a tutorial on how to build the tabletop first with pocket hole screws, and then attach the legs and aprons. That way you can adjust your aprons as necessary.
Instructions
Preparation Instructions
Fill holes with putty and finish as desired. If you are staining the table, you may wish to fill the screw holes after staining, as wood putty does not stain the same color as natural wood.