Shared room?  What about adding a corner hutch between beds?  It acts as a headboard for both beds and contain storage.  We've got you covered with the free plans below.
We also have plans for twin storage or captains beds here.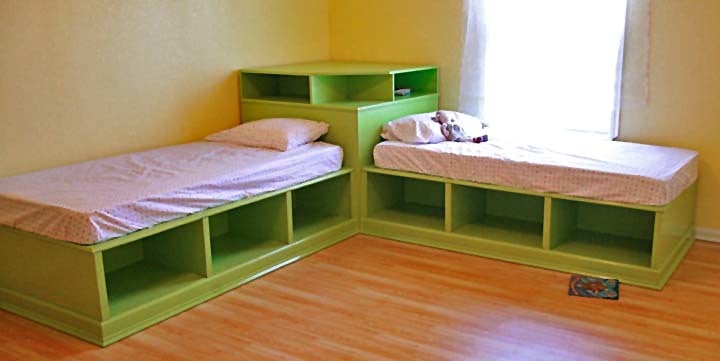 OVERALL DIMENSIONS
Are shown above.  Remember that a twin bed runs about 75" long to fit the space.
ROOM MEASUREMENTS Ready to build it?  Go measure your room and make sure you've got 116" of space in two directions in a corner.  I could actually see a setup like this in a family room.  And somewhere, someone's gonna put a TV on top and use the corner unit as a footboard instead of a headboard.  I won't tell on you.
Dimensions
Dimensions for corner unit shown in diagram. Consider twin beds runs about 75″ long to fit the space
Preparation
Shopping List
7 – 2×2, 8′ Long, Furring Strips
2 – 32″ High x 40 1/2″ Long (or longer) Wainscoting Panels OR 1 sheet of 1/4″ plywood or MDF
2 – 1×8 Boards, 8′ Length (Pine is cheapest)
1 – sheet of 3/4″ plywood or MDF
Edge Banding (if you are using plywood and staining the bed)
Wood Filler
Wood Glue
Common Materials
120 grit sandpaper
primer
wood conditioner
paint
paint brush
Cut List
CUT LIST FOR THE BOX
4 – 2×2 @ 40 1/4″ (Tops and Bottoms Box Ends)
4 – 2×2 @ 29″ (Legs for the Box Ends)
6 – 2×2 @ 37 1/4″ (Supports)
2 – 32″ High Wainscoting @ 40 1/2″ (Panels)
CUT LIST FOR THE TOP UNIT
1 – 1×8 @ 40 1/2″ (End)
2 – 1×8 @ 39 3/4″ (Long Dividers)
1 – 1×8 @ 14 1/2″ (Short Divider)
1 – 1×8 @ 24 1/2″ (Final Divider)
1 -1×2 @ 24 1/2″ (Cleat for Support Lid, 1st one installed)
1 – 1×2 @ 23 3/4″ (Cleat for Support Lid, 2nd one installed)
General Instructions
Work on a clean level surface with straight boards and check for square after each step. Always predrill and countersink every screw. If you are working with MDF, use Drywall screws and be sure to predrill the entire length of your screw. Use glue. Be safe and have fun.
Instructions
Step 1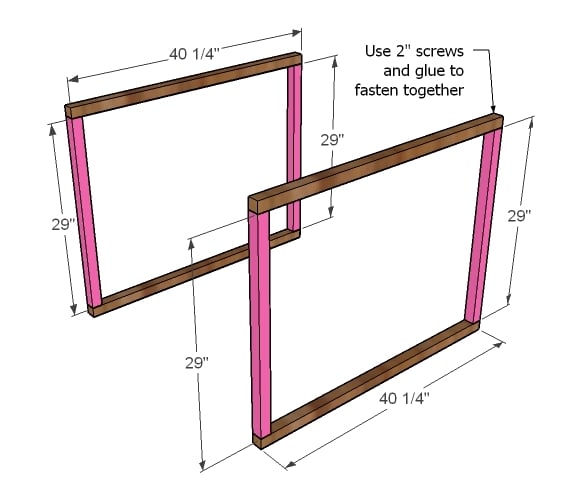 BOX ENDS Build the box ends as shown above using 2″ screws and glue.
Step 2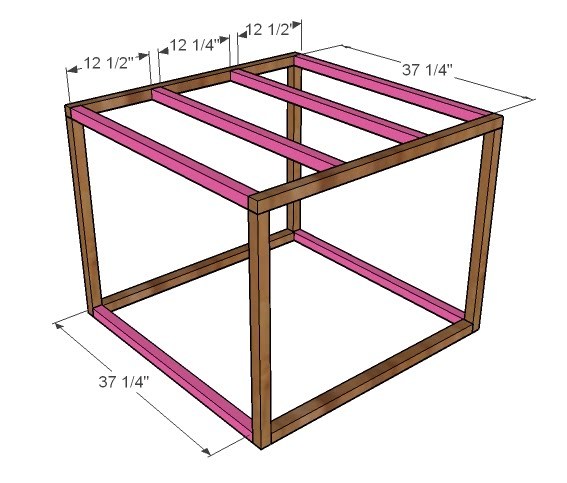 SUPPORTS FOR THE BOX Add the box supports using 2″ screws and DO NOT GLUE. Make sure your project is square at this point. To relocate the bed, you can simply unscrew, disassemble, and then reassemble.
Step 3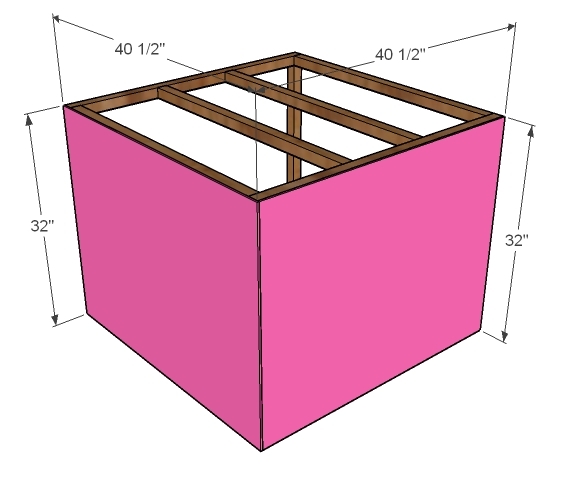 WAINSCOTING Measure and cut your wainscoting to fit one side of the box. Then add the second piece. Attach with 1 1/4″ screws and DO NOT GLUE on all four edges. You want these pieces removeable so that you can move it in and out of a room. NOTE: If your doorways are larger than 32″ you can move this unit without disassembling, but just in case you move to a different home, I would still not glue this step.
Step 4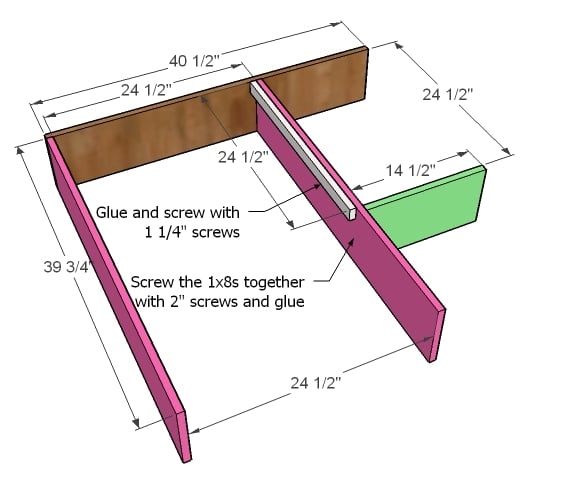 DIVIDERS Use 2″ screws and glue to build your dividers as shown above. Then add the 1×2 cleat (shown above in white) with 1 1/4″ screws and glue.
Step 5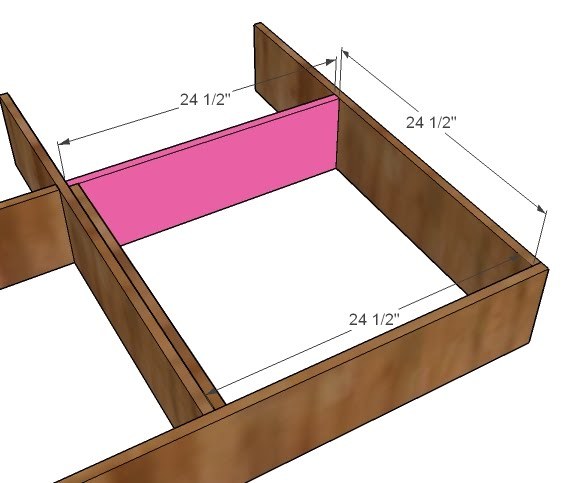 Step 6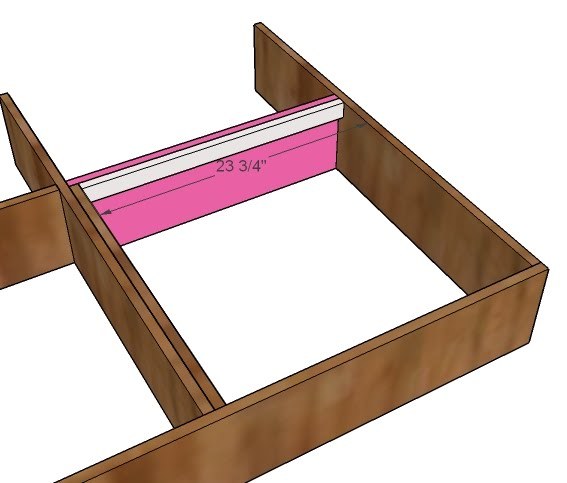 FINAL CLEAT Add the final cleat, using 1 1/4″ screws and glue. Then also attach from the outside of the project using 2″ screws and glue.
Step 7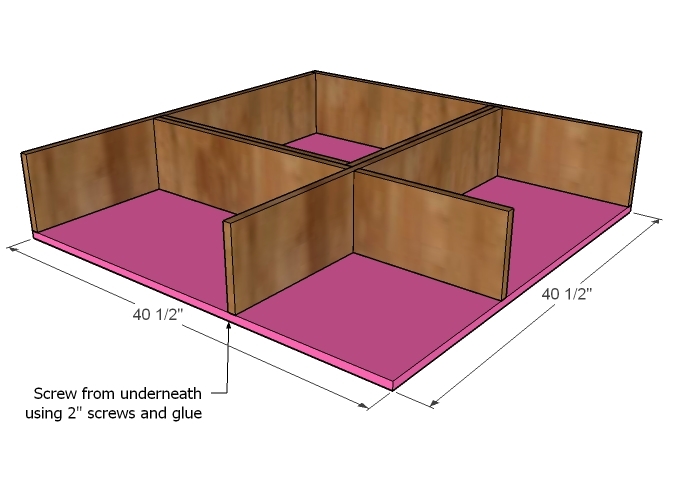 BOTTOM Cut your bottom plywood and attach it to the bottom of your unit (cleats are on the top) as shown above. Use 2″ screws and glue. This is just like attaching a back to a bookcase.
Step 8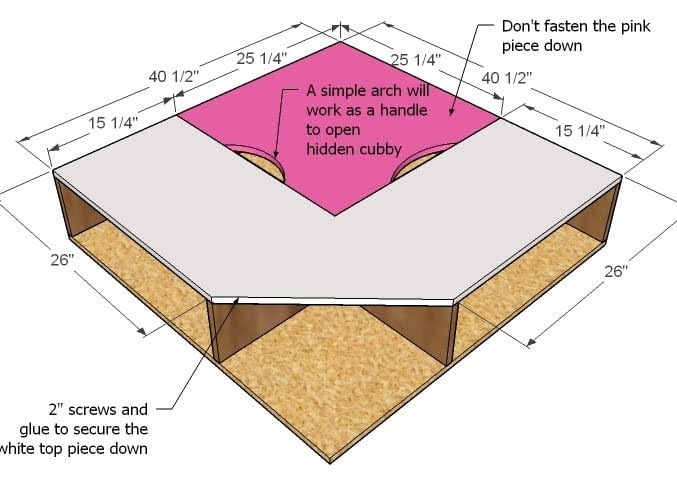 TOP Cut your top, as directed above. Attach only the white piece to the top of your project. The pink piece is removable for storage (might be scary in a teens room
Step 9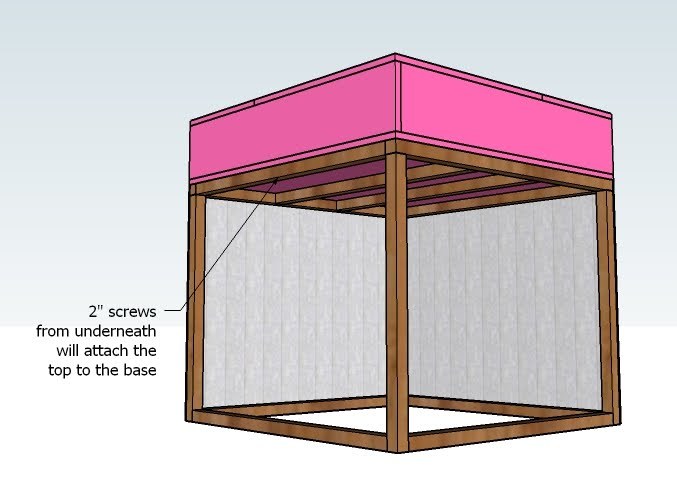 ASSEMBLY Attach from underneath the top unit to the base unit using 2″ screws. Don't glue so that removal is easy to do. You may also wish at this point to drill holes in certain point to create a "Smart" storage unit. You could hide cords in the "secret compartment" and keep cell phone chargers, laptop cords, or cords for media units tucked away neatly.
Preparation Instructions
You can add trim to make the piece nicer, but just remember that the base will most likely be covered by pillows from the beds. Use wood filler to fill all holes. If you are staining, iron on edge banding to any exposed plywood edges. Sand starting with a coarse grade sandpaper and work your way up to fine. Prime or add wood conditioner (if desired for staining pine). Paint or stain. Seal if necessary.
We apologize if there was an error in this plan. Please help us out and report any errors here.