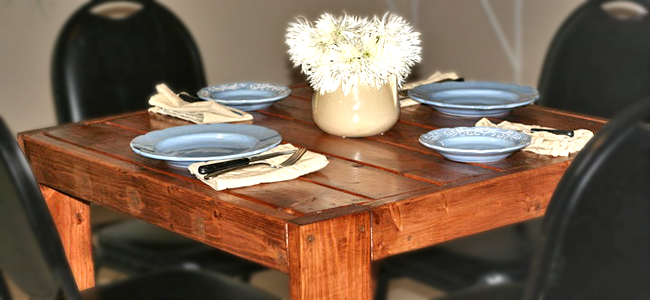 The modern farm table continues to be one of the most built plans that I have designed.  I believe the reason for it's success is that it's simple, easy to build, stylish, and it's difficult to find a solid wood table in a modern design.  So many of us have built this table.
One of our readers, Tami, built the table and modified it to square.  I was so inspired by Tami's photo, that I just had to offer the plans to everyone else.
I choose to scale down the aprons and legs to 2x4s instead of 2x6s because the table is so much smaller.  This table is a perfect small space table.  Try shortening the legs to 18" for a coffee table too.
Pin for Later!
Dimensions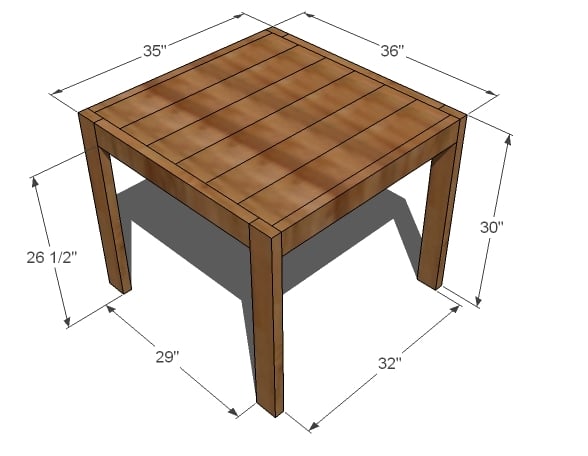 35" x 36" x 30" - standard table height
Preparation
Shopping List
3 – 2×4, stud length or 8′ length
2 – 1×6, 8′ length
2 – 2×2, 8′ length
12 – 3″ screws
40 – 2 3/4″ self tapping screws (recommend torq head screws)
36 - 2" self tapping screws (recommend torq heads)
Common Materials
120 grit sandpaper
primer
wood conditioner
paint
paint brush
Cut List
4 – 2×2 @ 33″ (supports) - measure and cut to fit after laying out 1x6 tabletop boards
6 – 1×6 @ 31-3/4″ (Tabletop Boards)
2 – 2×4 @ 31-3/4″ (Side Aprons)
2 – 2×4 @ 29″ (Apron on Leg Sides) - measure and cut to fit
4 – 2×4 @ 30″ (Legs)
Instructions