Hi Everyone, a huge thank you today to
Rebecca
for building this project!  The goal of this plan is to create a play kitchen that is one piece, perhaps a little more compact without losing the storage.  Rebecca did such an amazing job on it!
Thanks Rebecca!
Ana and I talked quite a bit about what my first project would be. I was planning on making the play kitchen for my daughter for her birthday and Ana mentioned she had this already drawn out. AWESOME, considering that her birthday was two weeks away at this point and I had another project I still needed to paint taking up all the room in my garage. I also love this one because it had that little extra storage space and counter space.
I am listing this as an intermediate project really only because you will be using a few different tools, there are a lot of different cuts, and there is a vast a mount of "thinking" that should go into this. I learned this the hard way. I am normally pretty good at thinking things through. However, I am going to just say it. This is definitely a project that you should look at the final product in your head WAY before you start doing anything. All the little details make a big difference when building this.
Few notes after building.
-I pre-painted this project. I am usually so excited to start building and seeing it take shape that I don't think about it. This was SO much easier. There were a lot of pieces. I measured and drew lines where boards where going to be glued together and did NOT paint there. This allows for better glue adhesion.
- I put my shelf on the back wall prior to putting it in place. This helped stability when screwing in my shelf however I did not pre-drill my faucet hole. PRE-DRILL your faucet hole before putting the back on. It will save you from trying to drill in too tight of places.
Dimensions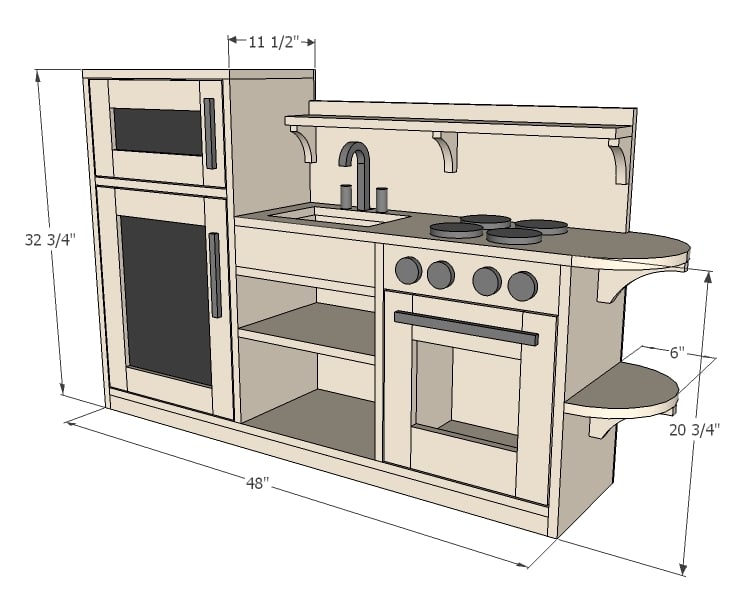 Dimensions are shown above.
Preparation
Shopping List
3 1x12's @ 8'
1 1x4 @ 8'
2 1x3's @ 8'
1 1x2 @ 8'
1 4x4 sheet of 1/4" plywood
1 8"x10" piece of acrylic plastic
Common Materials
3/4 inch finish nails
1-1/4" Pocket Hole Screws
120 grit sandpaper
primer
paint
paint brush
Cut List
1x12's
1 @ 46 1/2"
1 @ 36" (sink and rounded edge)
1 @ 32"
1 @ 30"
1 @ 29 3/4"
1 @ 20"
1 @ 18"
1 @ 17 3/4"
1 @ 16 1/2"
2 @ 14 1/4"
1 @ 6"
1x4's
1 @ 30"
2 @ 14 1/4"
2 @ 9"
2 @ 5 1/4"
3 @ 2 3/4"
1x3's
2 @ 19 3/4"
2 @ 14"
4 @ 11 1/4"
2 @ 8 3/4"
1x2's
1 @ 46 1/2"
1/4" Plywood
48" x 32 3/4" Kitchen Backing
12 1/4" x 9 3/4" Freezer door backing
12 1/4" x 20 3/4" Fridge door backing
Cutting Instructions
-You could also use bead board for the fridge backing.
- I got my acrylic in that stock size at local Home Depot (but you must use the 1x4's for the stove door frame so it is the right size opening.

General Instructions
Please read through the entire plan and all comments before beginning this project. It is also advisable to review the Getting Started Section. Take all necessary precautions to build safely and smartly. Work on a clean level surface, free of imperfections or debris. Always use straight boards. Check for square after each step. Always predrill holes before attaching with screws. Use glue with finish nails for a stronger hold. Wipe excess glue off bare wood for stained projects, as dried glue will not take stain. Be safe, have fun, and ask for help if you need it. Good luck!
Instructions
Step 9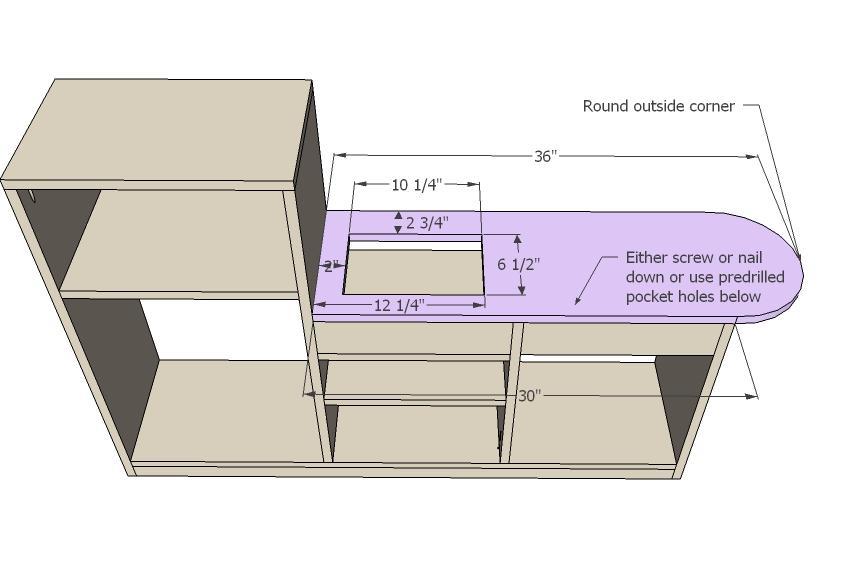 THINK about this step. Choose your sink faucet and knobs BEFORE you make this cute. I went ahead and cut this without thinking about it and did not have quite enough room for my faucet and knobs. Remember that you will be adding a back onto the top of this section so that will take out some room. I also did not have a sink before I cut, so then I had to improvise and ended up building a "under-mount" sink. If you do it like this, then I would make it an inch less deep so hat there is 3 3/4" inches in the back where your faucet will go.
Step 11
Step 14
Step 16
Here is a pic of my "under-mount" sink. This was my solution for cutting a hole and not finding a sink to fit in that hole. I of course had to measure and cut VERY specifically to get it flush and then still had to do some very close "shaving" on the table saw to get it to fit exactly.
My back splash is really just a few different kinds of scrapbook paper cut into squares and mode podged onto the wood under the shelf. I wanted a tile affect and am pleased that it turned out so well for like $2 extra dollars.
Step 17
I loved the idea of doing a grill like a fancy stove would have. I just cut an extra hole same size as the sink and then glued a 1/4" piece of plywood to the bottom of it. I cut a dowel to size and then drilled the same size holes (as the dowel) into a 1x2 and then cut it down the middle on the table saw so I had two pieces with half a hole just perfect for the dowel. I spray painted black and then a slight mist of silver over the top to get that "grill " look.
Step 18
I used magnetic paint on the insets of the fridge and freezer. I did three coats and still should have done a few more. You have to lay it on thick.
Preparation Instructions
Fill all holes with wood filler and let dry. Apply additional coats of wood filler as needed. When wood filler is completely dry, sand the project in the direction of the wood grain with 120 grit sandpaper. Vacuum sanded project to remove sanding residue. Remove all sanding residue on work surfaces as well. Wipe project clean with damp cloth.

It is always recommended to apply a test coat on a hidden area or scrap piece to ensure color evenness and adhesion. Use primer or wood conditioner as needed.