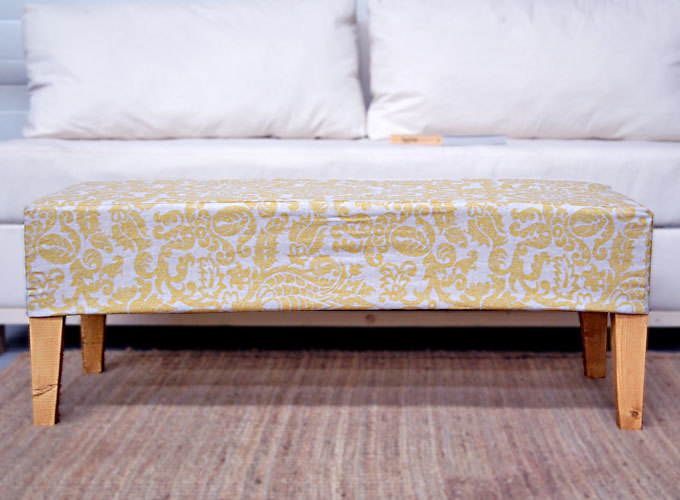 A simple padded bench with a quick slipcover. Designed to work with Farmhouse Tables.
I guess I can't blame them, but two little girls put their noses on the wall when they cut a whole in this beautiful backdrop that the Crafting Chicks gave me.
But Mom, we were trying to make pillows for our dolls, they pleaded.
They didn't say it, but I thought it.  Just like Mom does.
They have witnessed (and quite often participated) in the hacking up of curtains, drop clothes and even old clothes in the name of DIY.  But the difference?  I was quite partial to this lovely fabric as a backdrop.
So the backdrop with the pillow shaped whole in it sat in my office for months, saddening me whenever I passed it.  It was lovingly made, high quality, and stylish.  Why, why, why, would they cut a whole out of the very center?
I made a bench today, a simple one out of 2x4s and a scrap piece of junk plywood, and put a drop cloth cover on it.  And it was just kindof blah.
But I knew where to find some very beautiful fabric.
Beautiful fabric can dress up even 2x4s.  In the background, sofa made of a paint drop cloth. See the difference?
Beautiful fabric can even dress up 2x4s in a garage under florescent lighting.
The bench that I made was built around a scrap piece of plywood that I had leftover from another project.  But the plans that I'm posting here today are built around our Farmhouse Tables. Or rather for under our Farmhouse Tables.  This bench is primarily designed to work as seating (cheap and easy seating at that) for a dining table.  Of course, it would also work as a entryway bench or even a coffee table or a bench at the foot of a farmhouse bed.
Dimensions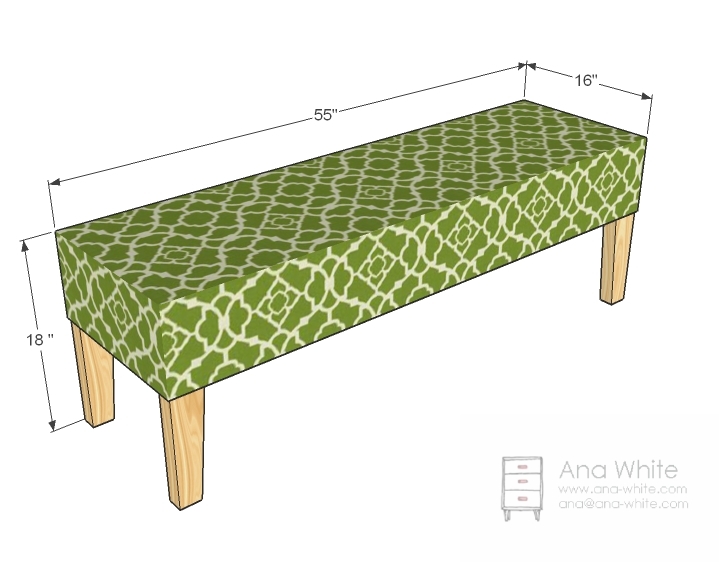 Dimensions are shown above.
Preparation
Shopping List
2 – 2x4s, 8 feet or stud length
1 – 3/4″ Plywood or MDF or Particle Board or OSB 16″ x 55″
3″ screws
2″ screws
1 yard 56″ wide decorator fabric OR 2 yards 45″ wide fabric (upholstery weight is best)
3″ foam, 16″ wide x 55″ long
wood glue
spray adhesive
thread
stain for the legs (I used Minwax Express Color)
Cut List
4 – 2×4 @ 14 1/4″ (Legs – Cut legs longer if you are using thinner foam. For example, with 1″ thick foam, legs need to be 16 1/4″ long)
2 – 2×4 @ 13″ (End Aprons)
2 – 2×4 @ 49″ (Side Aprons)
1 – 3/4″ Plywood @ 55″ x 16″ (Seat)
Instructions