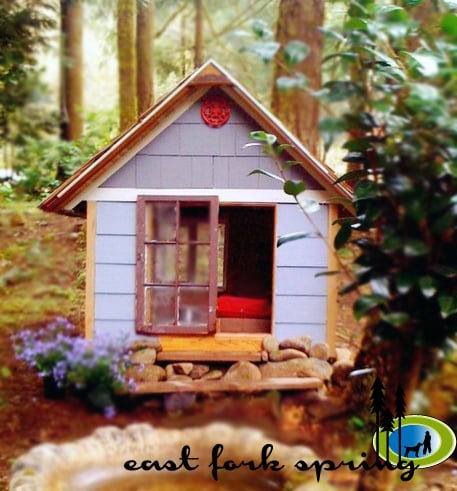 My dog Barli, a neurotic German Shorthaired Pointer, was the absolute bane of my existence for the first year and a half we were together. But then something happened. I don't know if it happened over the course of a single day or two miserable years, but it surely happened: Barli became my best friend. Barli and I called a truce and have been inseparable since. Woman's best friend. He's got his big ol fat stupid head in my lap right now. Helping, of course. He's my best helper. So I built him a doghouse. He wanted to start napping in there before I was even done framing. He loves his house, and me. And I love him back.
Let me know if you need help!
Overall dims are about 6' square. Dogs usually like cozier accommodations, but my dog refuses to enter a regular doghouse, so that's what I came up with.
Preparation
Shopping List
Materials I Used
• Foundation – concrete piers on gravel
• Floor frame – oversized pallet
• Subfloor – plywood
• Sill plate (mud sills), studs, top plate- fir 2x4s
• Rafters – I used fir 2x6s because I had a ton available, but I think 2x4s would be sufficient
• Collar ties and ridge – fir 1×6 (I doubt collar ties are really necessary, I used them because I didn't want a ceiling but still wanted to use the space under the rafters for storage if needed… considerations of an admitted wood hoarder whose stash gets out of hand from time to time)
• Sheathing – 7/16″ OSB
• Building wrap – Raindrop by GreenGuard
• Roof underlayment – #30 felt paper
• Siding – fiber cement lap siding and shakes (both are Certainteed products)
• Roofing – cedar shakes
• Insulation – mostly r-13 bat
• Interior and exterior trim – oak flooring
• Interior walls – wood paneling
• Flooring – tile on Hardie (for his dining area) and laminate on foam underlayment (for his bedroom)
• Fasteners – a boatload of 8(2-1/2″), 10(3″), and 16 penny (3-1/2″) nails for the framing; 2″, 12-1/2 gauge nails for the siding, 1-1/2″ (medium crown) staples for the cedar, and other odds and ends screws and finish nails throughout
• Other – 2′ vinyl window, old wood frame window, paint, rocks, 2×10 (steps), cast concrete birdbath (project for another day), flowers
Tools I used
• Safety glasses- honey is always nagging me about that one, so I'll list first lest I forget
• Work gloves
• Tape measure
• Pencil
• Hammer
• Utility knife
• Squares: T, roofers, speedy
• Levels: 4′, torpedo, string
• Drill
• Saws- I used a circular saw, miter saw, table saw, tile saw, and hand saw. Really, you could do it all with a circular saw or hand saw. If they're available to you, the others just make it a little easier/quicker.
• Air compressor along with a pneumatic stapler, framing nailer, and finish nailers (I prefer to hand nail all framing, but for ease of installation of siding, shingles, and trim, you can't beat pneumatic tools. They're a luxury, but one I'm unashamed to indulge in. I'm guessing build time would have been 2x longer without)
• Shovel, rake, tamp (site prep)
General Instructions
The best plan I can give is just a little friendly advise… during your build, think outside the doghouse. It's the only way to really do more with less. I also encourage you to be creative, safe, and awesome (like you always are). Above all, have fun. Oh, and post pictures when you're done… I can't wait to see how yours turns out!
Instructions
Preparation Instructions
Fill all holes with wood filler and let dry. Apply additional coats of wood filler as needed. When wood filler is completely dry, sand the project in the direction of the wood grain with 120 grit sandpaper. Vacuum sanded project to remove sanding residue. Remove all sanding residue on work surfaces as well. Wipe project clean with damp cloth.

It is always recommended to apply a test coat on a hidden area or scrap piece to ensure color evenness and adhesion. Use primer or wood conditioner as needed.