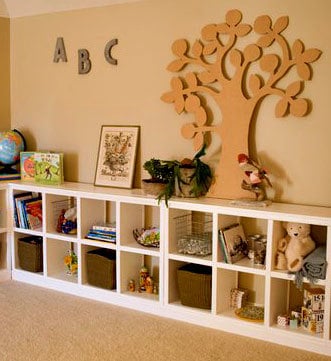 Cubby shelves are so loved because they enable you to further divide down your storage spaces. This simple cubby was transformed by one of our amazing readers into this outstanding storage playroom.
Dimensions
Overall Dimensions are shown above. Height without caster wheels is 60 1/2″. Depth is 13″ and width is 48″. Caster wheels will add approximately 2 1/2″ to the overall height. You can purchase different height caster wheels.
Preparation
Shopping List
10 – 1×2 Boards (pine boards are about $1 each)
5 – 1×12 Boards (pine boards are about $9 each) OR 2 Sheets of 3/4″ A1 Plywood or 3/4″ MDF
Wood Glue
Wood Filler
2″ Nails for finish nailer
1 1/4″ Nails for finish nailer
5 Caster Wheels, shown in diagrams with a 2 1/2″ diameter, with screws
Sand Paper
Paint, Stain, Varnish or other finishing supplies
Common Materials
1-1/4" Pocket Hole Screws
Cut List
Cut List for the Box
2 – 1×12 @ 59 3/4″ (Sides)
4 – 1×12 @ 46 1/2″ (Shelves)
1 – 1×12 @ 48″ (Top)
8 – 1×12 @ 14″ (Dividers)
Cut List of Trim (recommend to cut to measurements for exact fit)
4 – 1×2 @ 48″ (Top and Bottom Trim)
8 - 1×2 @ 57 1/2″ (Side Trim and Divider Trim)
18 – 1×2 @ 14″ (Shelf Trim)
3 – 1×2 @ 11 1/2″ (Wheel Supports)
General Instructions
Work on a clean level surface. Mark out joints prior to fastening. Take a square after each step to ensure your project is square. Use glue and 2″ nails unless otherwise directed. Wear saftey gear and take necessary safety precautions. If you are working with sheets of plywood or MDF, have your hardware store cut your plywood or MDF into strips that are 8′ long and 11 1/2″ wide. These will become dimensionally the same as a 1×12 board. If you are working with MDF, avoid nailing close to edges to avoid splitting your MDF whenever possible. You can alternately use drywall screws for MDF or wood screws for wood.
Instructions
Step 1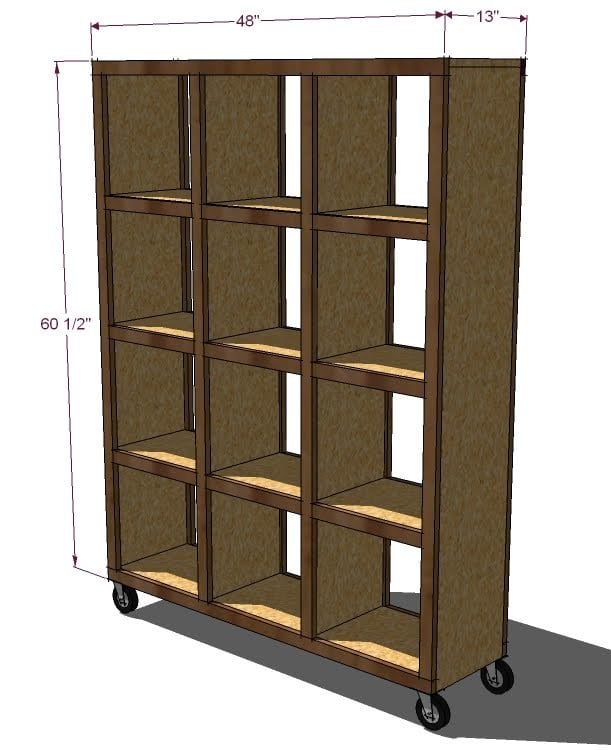 Composition for Paint or Rustic Stained Look is pine boards in 1×12 width for the "box" and pine 1×2 boards for the trim
Composition for "Framed in Solid Hardwood" Look is 3/4″ A1 plywood in choice of hardwood (ie Maple) cut into 1×12 strips (11 1/2″ wide) with hardwood 1x2s for the frame.
Composition for Economical Painted Finish is 3/4″ Particle Board or MDF cut into 11 1/2″ wide strips, framed in 1×2 MDF or pine boards.
Step 2
Step 3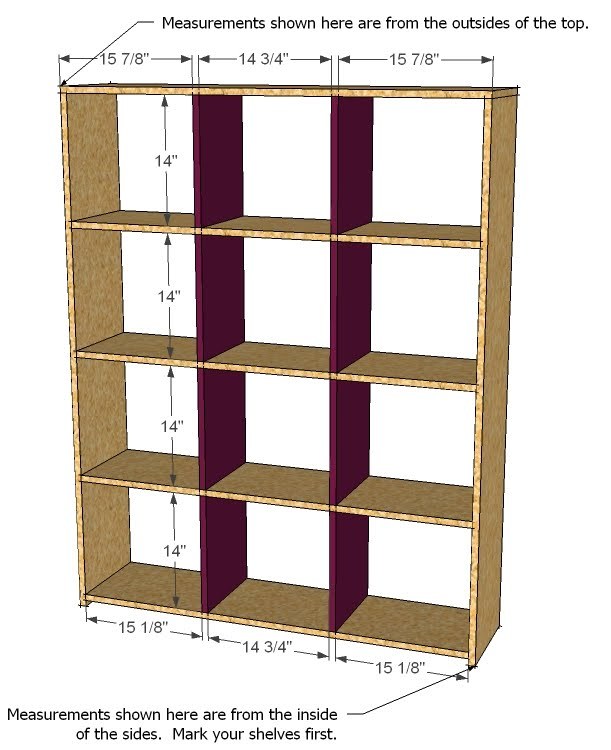 Dividers. In this step we are just going to fasten the dividers in so they don't move. The trim will actually hold the dividers in place. Start by marking your shelves and top where the dividers will go. Remember that the dividers are 3/4″ thick.
Starting on the bottom shelf, fasten the bottom dividers to the bottom and first shelf. Working your way up, fasten the next level of dividers in place. This time you will only be able to fasten through the shelf on the upper shelf. On the lower shelf, you will need to nail at an angle through the front edge of the shelf into the ends of the dividers. Do this on the remaining dividers. Use 2″ nails and glue. Remember, we will add more support in the frame to the dividers.
Step 4
Step 6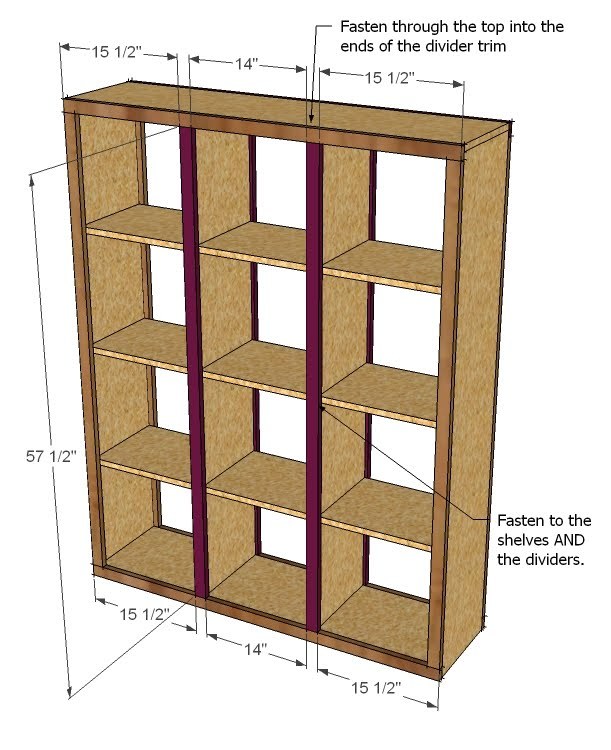 Divider Trim. Measure and cut your divider trim. Mark the bottom and top trim boards as shown above. Fasten the divider trim to the dividers, as shown above. The trim will be centered on the dividers. Make sure you fasten to the shelves too. Use 2″ nails and glue. Do this on both the front and back.
Step 7
Step 8
Step 9
Finishing. Fill nail holes with wood filler and sand and finish as desired.