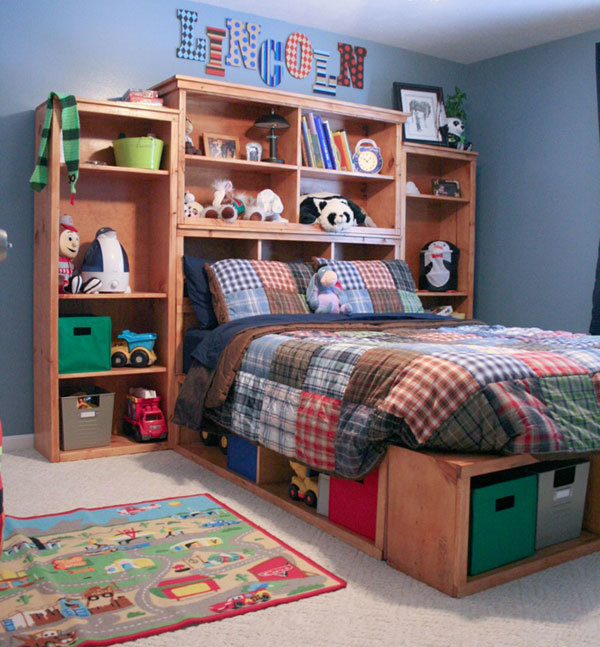 You can build a simple storage bed to elevate a mattress and provide extra storage with these simple plans. Featuring six large, wide cubbies, perfect for fabric bins, toys, or even books and games. This bed has a cubby depth of 12".
This plan is also the base plan for the twin sized modification. You can see all the project plans in this collection here. Special thanks to Amy and Steve for sharing their amazing photos with us.
Pin For Later!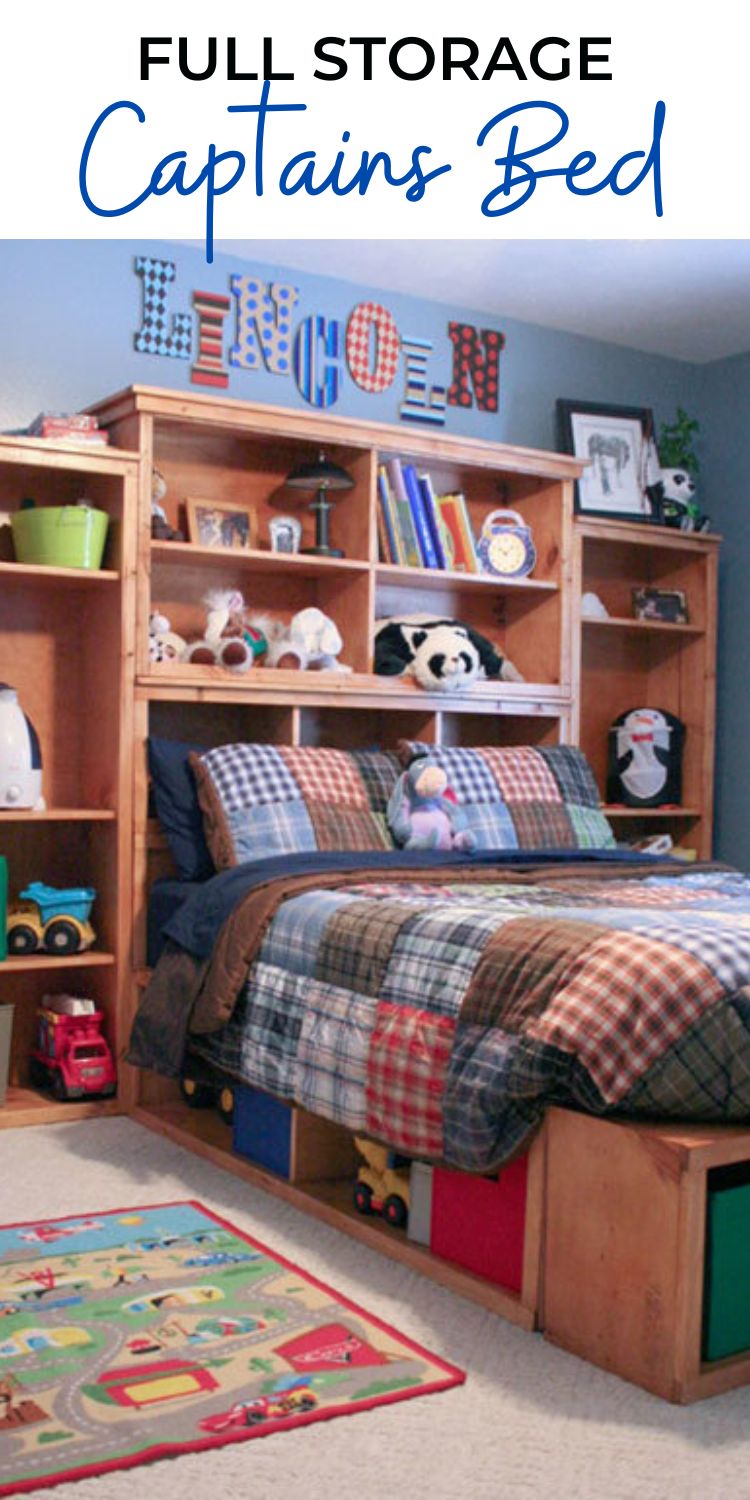 Dimensions
Fits standard full size mattress. Top platform height if 15".
Preparation
Shopping List
6 – 1×12 Boards, 8′ Long (Most economical for stain grade is pine (like the PBTEEN stained bed, and also would work great for painting. You could also use sheets of MDF cut into 1x12s, but you would need to purchase two whole sheets of plywood and only use up 1 1/2 sheets)
1 – Sheet of 1/4″ Plywood cut into 15″ wide strips, 8′ long
6 – 1×2 Boards, 8′ Long (For paint grade, 1×2 Pine Furring Strips would work for about $1.00 each)
5 – 1×3 Boards, 8′ Long (1×3 Pine Furring Strips are about $1.50 Each and would work perfect)
2″ Screws
1 1/4″ Screws
1 1/4″ Nails (optional if you have a nailer handy)
2″ Nails (optional if you have a nailer handy)
Wood Glue
Wood Filler
Common Materials
120 grit sandpaper
primer
wood conditioner
paint
paint brush
Cut List
CUT LIST FOR THE BOXES
6 – 1×12 @ 15″ (Cubby Sides)
3 – 1×12 @ 12 3/4″ (Cubby Dividers)
2 – 1×12 @ 54″ (End Cubby Top and Bottoms)
4 – 1×12 @ 62″ (Side Cubby Top and Bottoms)
CUT LISTS FOR THE TRIM
6 – 1×2 @ 12″ (Vertical Trim)
2 – 1×2 @ 55 1/2″ (End Top and Bottom Trim)
4 – 1×2 @ 63 1/2″ (Side Top and Bottom Trim)
CUT LIST FOR THE CENTER SUPPORT
2 – 1×3 @ 63 1/2″ (Cleats)
11 – 1×3 @ 30 1/2″ (Slats)
General Instructions
So if you read my blog long enough, you already know that to get a square project, you gotta work on a square surface with square boards. And you also need to check for square after each step. Predrill and countersink your screws. If you are working with MDF, use drywall screws and make sure you drill a pilot hole the entire length of your screw hole to keep your MDF from blowing apart. Be safe, have fun!
Instructions
Preparation Instructions
Fill any holes with wood filler (overfill) and let dry. Start sanding with coarse sandpaper and work your way to fine. Vacuum with a soft bristled brush. For paint grade, prime and apply multiple coats of paint. I always paint the insides first, then the outsides and finally the trim. For stain grade, you may wish to apply a wood conditioner first, then stain, and finally finish with a varnish or polyurethane sealant.