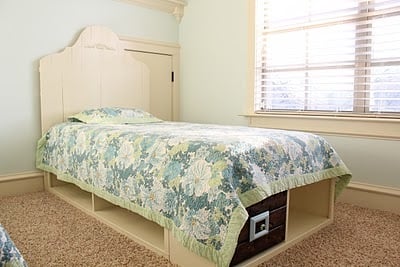 We already have a storage daybed plan, and it has been very very popular. But this plan is for a twin storage bed, meaning it has storage on three sides. This bed is also (in my opinion) easier to build. But the downside is the cubbies are not as deep and there is less storage. Special thanks to Shanty 2 Chic for sharing their amazing photos with us.
Dimensions
Dimensions for a Twin. Full, queen, and even king plans available online.
Preparation
Shopping List
Please reference the full size bed for a materials list here.
Common Materials
120 grit sandpaper
primer
wood conditioner
paint
paint brush
Cut List
CUT LIST FOR TWIN END BASE UNIT ONLY
2 – 1×12 @ 39″ (Tops and Bottoms of the Boxes)
2 – 1×12 @ 15″ (Sides of the Boxes)
1 – 1×12 @ 12 3/4″ (Center Divider of Boxes)
1/4″ Plywood or MDF @ 15″ x 40 1/2″ (Back of Box)
2 – 1×2 @ 40 1/2″ (Top and Bottom Trim)
2 – 1×2 @ 12″ (End Trim)
11 – 1×3 @ 15 1/2″ (Slats) (you can buy a couple less 1x3s for the twin version)
Cutting Instructions
You will need to review the <a href="/2010/05/furniture-plans-full-size-storage-bed.html">Full Size Bed Plans</a> to make the longer side cubbies first. This plan is simply for the end bench to convert the Full to Twin.
General Instructions
REFERENCE THE FULL SIZE PLAN
This plan is a basic modification of the full size bed that you will find here. Please reference this plan for the shopping list, tools, and general instructions. Remember, you will need to build (2) side bases from the full size plan, but DO NOT BUILD the end base unit. The following plan will replace the end base unit from the Full Size Storage Bed Plan.
Instructions
Preparation Instructions
Follow the instructions for the Full Size Storage Bed for finishing and assembly.