A free standing storage tower, with varying size shelves. perfect for tight spaces that need extra storage, but still plenty of elbow room.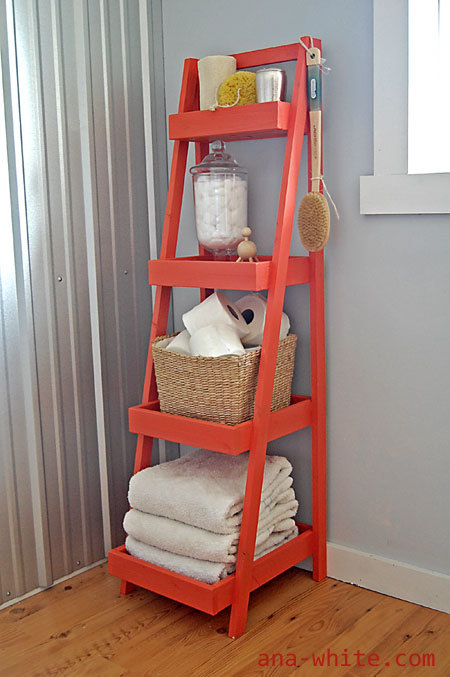 This weekend, I spent most of my time in the garage, working on projects for HGTV.  And I'm so happy with how this one turned out.
What do you think of our Freestanding Painter's Ladder Shelf? I really went out of my comfort zone with the orange paint.  Loved how Pottery Barn went for white, but for whatever reason, I just had to use up a ooops quart of construction zone orange.  Yes, that is my magnetic steel wall in the background.
And while you are going to have to wait until the posts publishes on HGTV for this exact plan, if you fancy a wider shelf, today's your day.
The coolest part about this design?  Well, there is a couple of cool parts.  One, it's cheap.  Two, it's sturdy and free standing.  Three, it works in tight space.  Four, well, it looks so good in color!
Dimensions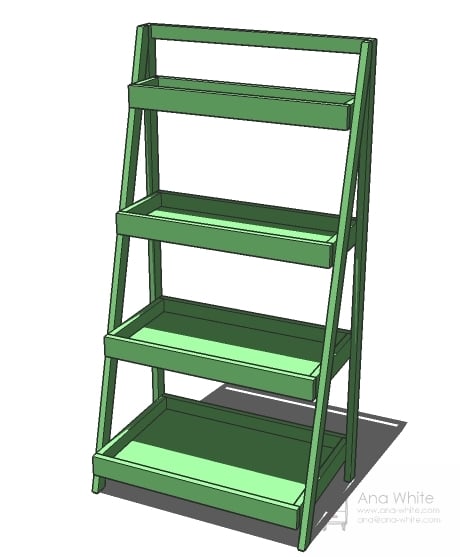 54" tall x 24" wide x 16" deep (approximate)
Preparation
Shopping List
1 – 24″ wide shelf, 48″ long (or 1/4 sheet of plywood or 24″ x 48″ pine project panel)
4 – 1×2 boards, 8 feet long
4 – 1×3 boards, 8 feet long
2 1/2″ Trim Screws
1 1/4″ Screws
Wood Glue
Finishing Supplie
Cut List
2 – 1×2 @ 55 3/8″ (Front Legs, ends cut at 15 degrees off square)
2 – 1×2 @ 53 1/2″ (Back Legs)
8 – 1×3 @ 25 1/2″ (Fronts and Backs of shelves)
1 – 1×2 @ 25 1/2″ (Top)
1 – 24″ x 4 3/4″ (Top Shelf cut from 24″ wide shelf)
2 – 1×3 @ 4 3/4″ (Top Shelf Side Trim)
1 – 24″ x 8 1/2″ (Second Shelf)
2 – 1×3 @ 8 1/2″ (Second Shelf Trim)
1 – 24″ x 12 1/4″ (Third Shelf)
2 – 1×3 @ 12 1/4″ (Third Shelf Trim)
1 – 24″ x 16″ (Bottom Shelf)
2 – 1×3 @ 16″ (Bottom Shelf Trim)
Instructions