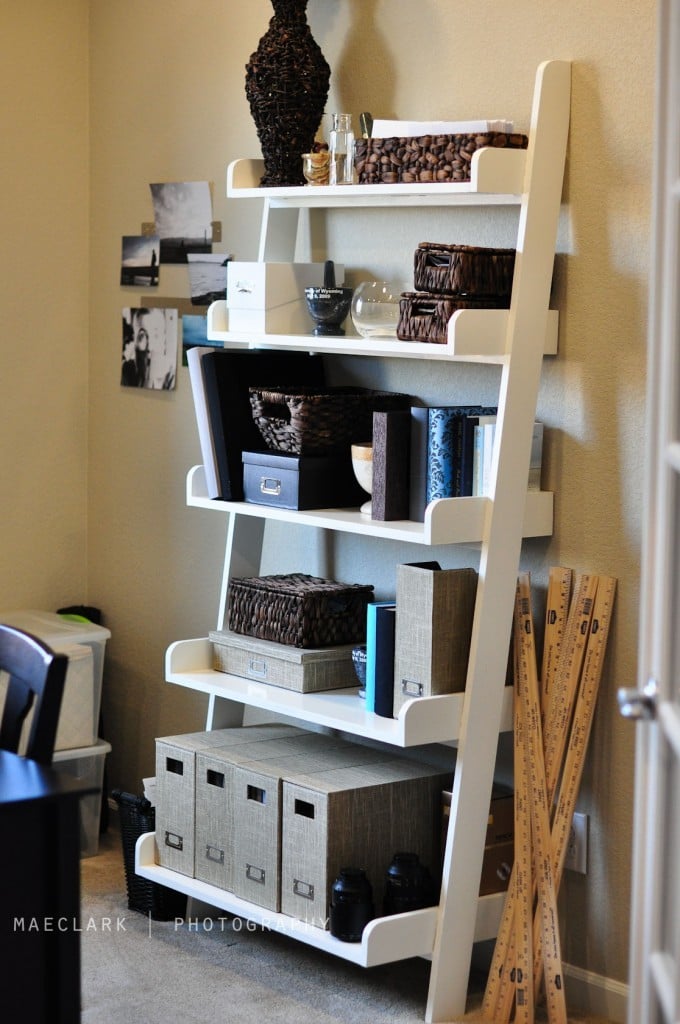 Large leaning shelves. Featuring five shelves, ranging in size from large to small, this leaning shelf will store and stylize any space.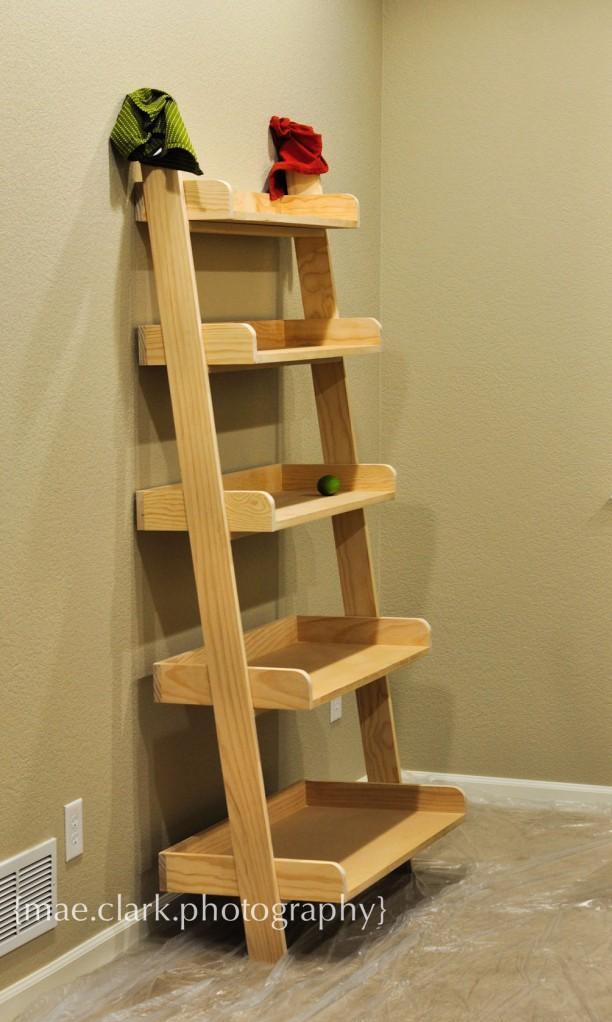 I'm so happy to give you these plans today.  I know they have been requested many times over, and I just couldn't quite figure out how to build these without tons of leftover wood or having to create panels for the shelf bottoms.  I think I've done it, made it a plan I am proud to put my name on.  But there's no way around it, you are going to need a full sheet of plywood to build one . . . or two.
And while this plan only calls for one leaning wall shelf, you will have enough scrap plywood or MDF leftover to build a second one.
Other ways that you can save?  2x4s are cheaper than 1x4s, so try adding strength and saving several dollars by using 2x4s for the legs.  1x3s are about 1/2 the cost of 1x4s, so try using 1x3s for the shelf trim instead of the 1x4 shelf trim.
Dimensions
Warning - this shelf is bigger than it looks! Measure and adjust accordingly.
Preparation
Shopping List
6 - 1x4 @ 8 feet long
1 - sheet 3/4" Hardwood Playood or MDF 3/4" Thick, cut as shown in cutting layout
60 - 1 1/4" Pocket Hole Screws
35 1 1/4" Wood Screws
2 Heavy Duty Picture hanging Kits
Wood Glue
120 Grit Sandpaper
Wood Filler
Cut List
2 - 1x4 @ 77 4/8" (Shelf Sides, cut and mark in step 1)
5 - 1x4 @ 33" (Shelf Supports)
1 - 3/4" Plywood @ 17 1/4" x 31 1/2" (Bottom Shelf)
1 - 3/4" Plywood @ 14 1/4" x 31 1/2" (2nd Shelf)
1 - 3/4" Plywood @ 12 1/4" x 31 1/2" (3rd Shelf)
1 - 3/4" Plywood @ 10 1/4" x 31 1/2" (4th Shelf)
1 - 3/4" Plywood @ 8 1/4" x 31 1/2" (5th Shelf)
2 - 1x4 @ 17 1/4" (Bottom Shelf Trim)
2 - 1x4 @ 14 1/4" (2nd Shelf Trim)
2 - 1x4 @ 12 1/4" (3rd Shelf Trim)
2 - 1x4 @ 10 1/4" (4th Shelf Trim)
2 - 1x4 @ 8 1/4" (Top Shelf Trim
5 - 1x4 @ 33" (Shelf Back Trim)
General Instructions
NOTE: MAKE SURE YOU CUT THE SHELF SUPPORTS @ 33″ and NOT 31 1/2″ (See Comments)
Instructions