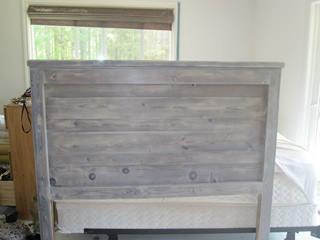 So this was my first project. It's not perfect, but I LOVED how it turned out!! A few lessons learned....
1) I know common sense would tell you to get the straightest boards, which I thought I did. When I went to put them together, a few were bowed. I tried to put those at the bottom.
2) I did end up putting a brace vertically in the middle on the back with left over 1x6. It just added a little more support.
3) Since I'm a beginner, I didn't know better, but go easy on the wood filler, especially if you are going to use any kind of opaque finish.
4) The only other thing I can think of, is unless you have someone to help you out, build this close to where you plan on putting it. I am in the middle of a remodel, so was able to build this in my bedroom. This sucker is heavy and awkward for one person to move when it's finished!!!
5) I built this with my finish nailer (2" nails) and wood glue. (Light on the glue...it expands quite a bit!)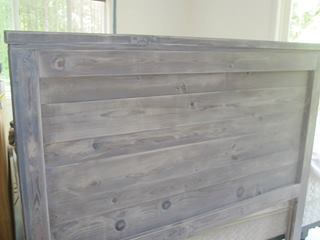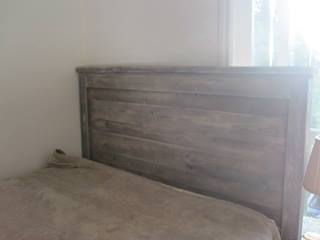 Estimated Time Investment
Afternoon Project (3-6 Hours)
Finish Used
SOOOO excited about this finish!!!
I applied black tea with a paint brush, and thoroughly let it dry (a day or two). Then I applied my steel wool/vinegar "juice" that had been brewing in the garage about a month.
After that dried thoroughly, I sanded with my little electric sander (iron shaped). I think the grit was 120. I sanded across the boards, and along the edges, let it skip and jump where it wanted.
After vacuuming it, I applied Minwax Pickling Whitewash with a brush, let it sit a minute or two, and then wiped it off (with the grain) with a towel. I found it easier to work one (no more than two) planks at a time, or it was harder to wipe off.
Then I applied Minwax furniture sealing wax with cheesecloth.
Recommended Skill Level
Starter Project