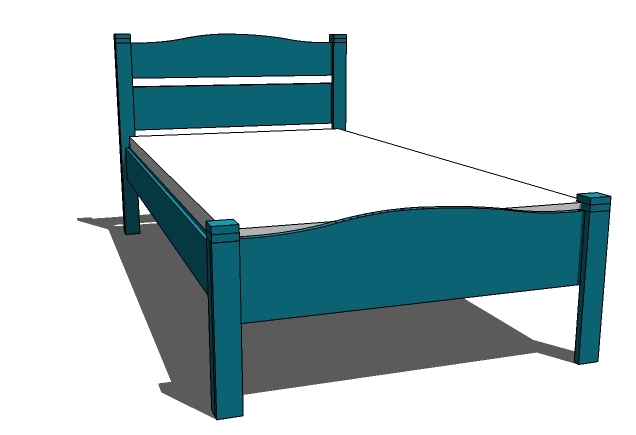 A simple classic pioneer style children's bed.
The Pioneer Bed was inspired by a trip to a local roadhouse.  Inside the roadhouse, a simple bed, much like this one, was on display.  It made me think back 100 years, when beds were this simple.
What do you think?  Do you love pioneer furniture as much as I do?  Would you like to see plans for dry sinks, cupboards, and more simple furnishings?  And when something is simple, it's often simple to build.
Dimensions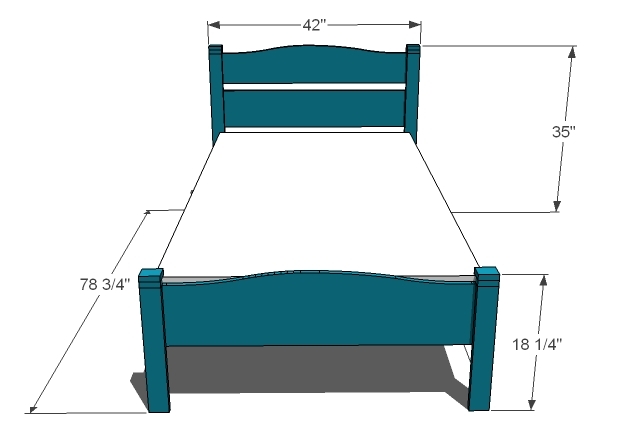 Dimensions are shown above.
Preparation
Shopping List
2 – 1×6, 8′ Long
1 – 1×8, 8′ Long
1 – 1×10, 4′ Long
2 – 1×3 (DOES NOT INCLUDE OPTIONAL SLATS)
3 – 1×2
2″ Finish Nails
1 1/4″ Finish Nails
1 1/4″ Screws
Wood Glue
Common Materials
120 grit sandpaper
primer
wood conditioner
paint
paint brush
Cut List
2 – 1×8 @ 40 1/2″ (Headboard Rails)
2 – 1×3 @ 33 1/2″ (Headboard Front Legs)
2 – 1×2 @ 33 1/2″ (Headboard Side Legs)
8 – 1×2 @ 2 1/4″ (Headboard and Footboard top trim)
1 – 1×10 @ 40 1/2″ (Footboard Panel)
2 – 1×3 @ 16 3/4″ (Footboard Front Legs)
2 – 1×2 @ 16 3/4″ (Footboard Side Legs)
2 – 1×6 @ 75″ (Siderails)
2 – 1×2 @ 75″ (Cleats)
15 – 1×3 @ 39″ (Optional Slats)
Instructions