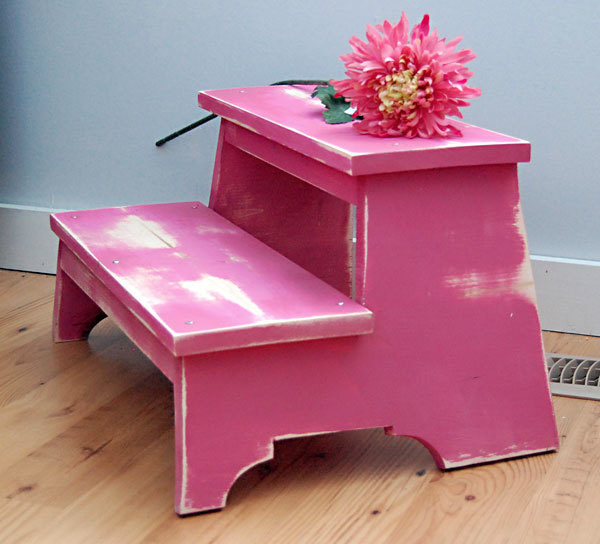 A vintage look step stool featuring two steps and a decorative footer.
Before Christmas, I drew up this plan and meant to get to it by the Holidays.  But reality happens, and I just don't get as much done as I could hope.  So a printout of this plan got burried on my steel magnet wall for a month or two . . . until yesterday.

I'm working on a photo shoot for Fresh Home magazine (so excited that they have asked me to do another project for their fabulous magazine!  You can go here to get signed up to get your free issue.) and the shot just needed . . . something.  Something a tad vintage, a little not perfect, and a lot useful.




I wanted this stool to look well-used and far from perfect, thus the heavy distressing and uneven jigsaw cuts and exposed screws.  To get this finish, I simply painted one coat of flat honeysuckle pink paint (Premium Paint by Behr in Flat) with a brush and let dry overnight.  This is very important.  If you begin distressing too soon, the paint will come off in gooey chunks, as opposed to a-little-wear-over-alot-of-years looking.  Then just started sanding with a power sander and medium grit sandpaper, concentrating on the areas that would get natural wear.  If you wanted to stain the exposed wood, you would need to apply a clear coat before sanding.  The clear coat protects the non distressed areas from accepting the stain, with the exposed wood area accepting the stain.  You can go the other route - stain before paint, but you would need to add primer because it's difficult to put paint over stain.


Dimensions
Dimensions are shown above. I find this stool perfect to give Grace that extra boost to brush her own teeth, climb up on our Farmhouse Bed, or get in and out of the bath. You will be surprised at just how big this step stool ends up being.
Preparation
Shopping List
1 – 1×12 @ 32″ (Sides)
1 – 1×2 @ 50″
1 – 1×8 @ 32″ (Treads)
2″ screws or 1 1/4″ pocket hole screws
wood glue, wood filler and finishing supplies
Cut List
2 – 1×12 @ 15 1/2″ (Sides – cut out in step 1)
4 – 1×2 @ 12 1/2″ (Supports)
2 – 1×8 @ 15″ (Treads)
Instructions
Finish Used
Now for the fun part. I love painting and finishing smaller pieces. I encourage you to try a unlikely finish on your step stool. You can always add another coat of paint! Have a great weekend!