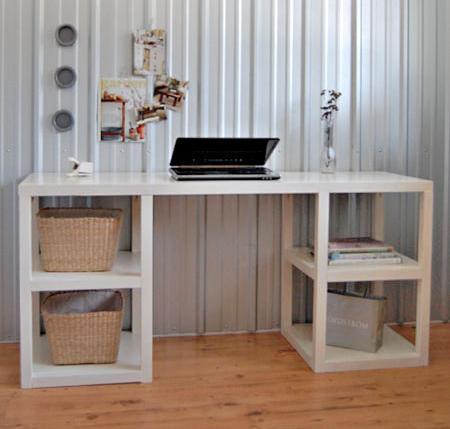 This is the desk that this very blog was built on. I love it because of the large top surface, ample storage, but clean simple modern design that begs to stay clutter free. You can also use this desk as a console table.
Well, I got a new desk.
There was nothing wrong with my previous desk. It just that I'm spending more and more time at my desk, and need something bigger.  That, and I'll admit it, I don't need much of an excuse to build something  :)
What do you think?  Not bad for scraps, eh?
Oh, and the finish is scraps too!  I used leftover (from Grace's Bookshelves) Antique White by Valspar in flat, two coats, brushed on.  I wanted the wood grain to show through slightly.  Then I painted on two coats of satin polyurethane.  It's now got a sheen but it's not goopy or glossy and you can see hints of wood grain.  My favorite finish.  Also, the Antique White is such a softer more pleasant color than traditional white.
And here is one unstaged.  I'm always amazed at how beautiful a few 2x2s (well, more than a few for this desk) and some MDF can be.  And strong, functional and sturdy.  I put this one together completely with pocket holes (I use a Kreg Jig).  It's worth the investment.  You will make your investment back if you build just this desk.
Another bonus of building something yourself is the freedom to modify it to suit your needs.  You can't tell, but my desk is actually 2" shorter than the plan calls for because I'm short, and wanted my keyboard to be at the exact height of the armrests on my chair.  All I had to do was take two inches off the legs and adjust the middle shelf down an inch.
Now it's your turn.  Want to make my desk yours?
Dimensions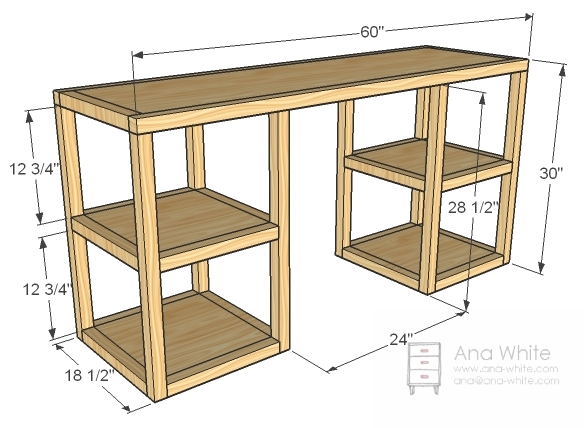 Dimensions are shown above. Resist making the desk much narrower, or there won't be room for your knees. As discussed earlier, you can shorten the desk quite easily be taking length from the legs and adjusting the middle shelf accordingly.
Preparation
Shopping List
1 Sheet of 3/4″ MDF or Plywood cut into 15 1/2″ widths
8′ long (referred to as 1x16s)
7 2×2 boards, 8′ long
2″ pocket hole screws
1 1/4″ pocket hole screws
Common Materials
120 grit sandpaper
primer
wood conditioner
paint
paint brush
Cut List
1 – 1×16 @ 57″ (desk top)
4 – 1×16 @ 15″ (Shelves)
10 – 2×2 @ 15 1/2″ (Trim perpendicular to desktop)
8 – 2×2 @ 15″ (Trim parallel to desktop)
8 – 2×2 @ 28 1/2″ (Legs)
2 – 2×2 @ 60″ (Desktop Side Trim)
General Instructions
Pocket Holes Go through the entire set of instructions and drill all pocket holes first. Basically, you need pocket holes on both ends of all the 15″ and 15 1/2″ 2x2s, one pocket hole on the tops of each leg, and then pocket holes on all sides of the shelves and desktop. Remember to set your jig for 1 1/2″ stock for 2x2s and 3/4″ stock for the MDF.
Instructions