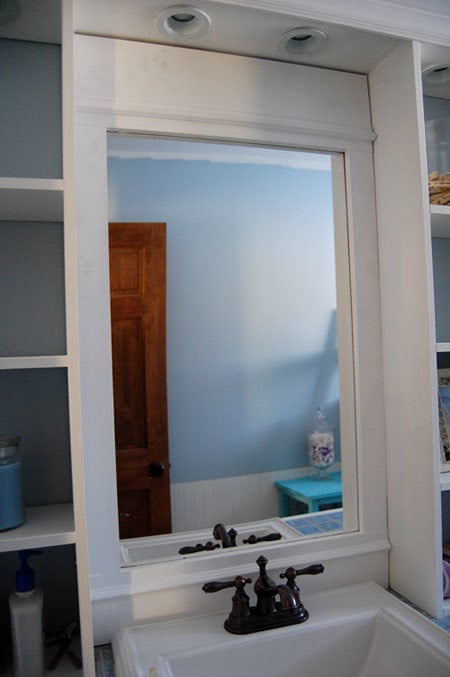 How to fancy up a builder grade mirror. Completed mirror can be mounted on any wall. Shown in a custom vanity hutch.
I kind of built myself into a corner on this one.  Apologies in advance for the poorly lit photo.
Many years ago, we built this hutch on the bathroom vanity in the master bath to claim some vertical storage space, and I just could not figure out exactly how to get the right mirror put in the right place.
So our master bath sat mirrorless for about half a decade.
Sad, huh?
It's not that I didn't want to put a mirror up (and yes, we did buy a cheapo mirror and lean it up against the wall), I just wasn't quite sure how.  There is so little clearance behind the sink, most frames wouldn't fit, and the opening is non standard, so most off the shelf mirrors wouldn't work anyway.  We could have a mirror custom made and framed, but that can get quite spendy.  We could have had a mirror custom cut and glued in place, but still, the edges would never be perfect and I've  never been a fan of gluing mirrors to walls.    We considered hanging an oval shaped mirror in the center, but the lighting in the hutch left a utility hole in the wall that I promised the Ram would be covered by the mirror when I convinced him we needed the recessed lighting in the hutch.  See it up in the upper right corner?
So here is the really sad part.
Last Sunday, I made breakfast, started cleaning house as I always do on Sundays, starting with the bathrooms.  While cleaning the master bath, I just decided, today's the day.  Took some measurements and headed out to the garage, screwed a few boards together, slapped some trim on leftover from my mom's bed, attached a mirror to the back with mirror clips . . . and in about twenty minutes . . . yes, twenty minutes . . .
Built a mirror . . .
That fits perfect in the hutch (you can see, we've got tons more work to do in this bathroom as well).
Twenty minutes and some scrap boards.
And I could have enjoyed this every morning for the past five years.
How many funny faces did we miss out on?
The truth is it may have taken me less time to build the mirror than to scrub the tub, but it has taken me years to figure out just how to build the mirror so it would be easy to install, fit just right, be inexpensive, and look just right.  I want to thank you for being a part of our little community, because I know without any doubts, that you have made me better at what I do.  Had I attempted this mirror just a few years ago, I am certain it would not have come out as well. And I do love my new mirror so, so thank you!
And now I can share that knowledge with others.  If you need a mirror, I hope you build yours today. With this simple plan, a standard mirror and some mirror clips, you can beautify your bath this very afternoon.  I am going to give instructions on how I built my mirror, but you should take my plan and fit it to your needs.  I would love to see someone add coat hooks and a little key shelf under the mirror - or even over it.
All you would need to do different than my plan is add a 1x4 shelf.  Use 1x4 scraps to make the shelf supports and add some hooks.
Preparation
Shopping List
1 – 24″ x 36″ Mirror Mirror clips with 3/4″ screws to match 1 – 1×8 @ 28 1/2″ 1 – 1×6 @ 28 1/2″ 1 – 1×3 @ 8 feet 2 – 1×2 @ 8 feet Heavy duty picture hanging kit 1 1/4″ Screws or nails and glue
Common Materials
120 grit sandpaper
primer
wood conditioner
paint
paint brush
Cut List
Cut List 1 – 1×8 @ 28 1/2″ 1 – 1×6 @ 28 1/2″ 2 – 1×3 @ 35″ 2 – 1×2 @ 48″ 2 – 1×2 @ 25 1/2″ Optional Shelf 1 – 1×4 @ 28 1/2″ (Shelf) 2 – 1×4 @ 6 1/2″ (Shelf Supports – cut out at an angle) Shelf hooks
Instructions
Step 1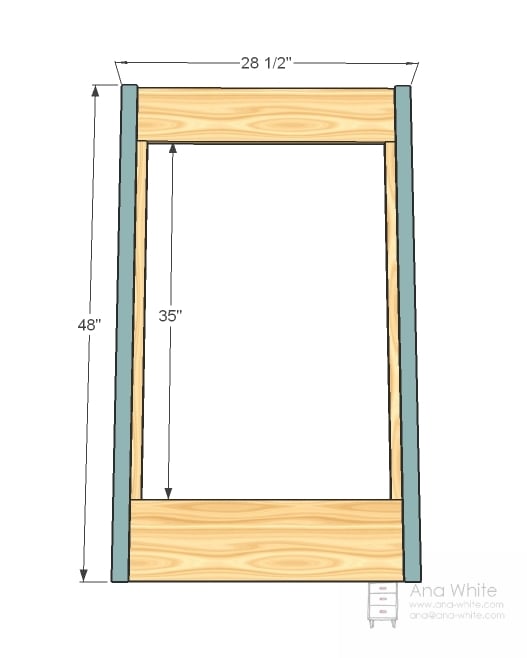 Build the Mirror Frame
Lay your 1x3s, 1×6 and 1×8 down and arrange for square. If you have a Kreg Jig™, screw the 1x3s to the 1×8 and 1×6. Lay the long 1x2s on top, to the outside, and screw and glue with 1 1/4″ screws. Adjust for square.
Step 3