After a trip to IKEA my daughter fell in love with play food and pots/pans. My mom encouraged me that 14 months isn't too little for a play kitchen so I took the plunge! I adapted the plans slightly - making a single door for the refrigerator, measuring both doors so they overlay and aren't inset, putting one shelf in the oven instead of both beneath the sink, and raising the shelf to add room for pegs. I also decided to nix the backing to save on costs since this will eventually be placed up against a wall.
I really wanted to keep the kitchen as chemical free as possible. Paint chips and scratches, and stain has a ton of fumes. So what to do? Take a leaf from the Shanty Sister's book and dye it with RIT dye! I used one liquid bottle of teal and diluted it with a 1/2 cup of water. There was more than enough to do the kitchen, and the wood took the dye so beautifully. For the top coat, I used non-toxic Mod Podge. The backsplash and knobs/handles/burners are painted with chalk board paint.
For all the little details:
- oven knobs are closet dowel rod holders
- shaker pegs are cheap at hobby lobby $1.47 for 5!
- burners are painted cork coasters
- oven "glass" is replacement frame glazing (plexi) from Hobby Lobby
- sink from goodwill
- "wall mounted" faucet is a spigot with a fun red replacement handle since the handles on the spigots were incredibly boring
- fridge backing is roof flashing for a shiny metallic (and magnetic!) look
- curtain is a 99 cent bandana
I totally adore this little kitchen, and my daughter does too! It's a bit on the taller side but she has time to grow into it. Considering the cheap plastic ones are $100+, I was so happy that my cost was just under $97. Not bad for solid wood with a lot of extras!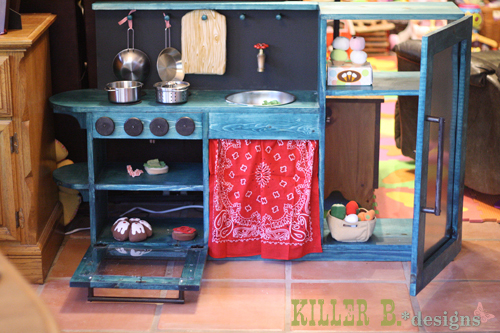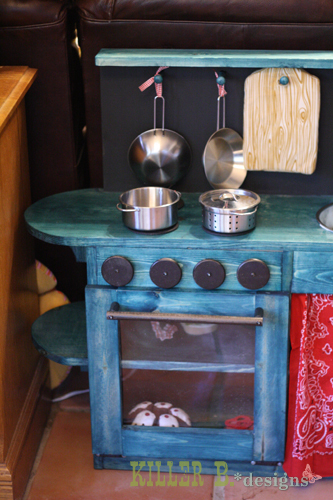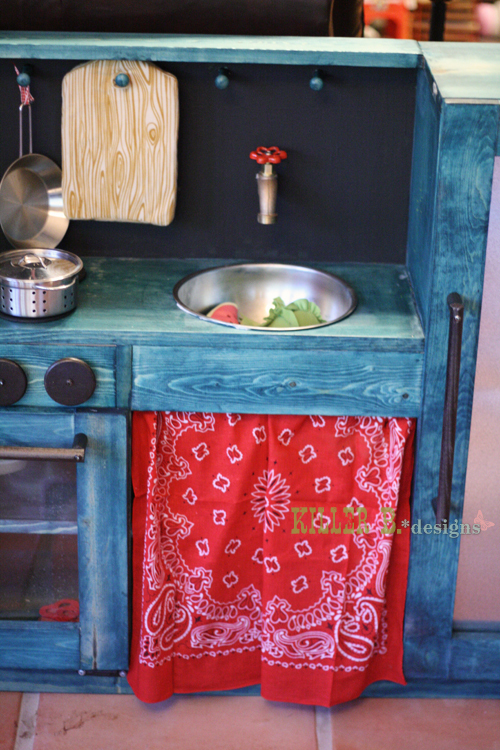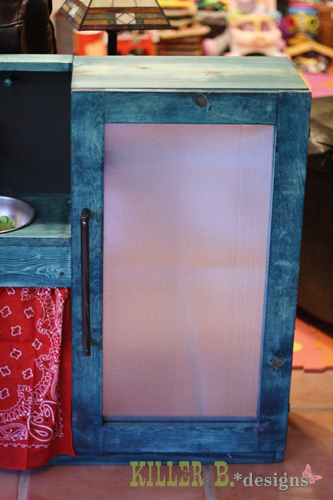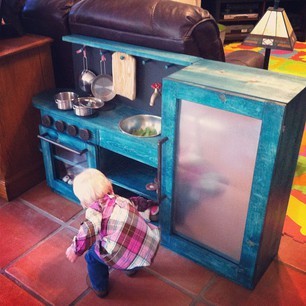 Estimated Time Investment
Weekend Project (10-20 Hours)
Finish Used
2 coats RIT teal dye, sealed with one generous coat of Mod Podge. Chalkboard paint on backsplash and knobs/handles.
Recommended Skill Level
Intermediate