These were the inspiration pieces for the 1-Board cedar desk accessory set plan. These were made entirely of scrap wood. These sets are all painted, they will be gifts for the girls at work.
The wood for these is some 3/8" plywood (crate and pencil cup sides), 1x2 (bottom of business card holder and ends of pencil cup), some 1/2" x 1 1/2" craft board (sides of paper clip trays, business card holder), 3/4" plywood (bottoms of paper clip trays), some small squares of Wainscoat paneling (sides of gray pencil cup), some 1/4" plywood (bottom of pencil cup), some 1" strips of some old painted lauan (old project, pulled apart and the wood is being repurposed) and a couple of little pieces of 1/2" x 3/4" S4S (fronts of business card holders).
You can see the mishmash of different materials in the shot of an unfinished set, and also the stack of them waiting in the wings on my work table (it's starting to look like a Jackson Pollock painting :) heehee)
All the paints and materials were left overs from other projects. I hadn't decided on the finishes yet while I was building. These would be even easier to make if I had finished all the pieces first!
It was fun building these, it's great to be able to take something that may have gone in the bin, and make it into something lovely. I'm hoping the girls like these!
I've got a cube drawer plan in the works (a 1-board cedar with 2 drawers, and also have measurements for a 3-drawer from 3/8" thick craft board and 1/4" plywood, like the one on the table). I'll get to those soon.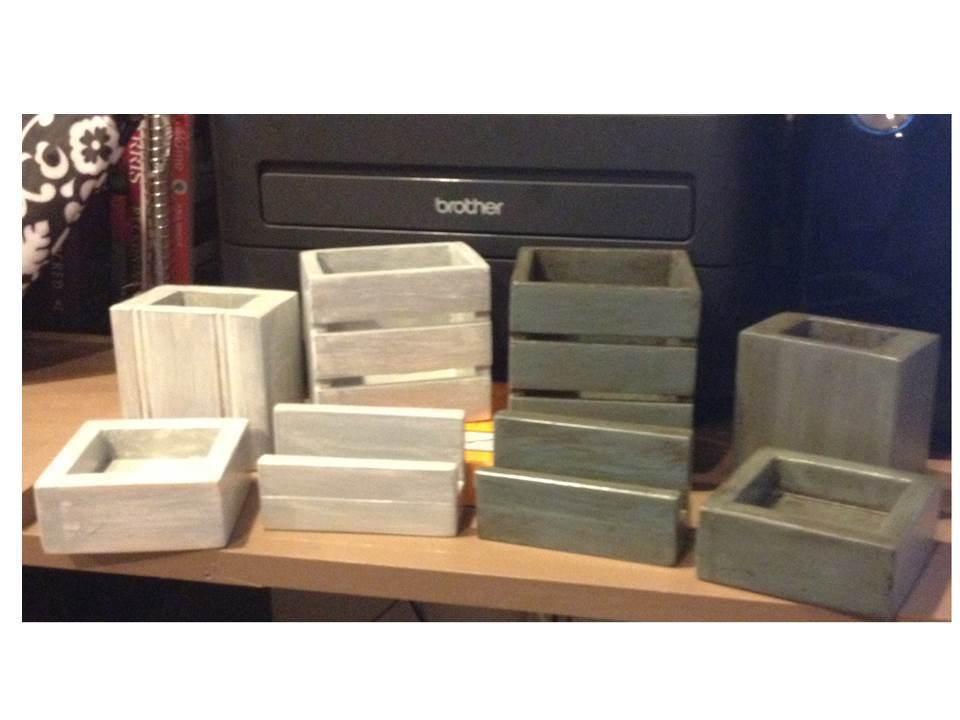 Estimated Cost
0 - all scrap and left over finishes
Estimated Time Investment
Afternoon Project (3-6 Hours)
Type of Wood
pine plywood, craft board, and pine wainscoat paneling
Finish Used
The gray set received 1 coat of white primer, 1 coat of gray (Ace Royal in Greek Column), then was distressed with 100-grit sandpaper, and given a coat of Minwax's crystal clear polycrylic in satin.

The blue set received 2 coats of Clark & Kensington paint tinted to Benjamin Moore's Blue Echo, and glazed with Minwax Express Color in Walnut. This set received a top coat of Minwax Oil Modified water based poly (I have lots of that left over from last year's island build).

The one on the table is receiving 3 coats of Benjamin Moore Aura in Wenge.

Recommended Skill Level
Beginner