Inspiration for this project came from the original Restoration Hardware table's price, which was way out of our budget. We found the plans on this site, and then the brag post from http://tommyandellie.com/?p=2582, which convinced me to give it a try when we moved to our new house.
I pulled some ideas and techniques from a couple of different areas - one was the idea from American Woodworker to use a straight-edge and a router to joint the edges of adjacent boards so they match perfectly, or as close to perfect as possible (see one of the pictures). After a few false starts it worked out very well.
One other big change was to use 4x4 pieces for the legs and cross-braces - especially on the long cross-brace. With two kids (6 and 3) and a third on the way, I knew they would want to crawl under the table to play, and sit on the beams - and I was afraid a 2x4 wouldn't hold up to their weights. I've VERY happy with the result - that base is not moving or flexing at all.
Finally, I learned a TON about what NOT to do! Apparently after doing the dry fit and having everything fit well, you should not sand the parts of the boards that fit together or suddenly they will be loose! Also, wiping off the stain after the suggested amount of time IS a good idea, after all! Finally, we ended up using pine boards with fir 4x4's, and I wish we had used all fir as I think the grain pattern was nicer.
All in all, though, it was a great experience and I can't wait to tackle another project!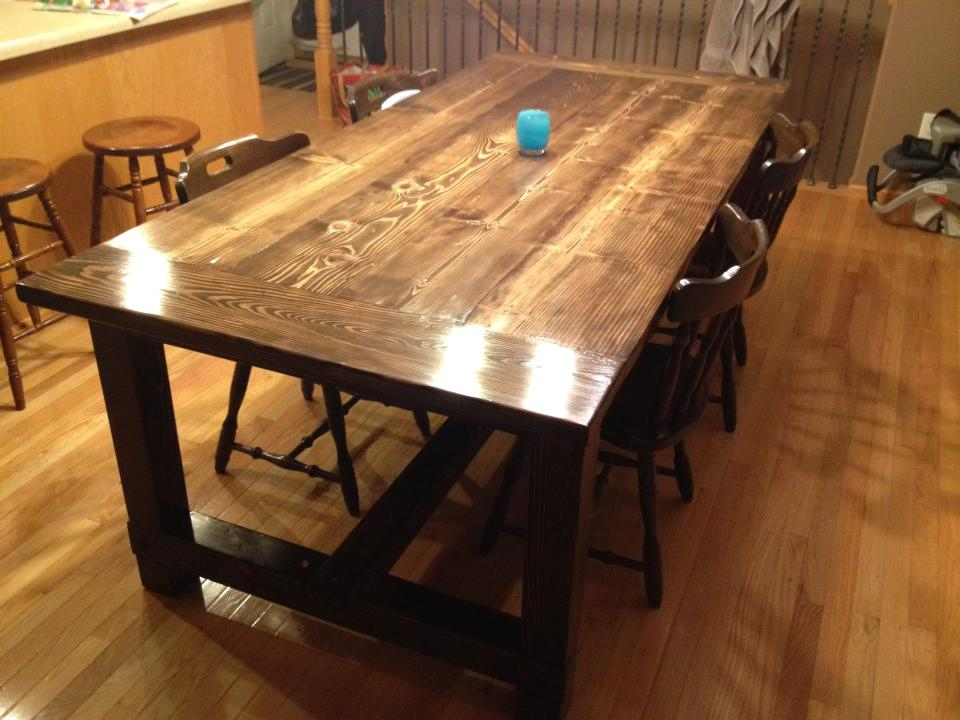 Estimated Time Investment
Week Long Project (20 Hours or More)
Type of Wood
Pine and Fir
Finish Used
Minwax wood conditioner followed by 2 coats of Minwax Walnut stain, sanding lightly between coats at 240 grit. After stain dries, one coat of Varathane sanding sealer, sanding again at 240 grit. Then, Varathane water-based poly, 2 or three coats followed by light sanding at 400 grit (or between individual coats if it was past 12 hours from the last application) - followed by one final coat of poly. If I had known then what I know now, I would have used oil-based poly - I didn't realize there was a difference when I purchased the items. I also used foam brushes for each step.
Recommended Skill Level
Beginner