Our big old house doesn't have a front hall closet, so I decided to make the Nursery Armoire for our extra coats and shoes. Since our ceilings are so tall I decided to make it the full 96" that I could get out've the sheet of plywood.
I also modified the plan to adjust the door heights so that the top would make good coat hanging and the bottom can be used for shoes and boots. I also changed the drawers to be on the outside instead of behind the upper doors.
I used 3/4" plywood for the box and pine for the doors and trim.
For the doors I pocket holed the frames and then routed an edge on the backside and stapled pine paneling to fill out the middle. This matches doors I made previously to make cupboards in our full-wall brick fireplace (and the hardware matches too).
I did the top trim as in the plan, and I decided to leave the bottom plain.
It's quite large! But in the space a smaller one would've looked silly, so I'm glad I went with the height.
I decided to paint it so that I didn't have to fuss with staining, but went with the same paint as the walls for the backs and undersides of shelves to lighten it up.
Can't wait to fill it up! ....just have to give the dark paint one more go-over....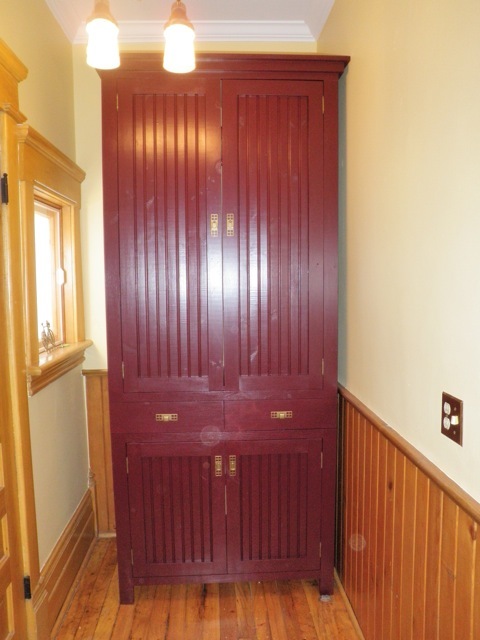 Estimated Time Investment
Week Long Project (20 Hours or More)
Type of Wood
Maple Plywood, Pine trim and Pine panelling for doors
Finish Used
Paint! "Wine and Dine" Exterior semi-gloss from Canadian Tire! And an interior yellow paint leftover from the walls in the foyer.
Recommended Skill Level
Intermediate