This has been my favorite project so far! This one was a learning process for me and was the first time I had to add trim or use a router (for the bottom cut outs). I'm very happy with how it turned out and am so thankful for the plans! I bought a Dremel Trio to help with this project and it was very useful for the scalloped edges at the bottom and for carving out a small circle in the backboard of the middle section for a power cord to go through. I'm not skilled enough yet with the Trio to consistently carve out the semi-circles into the mini drawers as pictured in the plans, so I went with mini knobs this time instead.
I love this desk with and without the top hutch... I can't decide which way to keep it! The top hutch could easily be used as bookcase on its own.
I'm listing this as an advanced project just because of the routing at the bottom, the trim, the flip down desk top, and all of the drawers and doors (especially if you build all three pieces). For me this project involved a lot of trial and error and a lot of patience. So worth it now that it's finished though!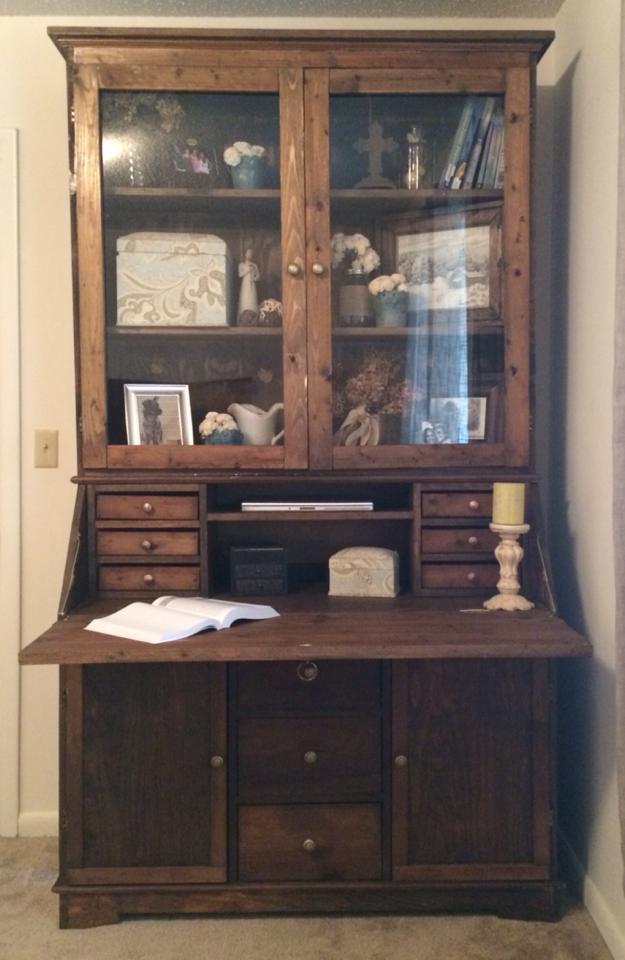 Estimated Time Investment
Week Long Project (20 Hours or More)
Type of Wood
pine, plywood, iron-on edge veneers, and an edge-gluded pine pannel for the flip down desk top
Finish Used
a couple of coats of the vinegar/steel wool mixture over a coat of black tea http://www.friendly-home.net/2012/07/how-to-oxidize-wood.html
Recommended Skill Level
Advanced