I needed a change. The freebie table that I used for folding laundry bugged me because the beat up legs of the table prevented any storing/stacking/using the space underneath it. The top of the table was always filled with baskets of clean clothes! I loved the tabletop and it fit the space perfectly so I decided to customize the laundry dresser to fit under the 2′x4′ tabletop. I wanted to fit a basket for each family member (5) and we always need one for linens.
I worked it out to use melamine boards to save on finishing (and match my other basement builds) and 2×2′s in a 'U' instead of a backing (kids were in the car so I couldn't fit the big piece of backing!) I bought 2 2′x6′ shelves (cut one in half and one 3/4″ less than half) and 1 2′x4′ shelf and cut it to 43″. Then I just used a kreg jig to make the 'E' shape (the sides covered the rough edge of the bottom piece) and attach the tabletop. I also used the kreg jig to make the 'U' shapes to fit inside the 24″ space (long way) and 18″ space (short way). I thought about putting the back piece more forward so that the baskets the long way couldn't slide all the way back, but decided to just make both sides the same. I pre-drilled and countersunk the screws to attach them to the sides (measuring and clamping over and over). Melamine is a little slippery to work with but it was nice to save time on the finishing end!
I have a fold down ironing board right next to the table which is just perfect!
P.S. I have a hanging drying rack in the background (the expanding ones didn't work b/c the floor angles down to a drain) and a metal pipe behind the white curtain for hanging items.
Stand with the table at 36″ so you can fold without getting a backache, easily slide the baskets in and out to put away clothes as you fold them….and thank Ana for the way that she has transformed your home and feeling toward doing laundry!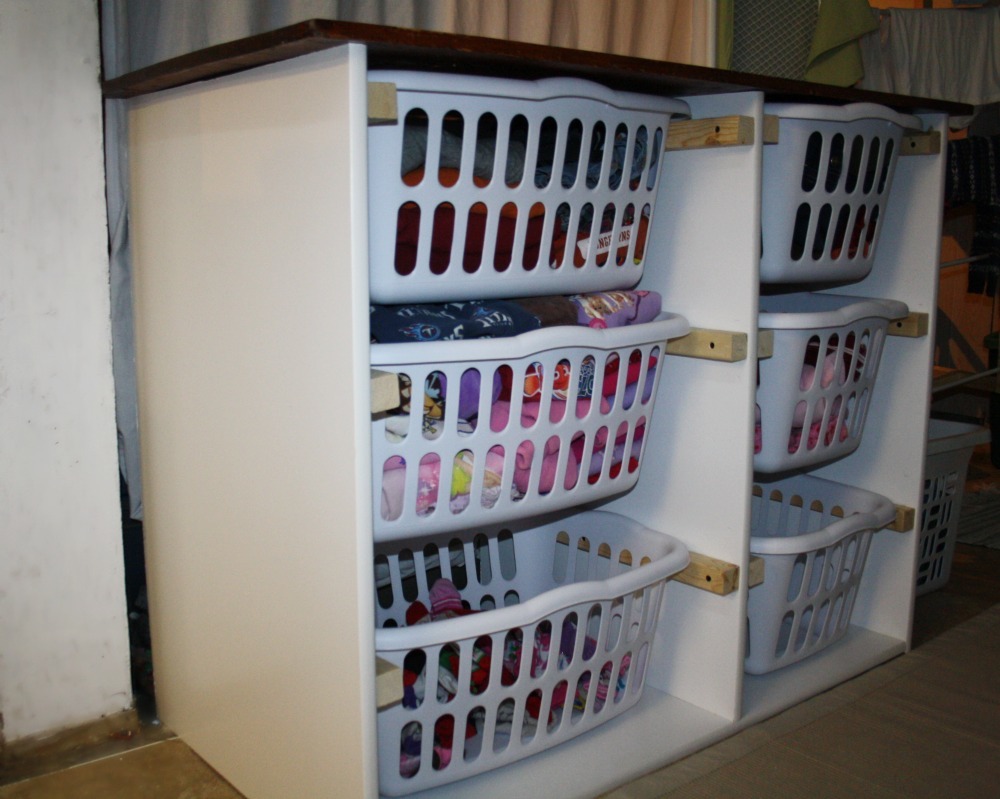 Estimated Time Investment
Day Project (6-9 Hours)
Type of Wood
Melamine shelving and 2x2's
Finish Used
None yet, eventually [if I ever get everything else done] I will paint the 2×2′s white.

Recommended Skill Level
Beginner