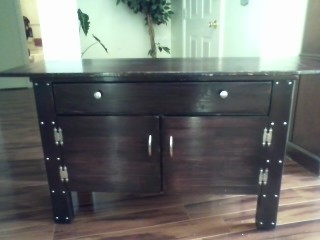 I built this media console several months ago. In the beginning I saw the one Ridge Media Console and loved it, but I don't have the right tools to make the drawers like the plans, so I decided to take a couple of plans to make mine different. I also wanted to build a console that was easy enough because I'm still a beginner. I also loved the Benchwright media console and used some of the plans to get what I wanted. The storage flips down by adding euro hinges. And I added doors. I added my own silver decorative pieces. At 1st I thought that was too much silver, but now I like it. When I first built it I would pass by it and had to remind myself I did not buy this at a store, but built it. I can't say how much it cost because frankly I'm not that organized just yet. Since I'm a beginner I go back and forth to Lowes getting something here and there. Lowes and me have this weird relationship. They wonder why I'm there AGAIN; and I just keep coming back, AGAIN. They better watch it, I may dump them for Home Depot - lol.
For the finish I used Rustoleum stains and finishes. I use this because I don't wipe them off and they dry quicker. I use one coat and it's done. Dries by the end of the day and ready for poly. I added the pic for the stain, but Lowes didn't have my colors on their website (shame on you Lowes).
The colors I used were 1 part black cherry and 2 parts dark walnut. I loved the colors so much I plan on using them for the rest of my builds in my living and dining rooms.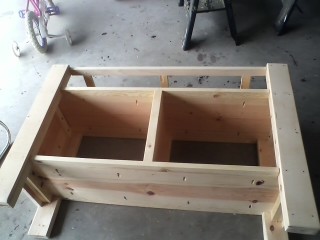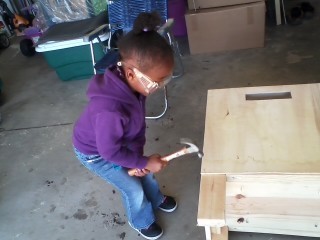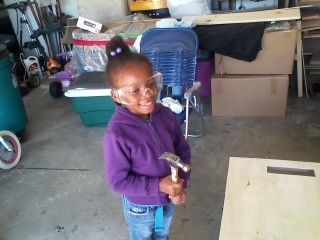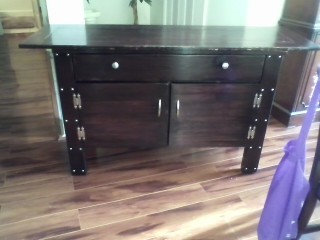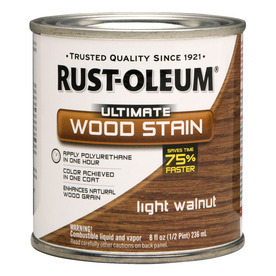 Type of Wood
Whitewood boards
Finish Used
Rustoleum black cherry and dark walnut.
Recommended Skill Level
Beginner