After building one 6 Cube Bookshelf (http://ana-white.com/2010/07/well-i-did-promise-you-i-would-work-on.html) so my wife would have somewhere to store toys for the kids, I decided to modify the plan to use in our bedroom.
I chose to put doors on it, and learned quite a bit. Rather than 6 standard cubes, I went with a single divider on each shelf. The back and the doors are both made from some Bead Board trim packages that I found for about $12 at my local big-box.
I added a 16" wide board on the top to create the look I wanted.
I also want to note that when you're working alone, some right-angle clamps are lifesavers! Makes it a lot easier to keep square and hold things together while you drill and screw everything together.
I chose some hardware that came close to what we already had in our bedroom. The hinges took me 4 different trips to get right (first was wrong type (did not want self-closing), second was wrong depth, third was wrong color).
Overall I'm very happy with it and so is my wife. We replaced a piece of furniture that was twice as wide and it's amazing how nice it is to not have to walk around it when walking through our bedroom.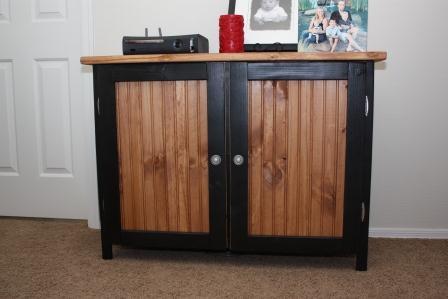 Estimated Time Investment
Day Project (6-9 Hours)
Type of Wood
Pine boards/furring strips and 2 pine beadboard packages
Finish Used
Top, door panels and back were stained using a satin cherry finish. Trim and main body was painted using an enamel black paint (1 coat is all it took with the enamel paint, Glidden Onyx Black using a Behr Enamel base)

After everything was dry and prior to assembly everything received 2 coats of Satin polyurethane.
Recommended Skill Level
Beginner