This was my first attempt at building and I learned a lot such as if you drop pine, it cracks in half - and - when cutting with a jigsaw, cut inside the lines....you can always trim more off, but you can't put it back - and - my dogs can distress a piece of furniture faster than I can if I put it under "thier" window....whether I want them to or not!
This was a great beginner project and gives a fast, satisfying result. As you can see, it has become the cat's bench...can't get a picture of it without him, he lives on it!
Just a couple of notes: I cut the legs more according to the plan diagram than the pretty cuts Patrick made on his...I wasn't ready for that. Also, I didn't have my glasses outside with me, so my measurements on the legs are probably not right. I made the top shorter because I wanted it for a specific space (which didn't work out, see note about about dogs and distressing....ugh!).
Also, this probably should have taken me just an hour or so, but I had my Kreg jig set all wrong and first had shallow pocket holes (see note above about pine breaking when dropped) and then made them too deep (learned to use wood filler)! That's when I finally got my butt into the house to get my glasses to read the dang directions (again!).
Thanks Patrick and Ana for giving me such a great, easy beginner project!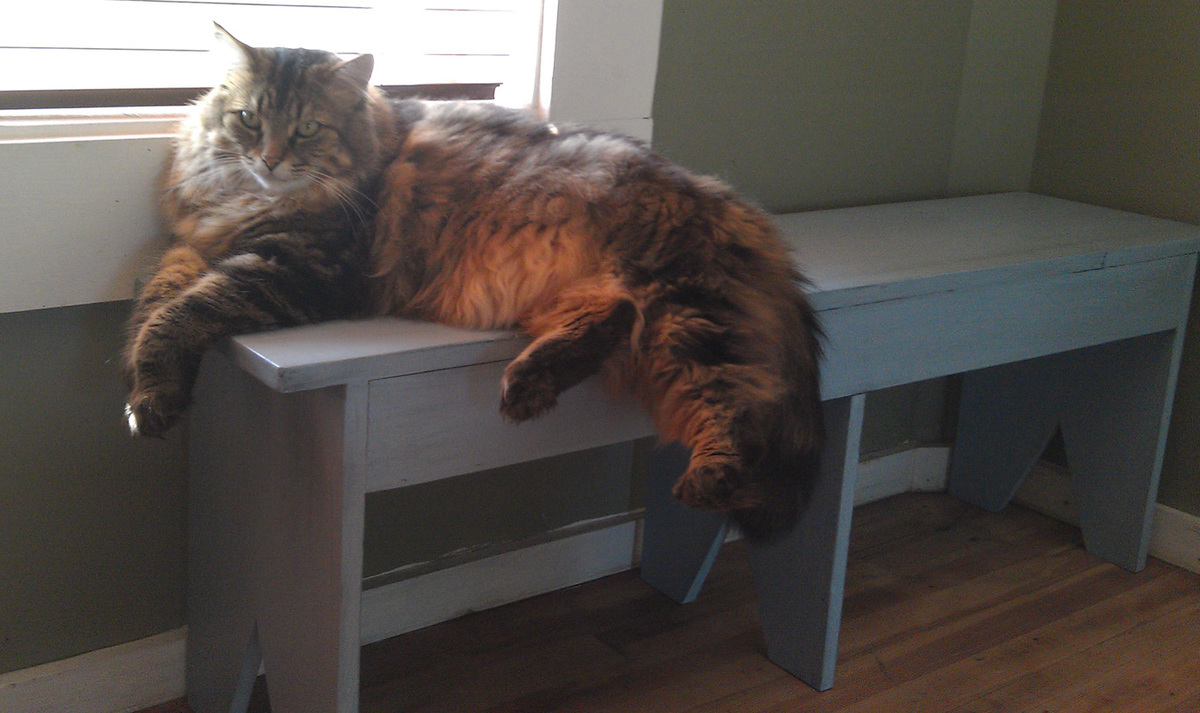 Estimated Time Investment
Afternoon Project (3-6 Hours)
Finish Used
I used a homemade chalk paint with a recipe I found on Pinterest. The base was Benjamin Moore's Niagara Falls cut with about 20% white. I then mixed a half and half mixture of black paint (Ace Hardware's India Ink) with a glaze base (Behr) and distressed it a touch.
Recommended Skill Level
Starter Project