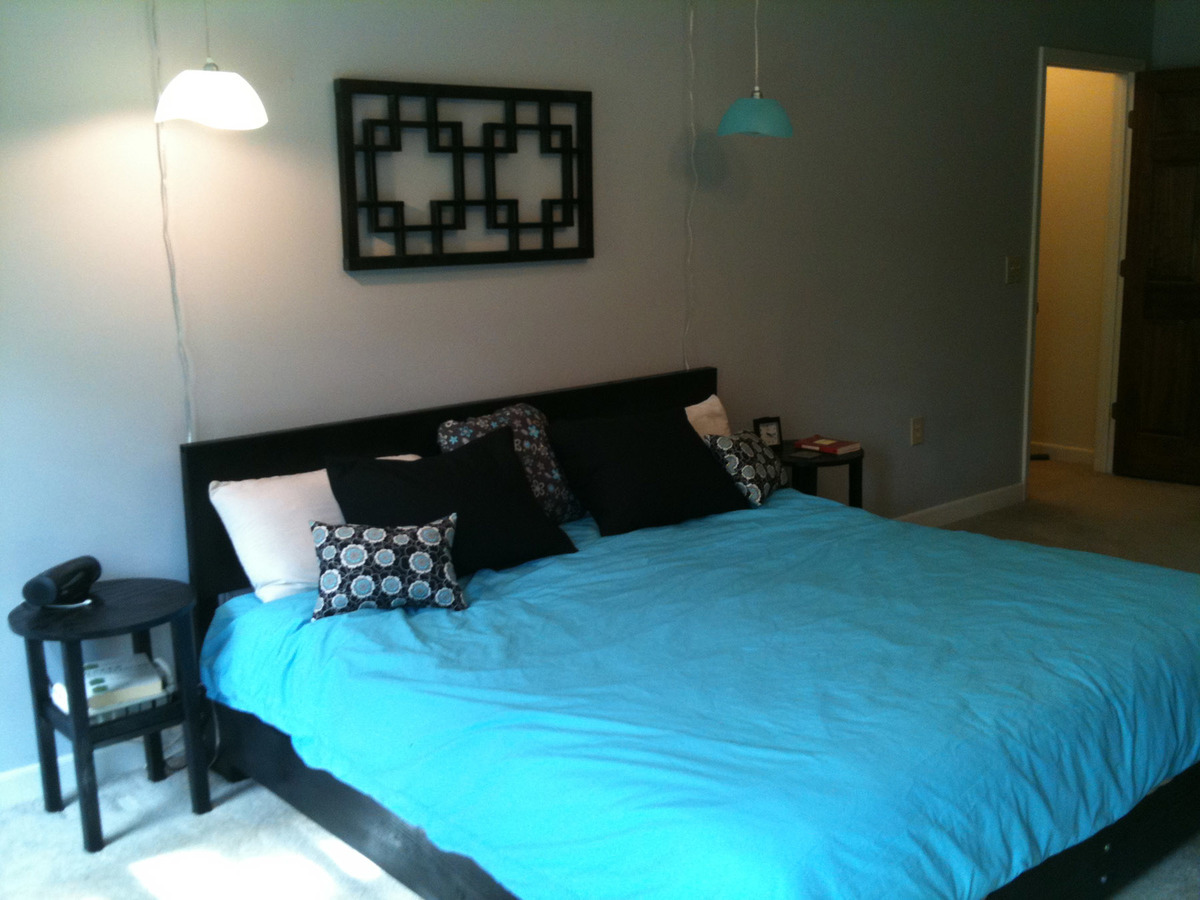 I've been on a building spree lately, and one of the things I have been wanting to do was change the look of our bedroom. We had a nice, traditional sleigh bed that we had since shortly after we got married(13 years ago), but really hadn't done much with our room since. We talked about platform beds, and I toyed with making the west elm one for a while. Finally hubby went out of town and I could get to work.
I decided to use 2x6s instead of 1x6s for a few reasons:1)It's a king bed and I wanted a heavier feel, 2)the 2xs were way straighter and way cheaper than the 1xs at my local store!
Just fyi--be sure that yo take into account the fact that you are using 2xs when you take your measurements! I was sloppy there and had a few tense moments when I thought I would have to do two sides over, but I made it work. Our mattress fits, but not as it is supposed to.  I should know better by now, but live and learn.
The frame came together great. The legs look like they are separate, but I ended up going with that look and making it deliberate.
Headboard: I used Ana's plans for the low modern cut out, but without the cut out. I used scraps! Yay! The structure is the same, but I used 2x3s for the legs and 2x2s for the interior frame. I happened to have a piece of 1/4" ply sitting around that was the perfect length and used it for the front. Then I used two shorter scraps for the back.
Finish is valspar glossy black spray paint. I like spray paint. A lot. I use it for everything.
Squared art: I originally wanted the squared headboard, but ditched the idea because I lean against my headboard while I have that first life-affirming cup of coffee, and it looked two uncomfortable. Then I picked up the latest issue of the  Do It Yourself mag, and they showed a room where there were two painted decorative screens on the wall very similar to the this pattern. I was super excited, because I knew I had plenty of scraps for this one. I started out with the kreg jig, but then decided that since the piece didn't need to bear any weight, I would use glue. Glue it was, and it went together fine. If you measure, there are some...creative differences in the squares, but most people won't notice. Impatience is my biggest downfall!
Finally--duvet cover is two 8.00 queen sheets sewn on three sides. The small pillows were what sparked the color scheme. I wanted the whole duvet cover to be that fabric, but it came from my stash and has been discontinued. The side tables are my own very convoluted plan, and were also made from scraps(I had a LOT of scraps). The lights are two 2.00 plastic bowls from Big Lots, with a hanging bulb-type fixture that I purchased from Pier One. I'm still on the lookout for a different shade, so those may change, as they are not quite long enough for me.
Now, it's time to turn the rest of the room into the same century and get rid of the mish-mash of broken old stuff that we have. Bookcase and dresser are next up.
Estimated Cost
~60.00 in wood for frame, the rest was scrap
Recommended Skill Level
Beginner