Wow, this was an amazingly fun project! My first Ana White project that I made for my baby girl's first birthday. Way young, I know but it's been lots of fun for this amateur woodworker watch his daughter make lots of creations in this little kitchen. Still to be added is the curtain under the sink. Some things to note--scrapbook paper for the backsplash that I gluegunned on and then modge-podged the surface to create one childproof layer; magnetic metal inserts that I sprayed with chalkboard paint (dual feature!); the sink is made from a thrift store bowl and the faucets on the countertop are really lugnuts gluegunned into nuts and bolts underneath, but loose enough to still turn; and our burners are silver and black painted pieces of plywood (probably the hardest part of the creative process was figuring that out); and lastly our stove knobs are made of toy truck wheels. We also added a fun battery operated light in the oven that I fashioned out of a battery powered LED light, PVC pipe, a light switch from Radio Shack and some wire. That took a ton of time.
What I learned the most in this project was the need to keep being creative and not let reality limit me. With creativity there is always a way! Have fun and enjoy yourself with this one. Our little one regularly gives us "cake" and "soup" that she makes in her little kitchen. Thanks, Ana, for a great forum!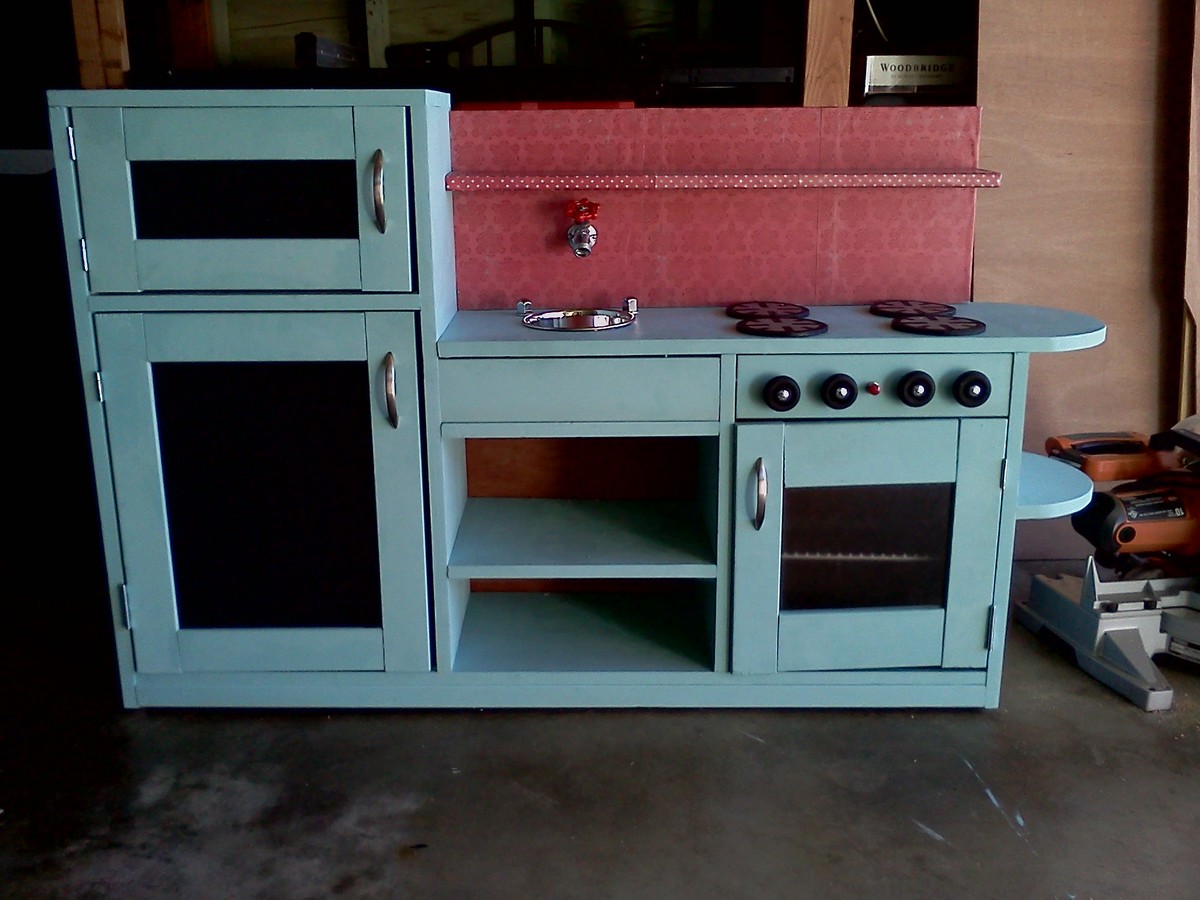 Estimated Time Investment
Weekend Project (10-20 Hours)
Type of Wood
plywood, pine board
Finish Used
Outside: Non-toxic craft paints from the craft store, 2-3 coats.
Inside: white paint from Orange we had on hand, 1-2 coats.
The burners are wooden soccer ball ornaments from the craft store with black and silver craft paints, 3-4 coats (and some black permanent marker).
The oven door is a plexiglass piece.
The sheet metal of the refrigerator doors is spray painted with black chalkboard paint.

Have fun!
Recommended Skill Level
Beginner