I wanted to make this project for my son-in-law for Christmas and use up wood I already had in the garage.  I also thought using 2x4's was a bit chuncky for the size of the coolbox, so while I used the idea, I did not really use the plans and made up my own.  I only used screws to attach the wood for the two shelves, all the other joints were cut and glue joints and at one point I felt I was making a jigsaw puzzle! 
Other changes I made were:
No water drain tap - The drain in the cool box is set slightly above the base of the coolbox.  I loved the idea of a tap for the external look of the finished project but for a practical purpose, it is very fiddly to install and you would still have to emply the bottom of the coolbox with a cloth as the water would not completely drain from the box.  I did not remove the handles and made the wooden box slightly bigger, just big enough to raise the handle and remove the coolbox for emptying and cleaning.
Decorative Bottle Caps -  Instead of putting these on the front, I designed the lid so that it could be covered with a layer of bottlecaps and grout (having first glued the caps on).  The provided a surface for putting hot food on should you want to use it as a 'hotpad' (although you would not be able to open it if you did) - but mostly, I thought they would be less likely to fall off, it povides a rain/weather barrier, and futher insulates the box. So the lid in my version is framed with wood, then has a layer of insulation, a layer of 3/4" wood, then the bottle caps/grout.
Bottle Cap Catcher -  I added a bottle opener to the side opposite the shelf and attached below it a 1/2 circle terricotta planter which comes with a hole in the bottom to catch bottle caps.
The whole thing was painted in 3 different layers of Anne Sloan chalk paint, waxed and sanded to give it the distressed look.
I have a list of the wood used (with sizes) if anyone wants it.  I plan to write the plans up better, but for now this is what I have.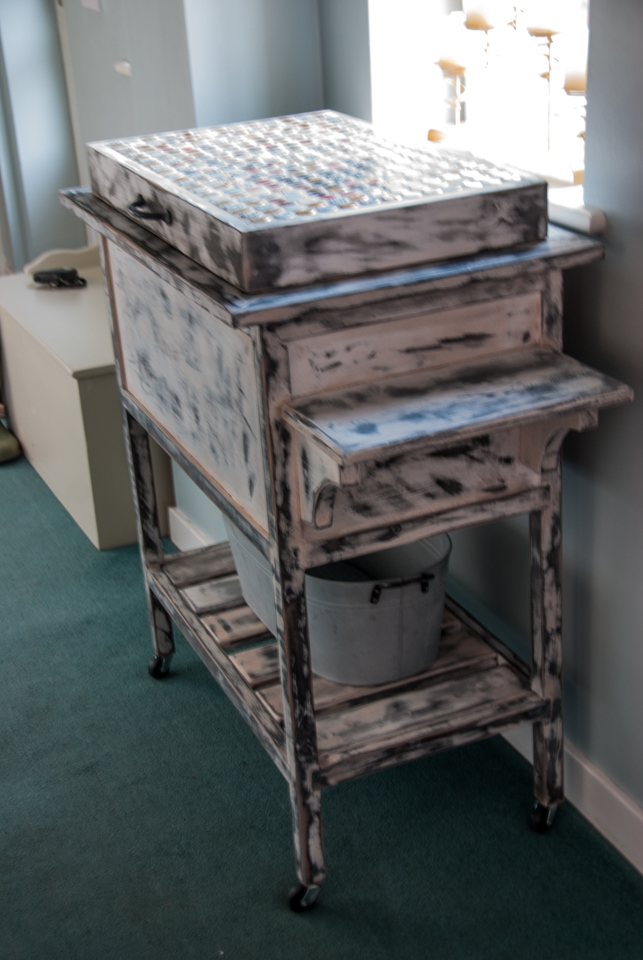 Estimated Cost
Just the price of the coolbox as made from scraps already to hand.
Estimated Time Investment
Week Long Project (20 Hours or More)
Finish Used
Anne Sloan Chalk Paint
Recommended Skill Level
Intermediate