Had a lot of fun building this and learned a lot.  The most important part is that my daughter absolutely loves it.  Here are some mistakes that I made so you can try to avoid them:
- The cut list and the photo of how to get the cuts don't match.  Use the cut list!  The photo of how to lay out the cuts only has one of the 14 1/4" x 12" but you need two.  Instead it shows two 6" x 12" and if you cut the 6" on the bottom board you won't have enough length to get the second 14 1/4".  I had to head back out to HD to get another board.
- I planned to cut it out and dry assemble with pocket screws and then disassemble it for paint.  Unfortunately, the cheap whitewood lumber from HD started to warp when cut and I managed to get it assembled and fairly square and was worried that if I took it apart that it would never go back together square so instead of using a paint sprayer I had to paint by hand which took a lot longer.  I either needed to buy the lumber weeks earlier and let it acclimate to my garage or just know that it was never going to get disassembled.
- Speaking of painting, the directions on the can said recoat was possible after 4 hours and I had to wait at least 24 due to work so I figured I was fine.  I primed the wood first and then started with the latex paint from HD.  Unfortunately the last coat led to something called "blocking" and left the kitchen with a tacky feeling.  It is starting to go away but was a real bummer after all the work to build and paint it and find it had a sticky feeling that kind of killed the excitement.  I think its ok now but I would give each coat more time to not just dry but cure to avoid this in the future.  
- We kept adding things as we went like fridge shelves, oven racks, a microwave, deeper full length shelf mounted on top, etc.  This made assembly a pain because it took a lot to figure out the final order.  The biggest holdup was we decided to use fake marble contact paper on the countertop and wanted to do that at the very end so it didn't get ruined.  But without the counter screwed down, I couldn't install the backsplash, shelf, and back.  
- Knobs.  I think I have figured out a way to make them click but just ran out of time and had to get it done.  I bought aluminum bushings to fit in the screw holes to keep the bolts straight and give them something to spin freely against.  In the back, I had used a forstner bit to drill out 1" holes where the bolt would come through and sit centered.  To make the clicking sound, I drilled out some dowels and screwed them onto the end of the bolt so I could drill a 1/16" hole to glue in a brad nail.  In the larger forstner holes, I drilled small holes and put thin strips of plastic.  This would have worked like a playing card in a bicycle spoke.  Unfortunately, finding the right kind of plastic and getting the brad nail centered started to take too much time and I had to scrap the idea.  I'll keep it in my back pocket for the next time I can spend time to make upgrades.
- Hinges.  I didn't like the look of exposed hinges so I used 90 degree surface mount hidden hinges.  They work well but have a fair amount of closing force for such light cabinets.  I'll have to teach my daughter to keep her fingers out of the way or there may be some ouchies.  These tend to close more than 90 degrees so I also bought some small magnetic catches to hold the door flat to the front and created a positive close.  I think they actually give it a more finished feel.  
- I rabbeted the oven door to mount the plexiglass and wish I had taken the time to do that for the fridge and freezer door because it would have looked cleaner but in reality my daughter couldn't care less.  
- For the fridge shelves, I wish I had taken the time to cut dados to hold them but I didn't want to disassemble the frame and it was already painted when we decided to add shelves.
- Cut the sink hole tight and just snuggly fit the sink you choose.  I didn't glue it because I hear it is going to get dirty and sticky so it will be a lot easier to just take it out and wash it then mess with trying to clean it in place. 
For supplies, we used common whitewood lumber from HD, Behr latex paint, knobs, hinges, and latches from HD, the marble contact paper came from Amazon, the backsplash is peel-and-stick vinyl tile from Wayfair (4 was enough if you cut them right), the faucet is a cheap $15 faucet from Amazon, the sink is a 1 1/2lb Loaf Pan from Amazon, the knobs were 2" circles from Joannes, the buttons are some project wood pieces from Joannes with stick on numbers sprayed with clear Acrylic, and the motion lights were a cheap 3 pack from Amazon.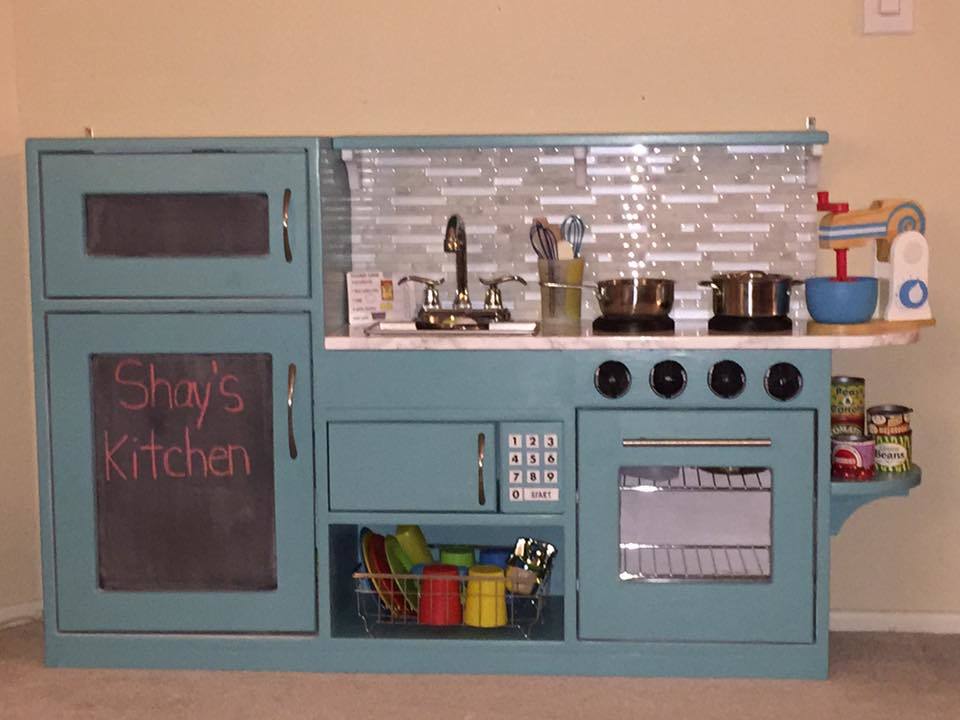 Estimated Time Investment
Week Long Project (20 Hours or More)
Recommended Skill Level
Intermediate