I saw this serving tray on Ana's site and it looked like I could build it with the wood and materials I had laying around in the garage. Other folks had made some nice versions of the tray also, and it looked like something we could use around the home.
I was right on all accounts, except I had to spend about $1.50 for the 3/4" dowel.
The overall dimensions are 27" x 131/2". Tray dimensions are 21" x 12"
The frame is attached to the tray with countersunk 1.5" wood screws and buttons covering the holes. I added the brass round-head screws to each corner to give it an industrial look. Glue was used only on the dowel handles and the buttons. Otherwise no glue.
I also distressed the top edges a bit to give it a used look. With time it will get is own look but this is a star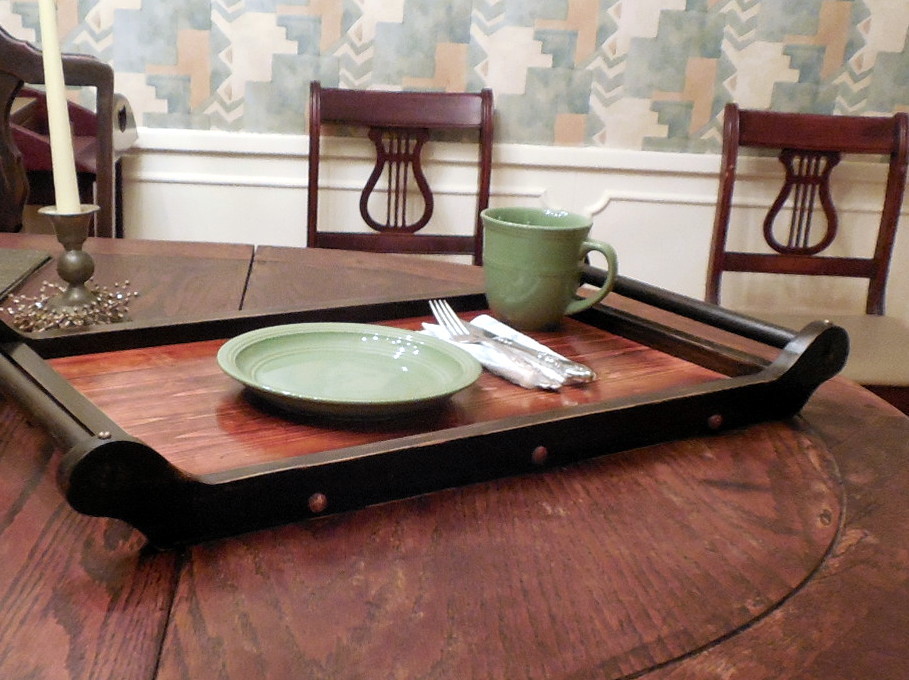 Estimated Cost
$1.50 because I had the rest of what I needed laying around in the garage. If I had to buy everything it would cost about $15.
Estimated Time Investment
Weekend Project (10-20 Hours)
Finish Used
The frame is stained with black Kona and the tray insert is Cherry with a little Kona mixed into it to darken it a little. I sanded everything to 320 grit and the visible areas to 1000 grit. I know that is over-kill but I just wanted to try it. Between sandings I used mineral spirits to clean which also acts as a wood pre-conditioner. Then each piece was given two coats of antique oil finish rather than the old standby polyurethane.
Recommended Skill Level
Intermediate