The decision to replace the shutters between our Guest Bedroom and our Great Room with a sliding barn door was simple.  The implementation thereof was considerably more complex.
We selected reclaimed barn wood purchased at a local hardwood store.  The wood was, presumably, some type of cedar and was very user friendly; no cracking from KREG screws and cut / glued very well.  We did have to run the stock through the joiner first, however, as the edges were weathered, warped & gouged.  We didn't sand or finish the wood in any manner and it looks exactly as it did when it was part of a standing barn. 
The significant challenge for this project was joining the planks together.  Many of the boards were cupped and of varying thicknesses.   Rather than use a surface planer, we decided to go for the "very rustic" look.  We selected planks and their respective locations based on color and the pattern of how the knots were placed.
We used TITEBOND No-Drip glue, which is typically used for molding.  While it is stronger than TITEBOND II but not as strong as TITEBOND III, it is much easier to work with.  Since we didn't intend on sanding / finishing the wood, we didn't want to use a glue that was too runny.  Reclaimed barn wood is very porous and excess glue would quickly inter-digitate with the wood.  Excess TITEBOND No-Drip glue was easily removed, once in a doughy state, with the gentle scrape from a sharp wood chisel.
It took us over 6 hours to join the 8 planks as we were very careful in plank positioning so as not to shoot KREG screws through the front.  Since plank placement was so crucial, we used pipe clamps and each board was individually clamped and screwed as opposed to trying to do several at one time.  Much to our delight, 1 ½" course thread KREG screws had impressive purchase.  The frame was glued and secured w/ ROCKLER 1 ½" finishing screws that have a 3/16th fine thread which countersink easily as the thread is wider than the head.
The dimensions are 51" (x) 46.5" and 2" thick at the frame.  It took us  30 hours to build and hang.  The final cost was about $550 ($300 – wood / $250 - hardware) which is much less expensive than the $1500 - $4000 price range seen on the internet.
This was not a particularly difficult project, but did require patience and some luck along the way.  If a barn door is of interest to you, the savings in cost is well worth the effort. 
We finished off the room using scrap wood for picture frames.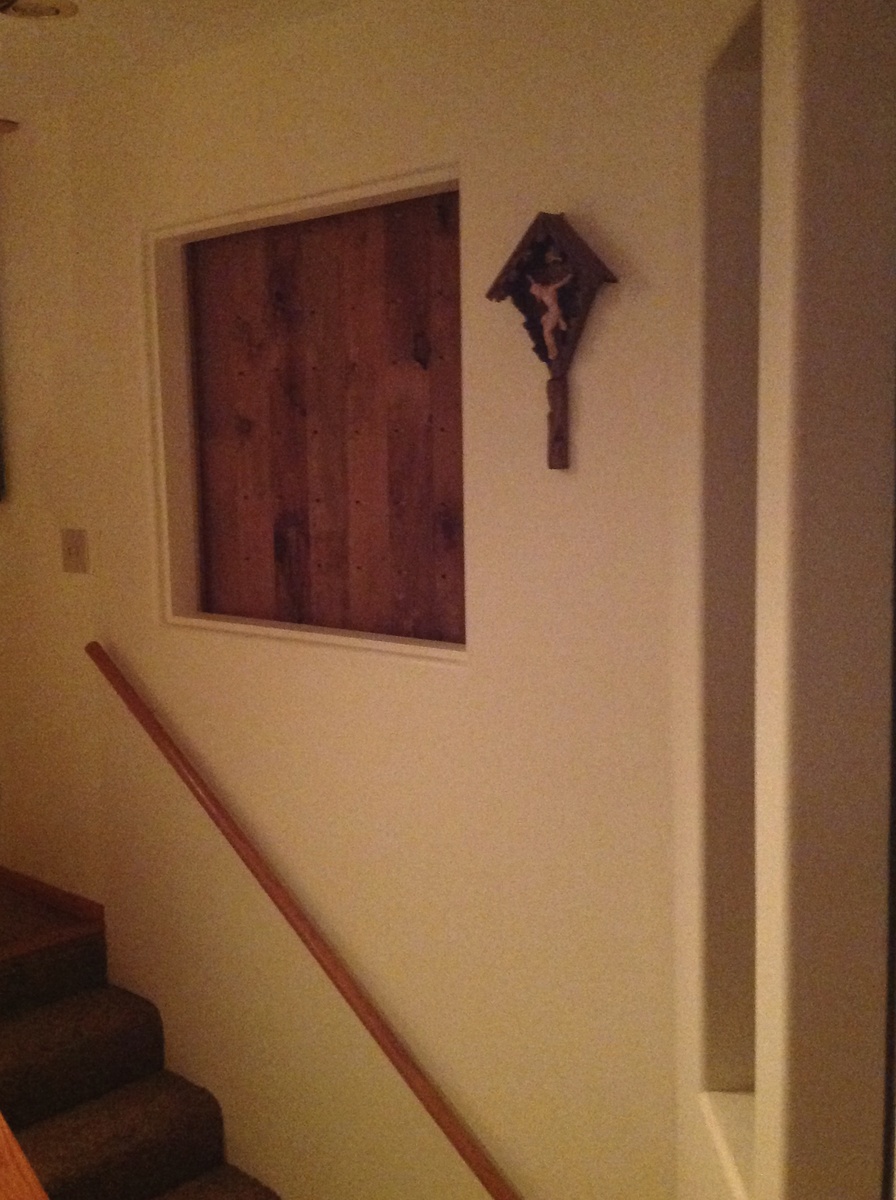 Estimated Time Investment
Week Long Project (20 Hours or More)
Recommended Skill Level
Intermediate