Needed a wardrobe for a 24-inch wide space. Not sure you could buy such a thing -- certainly not in the small town where we live. Glancing at Ana's "Toy or TV Armoire" plans gave me an idea how to proceed.
Didn't plan for drawers, initially, but turned out I hadn't pre-stained enough trim for full-height doors, so decided to add drawers. Glanced at the insert plans, and it didn't look too bad. Decided to build the drawers right in with 22-inch 75lbs sliders, since again, not enough trim for full doors. Also, I think it might be tedious to first open a door or in my case doors just to get to the drawes. Miraculously, cabinet turned out to be square enough (+/- 1/16th inch) for the sliders. Here's to $99 table saws and pocket hole screws!
Thank you, Ana, for this and the other plans I built (craft table). Also, I admire your webmasters Drupal-craft!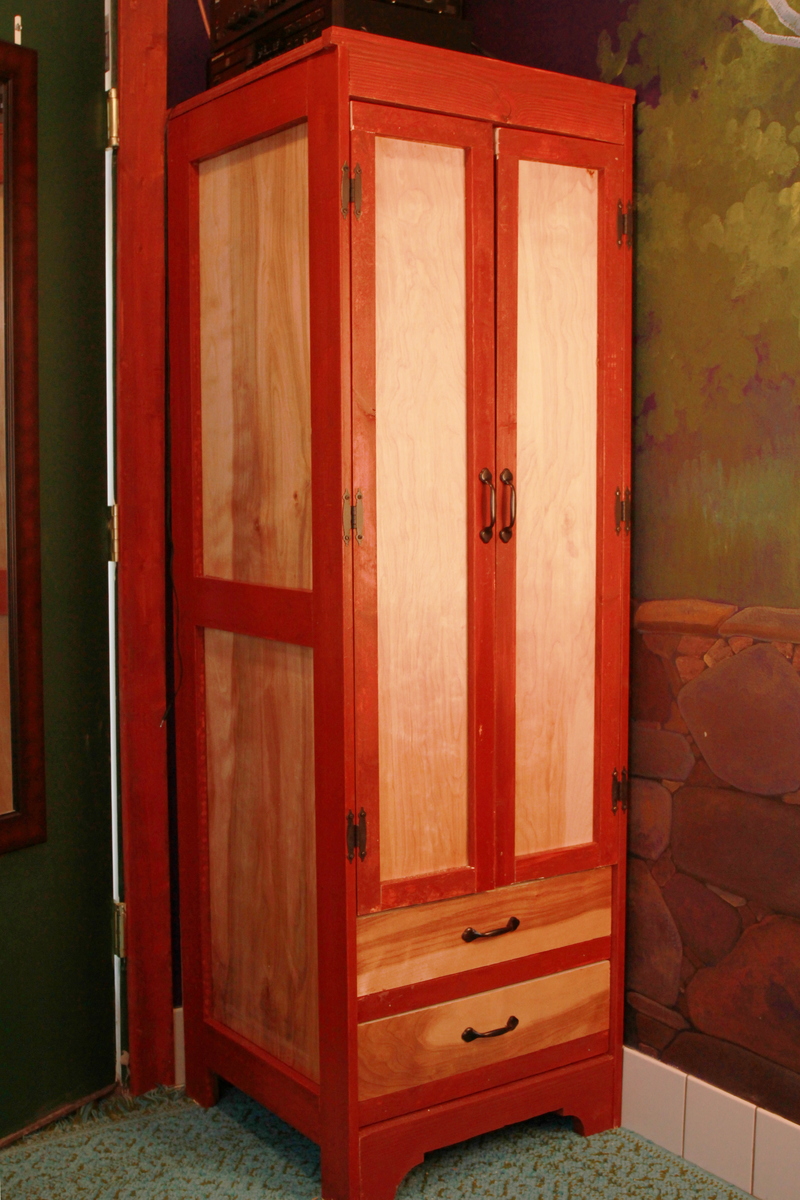 Estimated Cost
$40 for the stain, $10 for varnish
$24 for hardware
$120 for plywood
$50 for trim
$30 for drawer sliders
$5 for pocket hole screws
Total: $279
Oh wait... $20 more for the two 2 x 6s used for the drawers, $8 worth of Tite Bond, and? Call it $310 or so.
Estimated Time Investment
Week Long Project (20 Hours or More)
Type of Wood
Materials were 2 10-foot 2x6s for drawers, sheet 3/4 birch and one sheet 1/4 birch, plus 52 feet of #2 pine 1x4s. Very little left over.
Finish Used
Trim has two coats of Pratt & Lambert oil-based "Toy Wagon" color semi-transparent redwood stain, which takes two weeks to dry. The ply has water-based MinWax polyurathane. Finished most everything before assembling. Was too lazy to varnish over the trim, though that would certainly make it less "rustic." Oh well. It's not a piano.
Recommended Skill Level
Advanced