Combination of the Farmhouse table (http://ana-white.com/2009/12/plans-farmhouse-table-knock-off-of.html) and the simple, cheap, easy console table (http://ana-white.com/2009/11/plan-simple-cheap-and-easy-console.html).
I wanted it taller so that I could make rolling crates to push underneath and might add a shelf later on to maximize storage potential. I kept the lengths of the pallets except for the side supports which I just cut in half, I wish I had cut a little more off the side supports making it so that I didn't waste as much pallet wood cutting the wood for the table top but I love it nonetheless and I have bonfire wood for our next get together. Right now I'm enjoying it since it's my first Ana-White project.
I used two free pallets I scored on a yard sale group on Facebook, lots of sanding, and I had the paint (one coat to keep it rustic) and screws on hand so it was a free project. I only received one splinter (should of been wearing gloves) and added an embellishment with chalk board paint (stating the year that my husband and I met since he just left on deployment). It took me 5 hours (I told you it was a lot of sanding) over the weekend. Fun project, can't wait to get started on the next one :)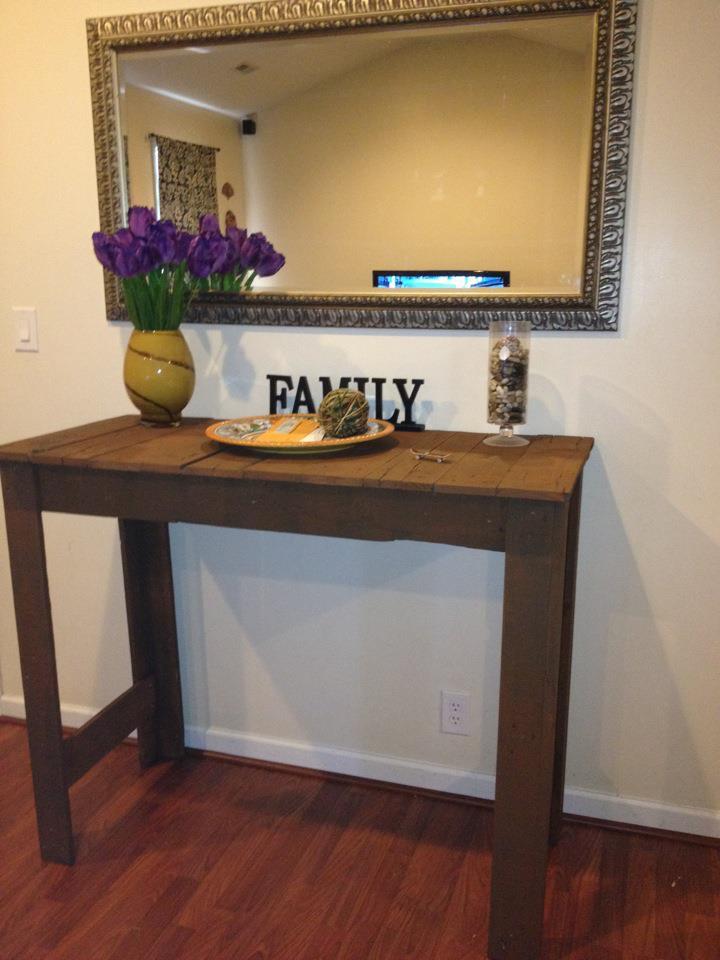 Estimated Time Investment
Afternoon Project (3-6 Hours)
Finish Used
I used a combination of latex paints, colors: sunflower yellow and brownie brown, with a little paint thinner and brushed it on.
Recommended Skill Level
Starter Project