This project is a 4-drawer variation of the Easy Jewelry Box, made with select 1x6 for the top & bottom, craft boards for the box and drawer sides, with craft board overlay drawer faces. No plywood is visible on the outside on this build.
This version has a smaller footprint and is much lighter than the original plan, built using the thinner craft boards, and the drawers slide on S4S instead of full shelves. The drawers are 1/8" shorter than the box depth to ensure they don't touch the box back, so the overlay fronts lay flat to the box. The overhangs are ¾" wide mini colonial moulding, and the feet are squares of 1 1/8" lattice scrap. The design includes a toe-kick and top-kick which allows room for both overlay drawer faces and top/bottom overhang.
I spent a couple of hours redesigning the plan to get this as light as possible, while making the most of the usable space within the footprint, and leaving no plywood edges visible on the outside. The build itself took about 6 hours, including the build, sanding, finishing, and decorating.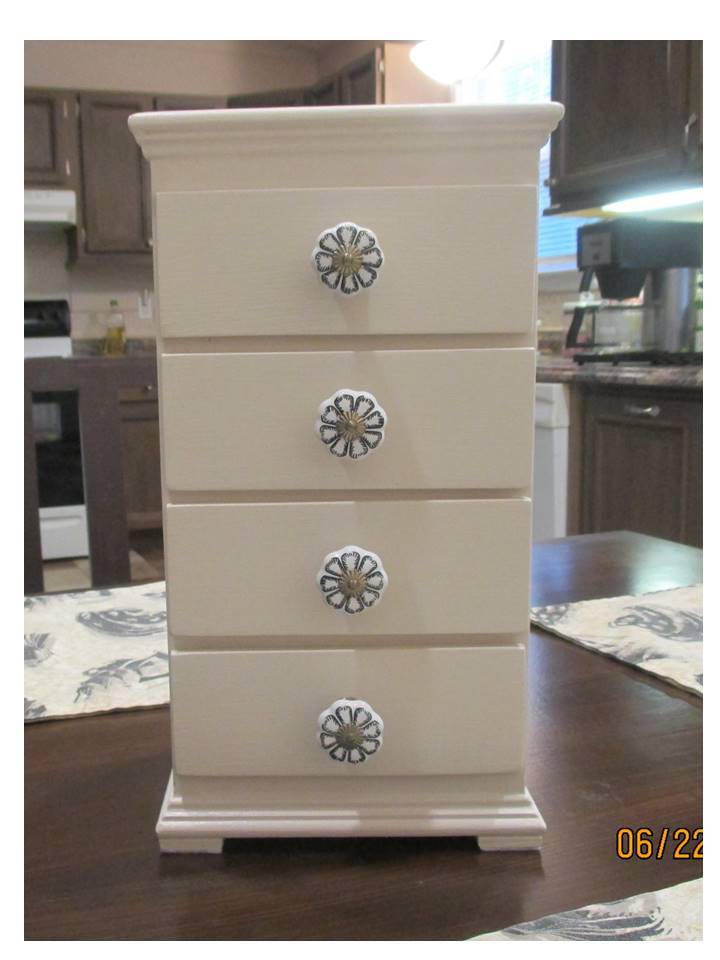 Estimated Cost
Using select pine 1x and craft boards for the box, poplar craft boards for the drawers, and aspen craft boards for the drawer faces, this build cost about $60 for lumber, moulding, knobs, and decorations. Finishing materials were already on hand.
Estimated Time Investment
Day Project (6-9 Hours)
Type of Wood
Select Pine, Poplar, Aspen
Finish Used
The finish is 2 coats of Clark & Kensington semi-gloss paint + primer in Crushed Peanut. The drawers are lined in embossed felt, and the fancy knobs are ceramic with brass.
Recommended Skill Level
Beginner